Making hand sized apple caramel bites is a breeze using frozen Brazi Bites. This video shows you easy step by step instructions for making these yummy looking bites.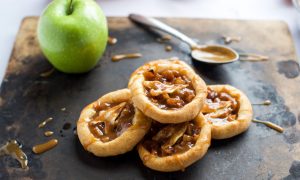 Apple Caramel Bites
Here is the list of ingredients for you.
1  11.5 oz bag Cheddar & Parmesan Brazi Bites, thawed
2 cups apples, peeled, cored and diced (we used granny smith and honey crisp)
Thinly sliced apples for garnish (we used the same granny smith and honey crisp)
2 T unsalted butter
2 T brown sugar
2 t granulated sugar
2 T lemon juice
1 t cinnamon
1 t ground ginger
Pinch of ground nutmeg
Pinch of kosher salt
Cinnamon sugar (1/4 cup sugar plus 1 T ground cinnamon combined)
Vegetable oil
CARAMEL SAUCE ( can buy at the store if you wish)
1 cup sugar
1/4 cup water
1/2 cup heavy cream
2 T unsalted butter
Pinch of kosher salt
As you watch the video, you will learn the how to make these.
If you can't find these in your stores freezer section, you an make your own following our recipe for Brazilian Cheese Buns. Check it out here: Cheese Bites
You can also use store bought caramel sauce. I'm not sure i would make homemade for this. Just easier to buy a jar and warm it up. I know homemade tastes better and does not have all the additives, but sometimes I just get tired of having to make everything by hand ( which we do a lot of) and just want to make it quick and easy.
It's always nice to have quick and easy recipes you can pull together without thinking about it too much. That's one of the reasons I try to keep things in my freezer that can be pulled together fast. When I have time, then I go ahead and make it from scratch, but that doesn't happen as often as I would like.
Enjoy!
Team Your Gluten Free Kitchen
photo and video from Brazi Bites