I love going to the U-Pick farms where I live. Wandering down the dirt paths between rows and rows of peach trees where the fruit is inches away from your face and the fresh peachy smell makes you swoon. 
That's when the picking frenzy hits you and you end up with 5 huge buckets of peaches. It's like going shopping for shoes where everything is 75% off! You just can't stop yourself from getting more and more.
This is the perfect choice of gluten free desserts to use up some of those peaches. It's a no-baker! Use your rice cooker to make this wonderful pudding. Don't have one yet? Don't like the one you do have? You need to look at my review on the absolute BEST rice cooker I've ever had.
Gluten Free Peach Rice Pudding
1 quart whole milk or vanilla soy milk
1 cup chopped fresh peaches, with or without skins, you decide
1/2 cup gluten free white rice ( try using jasmine)
1/2 cup sugar
1 Tbsp. butter or margarine
1 tsp. grated nutmeg
Directions:
Place everything in the rice cooker and press the button. That's it. I can make it more complicated, but decided that in the spirit of simplicity , I would be brief.
But you can certainly present this for dessert and say how you had to slave over the stove for hours and your arm is tired. Just make sure no one walks into the kitchen and sees your rice cooker sitting there.
Rice cookers are our life. Buying a great one is a must. Don't settle for one that you have to babysit all the time. I used to have one of those. My husband got tired of hearing me complain and belly ache at my old one.
Constantly stirring even though it tells you not to. But if you don't, burned rice on the bottom. Yuck! I got tired of throwing out 1/3 of what was cooked. Well….
Last Christmas, he bought me the most amazing rice cooker on the planet. Every time I use it, he gets another hug of thanks! I love it.
Kathy,
P.s. Sometimes you gotta spend a little more to get a great machine! This one is worth it.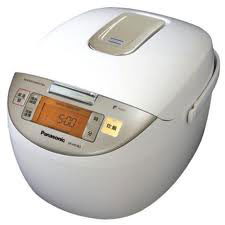 If you click on any of the links on this page, I will receive a small commission. Thanks!