Growing up, my mom would get after me for dipping my spoon into the peanut butter jar and pulling out a hunk of the stuff. I would sneak off and slowly eat it off the spoon. I still do it today, but no one gets after me. Except maybe the dogs. I think they want me to give them some. 
Peanut butter cookies are still my favorite and I will wrestle with anyone for the last bit of peanut butter in the bottom of the jar.

These gluten free bars are  easy, quick and tasty.  
Prep time is about 5 minutes
Bake time is about 25-30  minutes.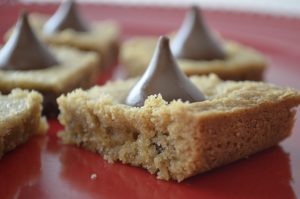 Gluten Free Peanut Butter Blondies
1 cup creamy peanut butter
1/2 cup butter, softened
2 tsp. gluten free vanilla extract
2 cups packed brown sugar
4 eggs
1 1/3  cups gluten free flour blend ( I used Bob's Red Mill 1 for 1 flour)
1/2 tsp. xanthan gum ( if your flour blend doesn't have it already)
1/4 tsp. salt
1 tsp. baking powder
28 chocolate drop candies ( I used Hershey's Kisses)  optional but really good 😉
Equipment needed: Bowl, mixer, spatula, 9×13 baking pan, measuring cups and spoons
Preheat the oven to 350 degrees.

Mix together the peanut butter, butter, vanilla and brown sugar in a bowl with an electric mixer. Beat in the eggs one at a time
In a medium sized bowl, whisk together the flour, xanthan gum ( if you need it), salt ad baking powder.  Slowly add it to the peanut butter mixture being carefully not to create too many flour "clouds".
Spread the batter into a well greased or parchment lined 9×13 baking pan. Bake for 25 to 35 minutes. Don't over bake or your blondies will be DRY! If you're not sure how done is done, poke the center with a toothpick. If you have a few crumbs on your toothpick, good. Better underdone than overdone.
While the blondies are baking, make sure to unwrap all your chocolate candies and have them ready to go.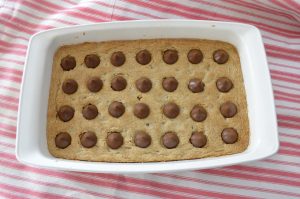 Remove from the oven. Immediately space out the chocolate candies and gently push into the hot blondies. Allow to cool and cut into bars.
Makes 28 squares.
 These blondies are great as they are, but we could take it up a notch. Place one blondie square in a dessert bowl and top with a scoop of ice cream, chocolate or butterscotch syrup, a squiggle of whipped cream and a maraschino cherry. Cheaper than going to the local ice cream shop!
These are an awesome treat anytime but especially during the summer.
Have fun!
Kathy
If you click on any of the links on this blog, I will receive a small commission. Thanks so much for helping to support me in this way.