Green Beans  with Bacon
What's not to love about bacon? It goes with everything (I've seen it on cupcakes and in ice cream!).  Cook these up and enjoy!
Ingredients:
1 Tbsp. olive oil
6 slices bacon, diced
1 small onion, thinly sliced
2 Tbsp. minced garlic, I use the jarred kind(too lazy to mince myself;)
2 lbs. fresh green beans, cleaned 1 cup water
¼ tsp. gluten free Bouillon
½ tsp. ground pepper
Directions:
In a large skillet or Dutch oven (remember you've got to get all the green beans in there), toss in the olive oil and the bacon and cook over medium heat until the bacon is crispy, about 5 minutes. Add the onion and garlic and cook for another 3 to 4 minutes, make sure to stir so you don't burn anything.
Add the green beans right on top and mix to combine everything together. You want all that yummy bacon grease on everything!
Crank the heat up a little and toss in the water and the bouillon. Once it starts to boil, plop on the lid and cook for about 6 minutes. Take off the lid, sprinkle with the pepper and cook another 1 to 2 minutes until the beans are tender. Make sure to test one every so often just to make sure they're done;)
Take off the heat and serve. Or put the lid back on to keep warm for up to 15 minutes.
Makes 4 to 6 servings
*** I cheated and used (gasp!) canned green beans. Came out fine and with the bacon, tasted great. Told ya bacon makes everything taste better.
Kathy
Here's a great looking Dutch oven to make anyone proud to set on the table. It's great to have cookware that does double duty. Cooks great and looks great! Here's a beautiful one from Cuisinart in a gorgeous red.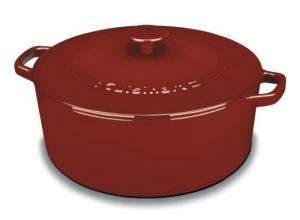 If you click on any of the links on this post, I will receive a small commission if you purchase any thing. Thanks so much!