Every year we go to the U-Pick farm for vine ripe tomatoes. I gave some extras I had to my mom. She thanked me and said it had been a long time since she had a tomato that tasted like a tomato (she grew up on a farm).

By canning your own tomatoes, you pack in that summer freshness. When you open your first jar of home canned goodness, breath in that heavenly aroma. Everything just plain tastes better! It doesn't matter what brand you buy at the store, homemade using gluten free recipes still tastes better!

If you need equipment, go here!

Here's a simple tomato salsa you can put into your pantry and savor all year.

Simple Salsa

7 cups of tomatoes, peeled, seeded and cut into small squares ( "dice" in chef speak)
1 onion, also cut into small pieces
2 jalapeno peppers, seeded and chopped fine
4 cloves of garlic, minced
1/2 cup vinegar  ( I like to use a cider vinegar or a wine vinegar)
2 Tbsp. lime juice
1 squirt of hot pepper sauce ( optional, or more if you want it hot)
2 Tbsp. cilantro, finely chopped ( leaves only, no stems)
2 tsp. salt
4 pint jars with lids and bands
Directions:
Ok! Get your boiling water bath canner going. Heat up your jars and lids because this will be ready quickly.

Combine all your salsa ingredients together in a large stock pot. Stir while you heat it to boiling. Let it simmer about 10 to 15 minutes. You want it to be HOT!

Ladle the salsa into your jars, put on the lids, tighten down the bands and pop into your water bath canner.

Make sure the water is boiling again and set the timer for 15 minutes. If you live at an elevation higher than 3000 ft. add 5 minutes for every 1000 ft.

While the salsa is processing, lay out some kitchen towels on your counter so you can set your jars on them. The reason I do this is to keep my counter clean, sometimes things boil over, and to cushion the jars from sitting on a cold counter top. Shock is not a good thing.

When your timer goes off, take your jars out with a jar lifter and place on your towels. Let them cool overnight! Don't touch! It's tempting but resist. You don't want to ruin the seals after all that work.

Check the seal in the morning. If everything looks good, take off the bands, wipe down your jars and place in your pantry. I would let these mellow out for a couple of weeks. It helps to improve the flavor.

When you're ready to use, just pop the seal and open up. Makes 4 pint jars.

Now, if you can't see yourself using that much salsa in a couple weeks time go ahead and use 1/2 pint jars instead. You will need 8 of them. Everything else is the same.

Happy canning!
Kathy

P.S. Ball carries some great tools and they also have a great canning book. If you don't have one already I would start with theirs.

If you need a complete canning kit, this one has everything you need to get started.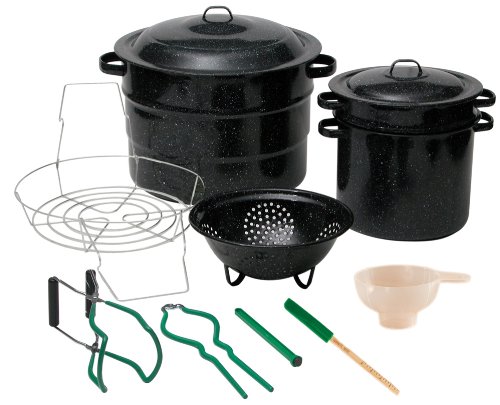 If you purchase anything from the links on this page, I will receive a small commission. Thanks!