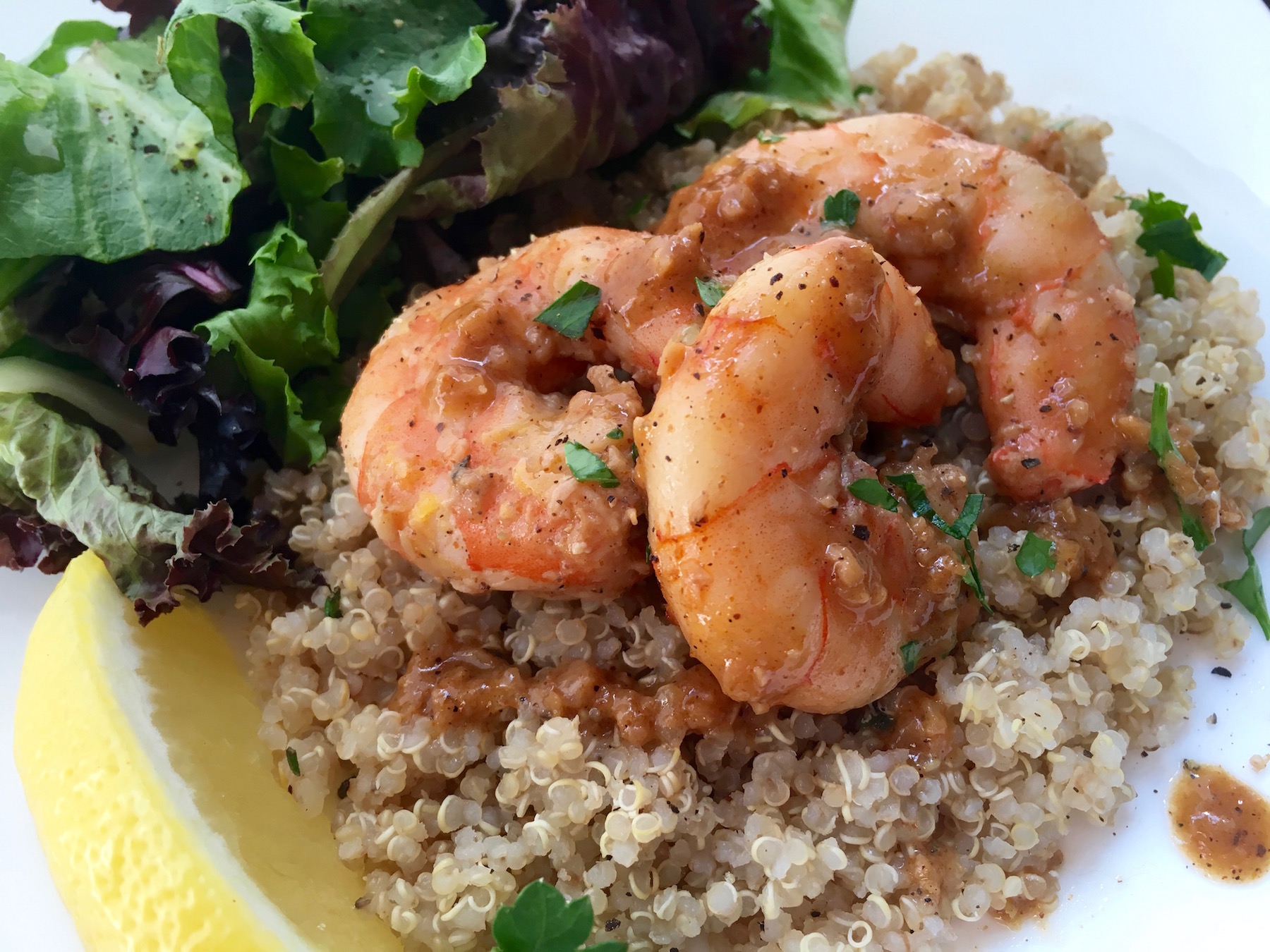 It doesn't get much easier than this! This versatile main course goes from refrigerator to dinner table in less than 15 minutes.
The classic flavors of this dish go with just about any side dish you choose. In addition to the serving suggestions noted here, it also makes a delicious low carb entrée when paired with steamed vegetables or a green side salad.
I think it takes longer to get the side dishes ready then to prepare this awesome shrimp entree.
If you need dinner just for the two of you, this recipe is very easy to cut in half.
Lemon Garlic Jumbo Shrimp
Prep time: 5 minutes
Cooking time: approximately 6-7 minutes*
Serves 4
Ingredients
3 T. unsalted butter, (we like Kerigold brand)
1 T. garlic, finely minced
1 lb. Jumbo shrimp (10/15 ct.), peeled, deveined, and tail removed
1 large organic lemon, zest and juice
1 T. ground cumin
Optional:
Salt and pepper, to taste
Fresh parsley leaves, chopped
Directions:
Melt butter in a large skillet over medium heat. Add garlic and sauté for 1-2 minutes, stirring occasionally.
Add shrimp to skillet and cook for 4-5 minutes, stirring occasionally, or until shrimp starts to turn pink.
Add lemon zest, lemon juice, and ground cumin to the skillet and stir to combine thoroughly. Season with salt and black pepper, to taste, and remove from heat.
Spoon shrimp mixture over a bed of cooked quinoa, brown rice, or your favorite gluten-free pasta. Drizzle some pan juices over each serving and garnish with fresh chopped parsley, if desired. Serve immediately and enjoy!
A really good skillet is a must in any kitchen. If you need to replace what you have now, this skillet from    is an awesome choice. Heavy duty and able to go in the oven, these are perfect for preparing fast meals and even baking cakes and cobblers.
If you click on any of the links on this post, I will recevie a small commission for it. Thank you for helping me to keep this blog going. it is greatly appreciated.
Kathy