Make this a sandwich with the BBQ Chicken Recipe.
If you are looking for something simply wonderful, you have to try this gluten free bread. This corn bread came out of a magazine that was sitting around the house. On the hunt for a gluten free – yeast free bread this one came up and hit me between the eyes.
The sweet potatoes make a great supporting role in this moist and yummy corn bread. The original recipe called for self rising corn meal. Looking in my kitchen cupboards I found a gluten free corn bread mix.  Viola! Instant self rising corn meal.
They suggested making sandwiches with BBQ chicken, and we did. Yum,yum! Even my guys went for it over regular onion buns.
Sweet Potato Corn Bread
2 cups gluten free corn bread mix( Krusteaz brand is good)
3 Tbsp. sugar
5 eggs
2 cups (which is one 29 oz. can of sweet potatoes) mashed
8 oz. sour cream
1/2 cup butter, melted
Preheat the oven to 425 degrees.
Combine the sugar and the corn bread mix in a large bowl. In another large bowl (this makes a lot) whisk your eggs together. Drain the sweet potatoes and mash in the can.
Add to the eggs along with the sour cream and butter (remember – warm – not hot). Make a well in the cornbread mix and pour the sweet potato mixture in. Beat with an electric mixer until completely combined.
Pour into an 11×7 greased pan and pop in the oven. Bake for about 35 minutes or until golden brown on top.
Makes at least 10 servings.
To make the BBQ chicken, place 6 boneless, skinless chicken breast in a slow cooker along with 1 cup of water. Cook on low until done. You can leave them for about 8 hours. The water helps to keep them from drying out.
When you get home, take out the chicken and pour off any liquid. Unless you want to save it for broth later. Then freeze it and proceed. Shred your chicken,put back in your slow cooker and pour gluten free BBQ sauce over the top. Mix it up with a spoon and put on warm until ready to serve. I had mine holding for about an hour before we ate. It was just fine.

Serve over split pieces of Sweet Potato Corn Bread.
Happy Baking!
Team Gluten Free Farm Girl
If you liked this recipe then take a peek at our latest cookbook: Gluten Free Yeast Free Bread
Full of recipes just like this one with both sweet and savory breads, your family will love em!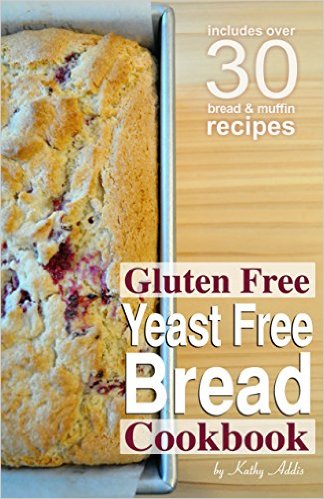 PS.. You really need to try this one.  It's very delicious.
Photo source: Southern Living