Weekends are just made for a nice leisurely breakfast. Nothing spells "comfort food" as much as biscuits and gravy. The nice thing about this recipe is, you don't have to bring any of the ingredients to room temperature. Just grab them out the frig and get going. In fact, the colder the better.
Get your apron and let's get started.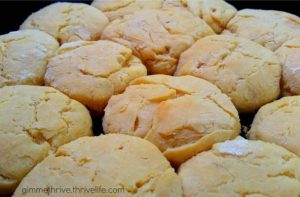 Gluten Free Biscuits
Ingredients:
2 c. THRIVE Gluten Free Flour Blend ( or use Bob Red Mill's 1-1 Flour Mix)
2 tsp. Baking Powder
1 tsp. Iodized Salt
1 c. butter, cold and cut into small chunks
2 eggs
2/3 c. buttermilk
Directions:
To make by hand
Preheat oven to 400 degrees. Coat a 9″ or 10″ cast iron skillet with a thin layer of oil or shortening, using a paper towel to spread. If you don't have a cast iron skillet, you can use a 9″ or 10″ cake pan and grease it.
Combine gluten free flour blend, baking powder, and salt in a mixing bowl and stir until combined.
Cut butter into small cubes and add to flour mixture. Use pastry cutter to incorporate butter into flour mixture until the mixture looks like coarse crumbs.
Crack eggs into a small bowl and lightly beat with a fork . Pour into the flour mixture. Stir to combine.
Slowly pour in buttermilk while stirring to incorporate. Add a little extra flour if dough is too wet.
On a floured board, pat dough out to about 3/4″ – 1″ thick. Use biscuit cutter to cut the biscuits and place close together in cast iron skillet. Continue until all dough is used.
Bake for 20 minutes. Brush with melted butter if desired.
To make with a food processor:
Go ahead and preheat the oven and grease your skillet or pan.
Place the gluten free flour blend, baking powder and salt in the bowl of a food processor. Pulse a few times to combine.
Add the butter chunks and pulse a few times until the mixture looks like coarse crumbs.
Beat the eggs in a small bowl and then add to the flour butter mixture. Pulse a few times to combine. Slowly add the buttermilk while pulsing a few times until the dough comes together.
Remove the dough from the bowl of the food processor and continue with the directions above.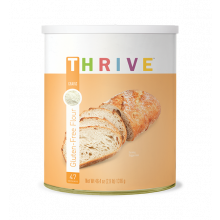 I am a consultant for Thrive life foods. If you click on the links and purchase, I will receive a portion of the sale. I also will receive a commission on any other links that are posted here.
This helps me to keep my blog going and find these resources for you and gives me the time to make and bake for you as well.
Thank you so much for helping me to keep this blog going. I love what I do and hope you receive blessings from it too!
Gratefully,
Kathy