Making gravy can be a tedious thing. Grab the butter, grab some gluten free flour, melt the butter in the pan. Slowly add the flour and stir like crazy to get it mix together. Then slowly add the milk to the flour and stir like crazy to get it mix together without lumps ( if you're lucky) !
I have made great lump free gravy and I have made great tasting lumpy gravy. Very annoying….. ugh!
So, I went in search of something to make it easy for me and dead simple so I can make a gravy without thinking about it.
Well, I have found something that works great.
It's Thrive Life Bechamel Sauce Base.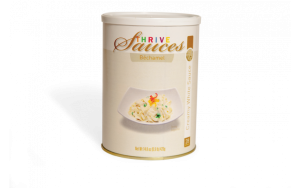 It's super simple to use and makes a great gravy! Just add water and whisk together and you're good to go. it's certified gluten free and Non-GMO as well.
Here is an awesome Sausage Gravy to make for your biscuits.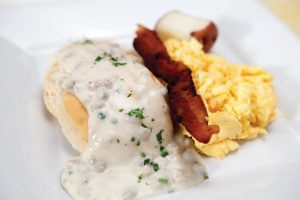 Gluten Free Sausage Gravy
Ingredients:
1/2 lb Gluten free bulk sausage ( your choice)
3 Tbsp. finely chopped Onions
1 tbsp. butter
1/4 tsp. black pepper
2 c. water
1 c. THRIVE Béchamel (Creamy White Sauce)(dry)
1 Tbsp. Chopped Chives
Directions
In a medium sized skillet, cook the gravy until no longer pink. Add the onions and butter and cook until the onions are translucent.
Whisk together the water and sauce mix in a 4 cup measuring cup until combined Add to the sausage mix in the skillet and simmer for 3–5 minutes or until thick and bubbly.
Stir in the black pepper and sprinkle with chives when serving.
I am a consultant for Thrive life foods. If you click on the links and purchase, I will receive a portion of the sale. I also will receive a commission on any other links that are posted here.
This helps me to keep my blog going and find these resources for you and gives me the time to make and bake for you as well.
Thank you so much for helping me to keep this blog going. I love what I do and hope you receive blessings from it too!
Gratefully,
Kathy