Pan-Seared Gluten Free Tuna Steaks with "Melted" Lemon-Caper Sauce
This fast, healthy, and delicious gluten free seared tuna dish comes together in one pan and is ready in less than 30 minutes. Serve with a mixture of seasoned cucumbers, tomatoes, and red onion for a light and refreshing meal.
Prep time: 10 minutes
Cook time: 15-18 minutes
Serves: 4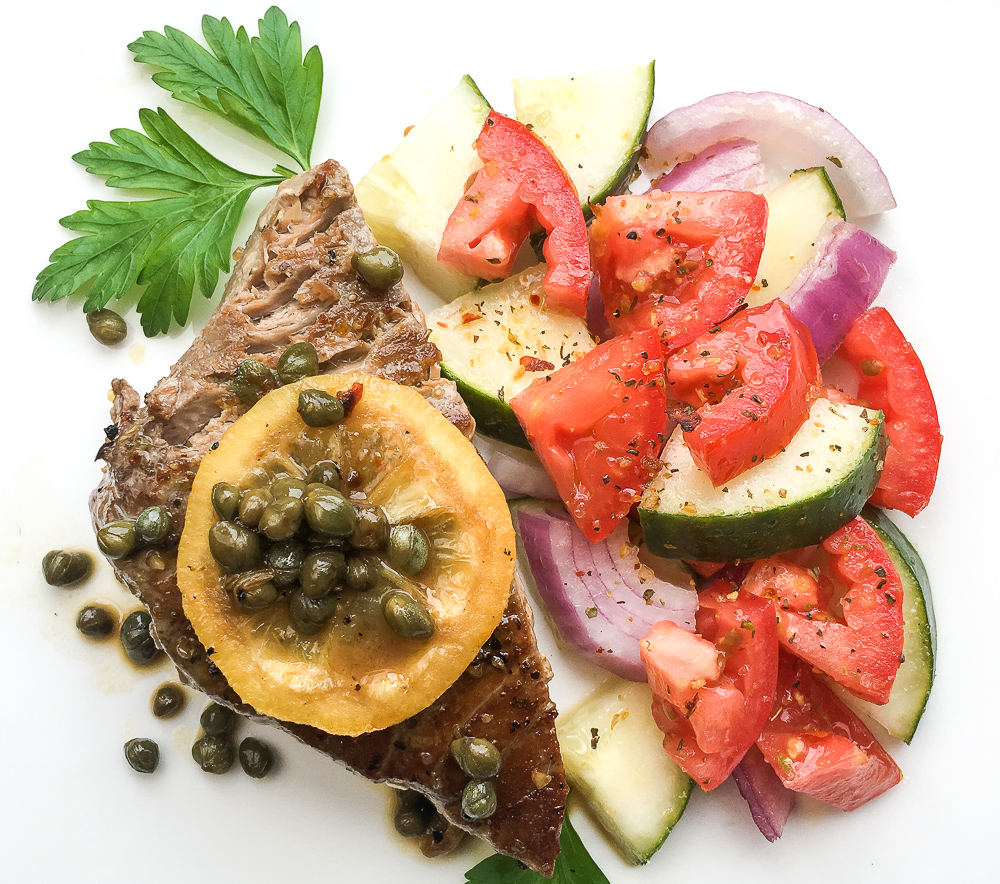 Ingredients:
3 T. extra virgin olive oil, divided
4 6-oz. sushi-grade tuna steaks, approximately 3/4" thick
Salt and black pepper, to taste
1 medium shallot, finely chopped
¼ c. dry white wine
½ c. chicken broth (Check Labels)
2 T. fresh lemon juice
1 organic lemon, sliced thin
3 T. capers, drained
Directions:
Heat two tablespoons olive oil in a large skillet over medium-high heat. Add tuna steaks to hot skillet and cook for approximately 2 minutes for rare (add one minute per side for medium).
Flip tuna and season with salt and black pepper, to taste. Cook for another 2-3 minute, depending on desired level of doneness. Transfer tuna steaks to a plate and season with additional salt and black pepper, if desired. Keep warm.
Add remaining olive oil and chopped shallots to skillet, Sauté, stirring occasionally, until shallots are soft and start to turn golden brown, approximately 3 minutes.
Add white wine, chicken broth, lemon juice, and lemon slices to skillet. Deglaze pan by scraping up any brown bits from the bottom with a spatula. Cook, stirring frequently, until the liquid is reduced by half.
Reduce heat to medium and add capers. Stir to combine and cook for another minute or until heated through.
Transfer the tuna steaks onto individual serving plates and top with a "melted" lemon slice and a spoonful of the lemon-caper sauce and serve immediately with your favorite sides.
Enjoy!
Kathy
If you click on any of the links associated with this post I will receive a small stipend! Thank you for supporting my recipe addiction!
I am absolutely in love with my All Clad Skillet! I use it almost everyday, from being non stick to oven safe this pan really does it all. It is a little on the pricey side but well worth the investment! I have had mine for years now and it still works like its brand new!