Gluten Free Grilled Tuna Steaks with Preserved Lemon Gremolata
This flavorful and healthy gluten free Mediterranean-inspired dish is ready in less than twenty minutes. It features Italian gremolata – a simple green condiment made from a combination of fresh parsley, garlic, and lemon zest. This version also incorporates a nod to Moroccan cuisine with the addition of preserved lemon rind for a bit of extra flavor and visual interest.
Tip: For best results, do not close grill lid while grilling tuna steaks.
Prep time: 10 minutes
Cook time: 4-6 minutes
Serves: 4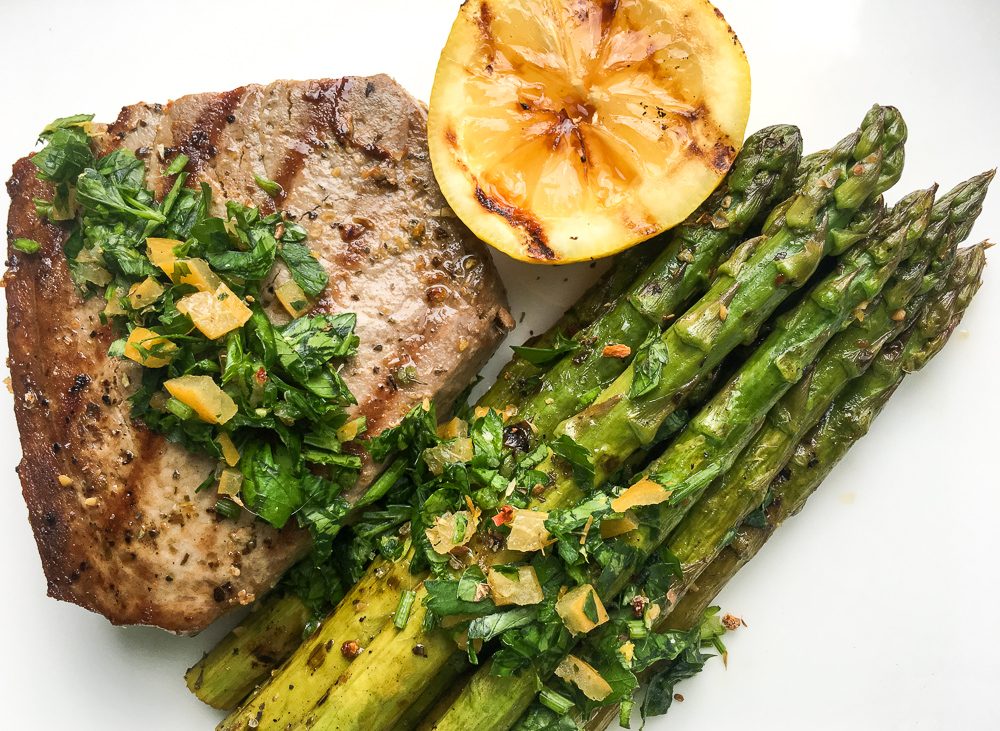 Ingredients:
4 6-oz. sushi-grade tuna steaks, approximately 3/4" thick
2 T. extra virgin olive oil
Mediterranean-spiced sea salt, to taste*
Black pepper, to taste
2 large lemons, cut in half
Gremolata:
¼ c. fresh parsley leaves, washed, dried thoroughly, and finely chopped
1 t. organic lemon zest
2 t. preserved lemon rind, rinsed and finely chopped
1 large clove garlic, grated
Sea salt and black pepper, to taste
Directions:
Clean and spray grates of a gas grill with non-stick cooking spray and set heat to high. Close lid until grill comes to temperature. If you would like to cook this recipe inside you can substitute with a grilling pan.
Meanwhile, prepare the gremolata by combining the parsley, lemon zest, preserved lemon rind, and garlic a small bowl. Season with salt and black pepper, to taste, and set aside.
Brush tuna steaks with olive oil and sprinkle with Mediterranean-spiced sea salt and black pepper, to taste.
Open grill and place tuna steaks and lemon halves over direct heat. Cook tuna for 2 minutes per side for rare. Increase time slightly for medium, but do not overcook.
Remove tuna and grilled lemon halves from heat and serve immediately topped with some gremolata. Serve with our grilled marinated asparagus or other side of your choice.
Enjoy!
Kathy
If you click on any of the links affiliated with this post we will receive a small stipend! Thank you for your continuous support!
The All Clad grilling pan is the perfect replacement for the outdoor grill. Non stick, easy to clean, and you will still get those beautiful grill marks. Sometimes when its rainy or if I don't want to fuss with the outdoor grill I'll just use this grilling pan for a quick and easy meal!