Roasted Fall Harvest Gluten Free Soup
When it came to harvest the goodies from my garden and orchard I had a ton of butternut squash and apples to play around with and make fun recipes. This is one of the yummy recipes I came up with this year and it turned out fabulous. Invite the family over and enjoy a bowl of this great fall harvest soup!!
Prep time: 15 minutes
Cook time: 40 minutes
Serves: 4-6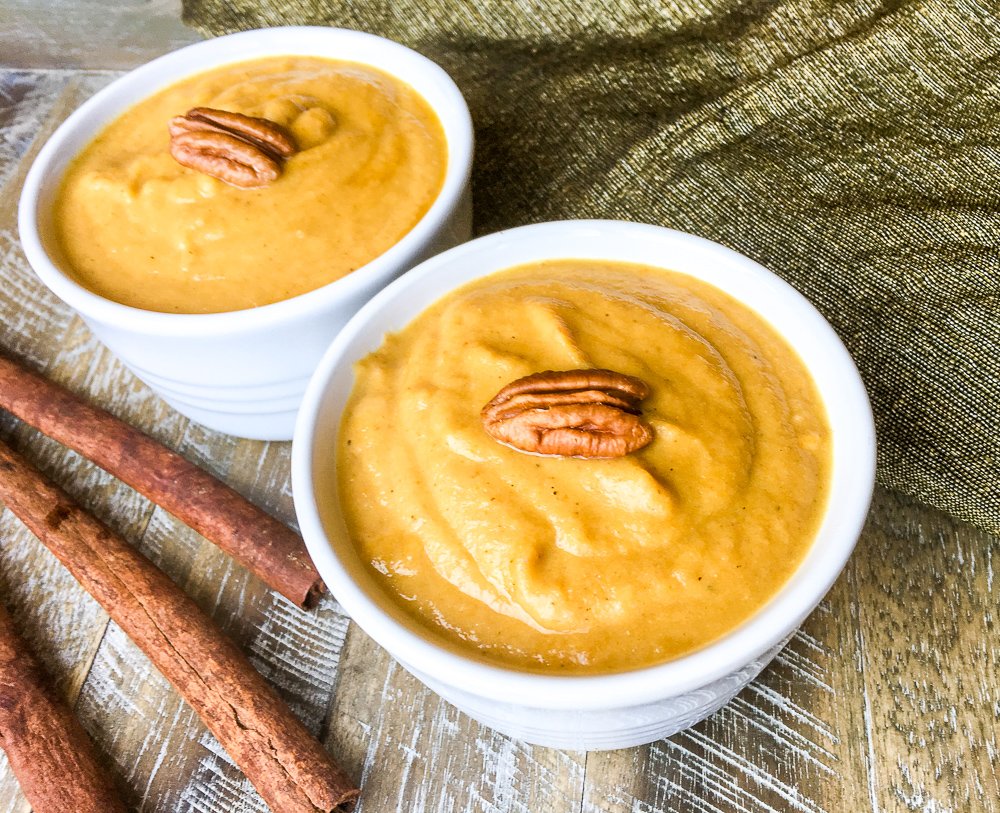 Ingredients:
3 c. butternut squash, cubed
3 large firm apples, cubed
1 medium red onion, chopped
1 T. fresh ginger, minced
1½ t. ground cinnamon
½ t. ground nutmeg
½ t. ground cloves
½ t. allspice
2 T. coconut oil, melted
Sea salt and black pepper, to taste
4-5 c. chicken broth, preferably organic, divided (gluten free, check labels)
Directions:
Preheat oven to 400°F and line a large baking sheet with a piece of parchment paper. Set aside.
Combine butternut squash, apples, red onion, ginger, cinnamon, nutmeg, cloves, allspice, and melted coconut oil in a large bowl. Season with salt and black pepper, to taste, and toss to combine.
Spread seasoned butternut squash mixture onto prepared baking sheet and spread into a single layer. Place in pre-heated oven and roast until squash is fork tender, approximately 25-30 minutes.
Remove baking sheet from oven and let cool slightly before transferring one quarter of the roasted veggie mixture to a high-powered blender or Vitamix. Add one cup of chicken broth to container and blend until smooth. Add a little more broth, if necessary, to reach desired consistency.
Transfer puree to a large soup pot or dutch oven and repeat process with remaining vegetables and chicken broth. Turn heat to medium and cook, stirring frequently, until soup is heated through, approximately 5-10 minutes.
Remove from heat and adjust seasonings, as desired, before serving.
Enjoy!
Kathy
If you click on any of the links associated with this blog we will receive a small commission!! Thank you for keeping me blogging!!
High quality baking sheets really do make a huge difference when it comes to cooking and baking! I have the USA baking pans and they have been the best investment I have made so far. I use my baking sheets all the time and have had them for years. The durability and construction of these pans really make them worth every penny! One of the best things about these pans is they don't warp! There is nothing like popping something in the oven and all of a sudden you hear a loud popping noise, and your goodies pop right off the pan! Click on the link to try these amazing pans for yourself!!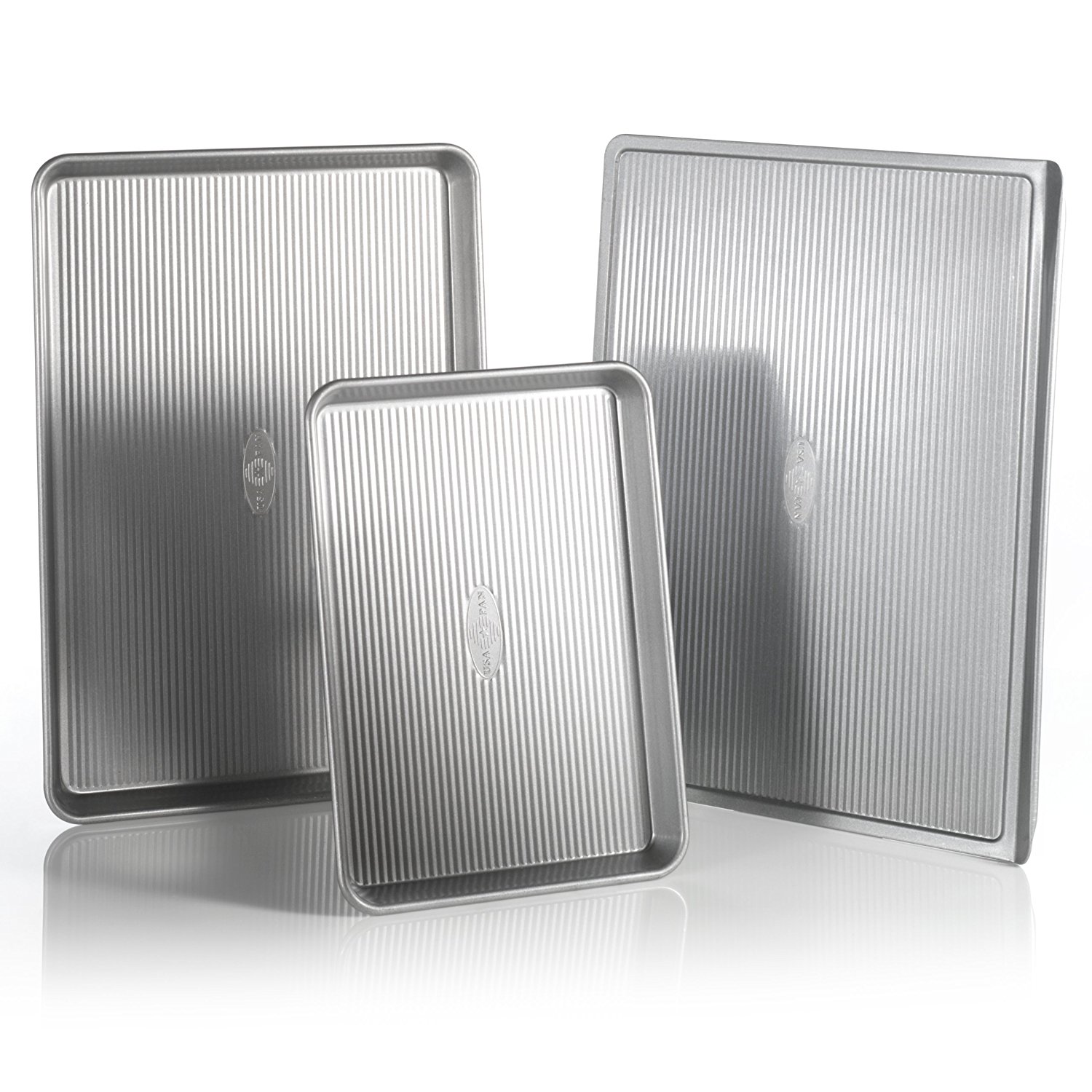 I love soups it doesn't even have to be winter or cold for me to want to make them. For this recipe I used my Dutch oven! I LOVE my Le Creuset Dutch Oven!!! If the world was going to end and I had to pick one thing out of all my kitchen to save this would be it!! The amount of things you can do and the durability of this pot are some of the reasons I love it so much! It is a little on the expensive side but completely worth it!! Click on the link or picture and get one for you or a loved one!!!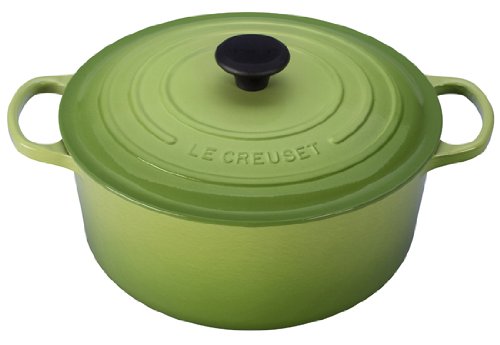 For a fantastic blender that will not only make amazing margaritas but soup and salsa's try the Vitamix Blender. That is just some examples of what this thing can do, it really is a fantastic tool to have handy in your kitchen! I was first turned onto the Vitamix blender by my sister when she brought some homemade nut butter over for brunch one day. The creaminess of the nut butter was outstanding not one single lump in it. I was sold! Yes, it is a little on the expensive side but well worth the investment when you see the versatility of the machine and use it as much as I do! Give it a try and click on the link to purchase one for yourself!