This cookie is too special to be relegated to just the fall. Brown sugar, gluten free oats and fresh apples turn into a delicious cookie that will knock your socks off. I'm not kidding!
Get ready to be blown away by all the compliments on these cookies.
Gluten Free Apple Oat Cookies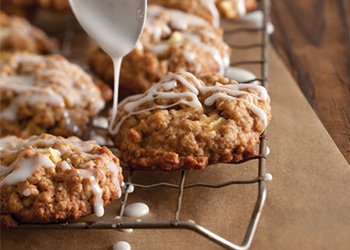 Ingredients: 
2/3 cup organic vegetable shortening
½ cup organic butter, softened
1 ¾ cup light brown sugar, packed
1 organic egg
1 tsp. organic gluten free vanilla extract
1 tsp. organic white vinegar
½ tsp. baking soda
1 ½ cups organic gluten free flour blend
½ tsp. organic salt
3 cups organic gluten free old fashioned oats
1 ½ cups peeled, cored and chopped organic apples (Braeburn or Golden Delicious)
Glaze:
1 1/4 cups powdered sugar
3 Tbsp milk or more as needed to reach pouring consistency
Directions:
Note: needs to be refrigerated for one hour.
Using a large bowl, beat the shortening, butter and brown sugar together with an electric mixer until light and fluffy. Beat in the eggs, then the vanilla, then the vinegar and finally the baking soda. Whisk the flour blend and the salt together and gradually add to the brown sugar mixture.
Mix in the oats and the apples. Refrigerate for one hour.
Preheat the oven to 375 degrees. Line two cookie sheets with parchment paper and set aside.
Use a medium sized cookie scoop, drop rounds of dough 2" apart. Bake for about 14 to 16 minutes or until light brown around the edges. Allow to cool on the sheets for 5 minutes. Then remove to wire racks to cool completely.
When cool, mix up the glaze and drizzle over the cookies.
Makes about 2 dozen
You will definitely need to make more of these. They will become one of your "go to" cookie recipes.
Happy Baking all!
Kathy
Adapted from a Paula Deen recipe.