If you're tired of the same marshmallows and brown sugar casserole ( not, that there's anything wrong with tradition) try bringing this instead. Smooth and creamy with just a touch of pure maple syrup. Heaven!
Sweet Potato Mash
Prep time and roasting time 1 hour and 15 min.
Preheat the oven to 400 degrees.
Roast ahead of time 2 lbs. of fresh sweet potatoes until tender, about one hour. When done, cut in half, scoop out the flesh and toss in a bowl. Puree with 4 Tbsp. of butter, ¼ cup of pure maple syrup and a dash of salt.
Garnish with toasted chopped pecans, or fresh sage leaves if desired for garnish.
Makes 4 servings – Double if you need more
Here's another version for you to try also.
Cider Sweet Potato Mash
Make the Sweet Potato Pie recipe. While the sweet potatoes are roasting, simmer 2 to 3 chopped and peeled apples (Pink Ladies are a good choice) with 1/3 cup of real apple cider and ½ tsp. of ground cinnamon until the apples are soft.
Turn off the heat. When you are ready to puree the potatoes, add the apples along with the cider and puree together. You can still pour in the maple syrup if you want or not, up to you.
Makes 4 servings – double if you need more
This is amazing any time of year. Serve with a roast pork loin or along side a nice juicy rib eye steak.
Kathy
If there's one thing you can say about me, it's that I love my gadgets 😉 When I want a very smooth texture to my potatoes, I usually reach for my emersion blender like this one here: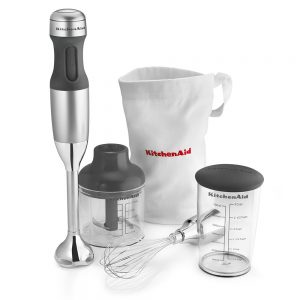 If I want a more rustic type mash ( think with some chunks still in it) I use this tool for hand mashing. It works like a dream for potatoes when they're really hot. I haven't found anything better.  Zyliss makes great tools at a great price.
If you click on any of the links on this post, I will receive a small commission for the sale. Thanks! I greatly appreciate all your support.