Gluten Free Buffalo Chicken Lettuce Wraps
This gluten free recipe features all the wonderful flavor found in traditional Buffalo wings – with none of the guilt! As an added bonus, this satisfying one pan meal comes together in less than 30 minutes.
Prep time: 10 minutes
Cook time: 15 minutes
Serves: 4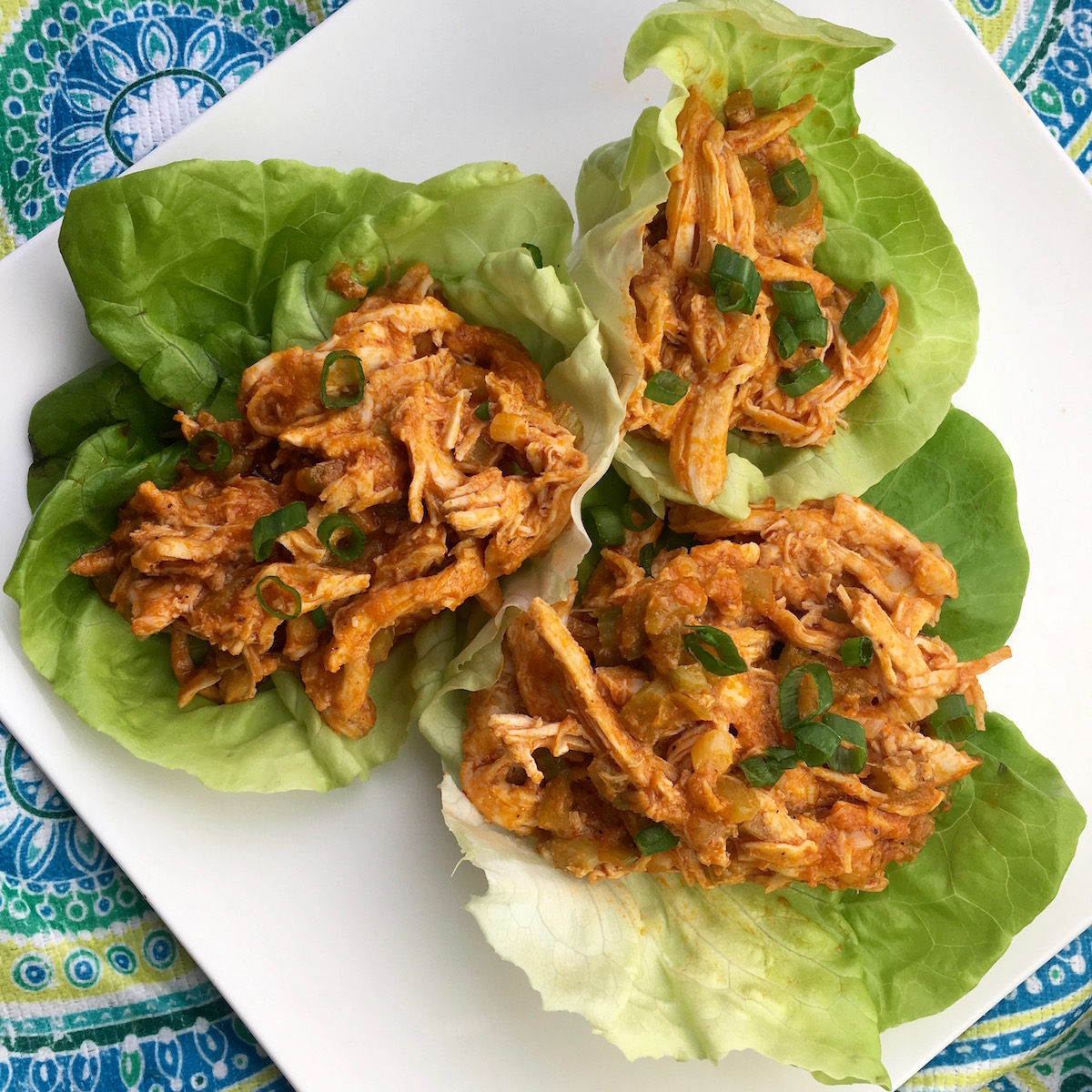 Ingredients:
2 T. coconut oil
1 green bell pepper, finely diced
2 celery stalks, diced
1½ lbs. rotisserie chicken breast, shredded
2 t. onion powder
1 t. garlic powder
Salt and pepper, to taste
½ c. Frank's hot sauce
2 green onions, sliced
To serve:
1 head Bibb or butter lettuce, leaves removed, washed and patted dry
Directions:
Melt the coconut oil in a large sauté pan over medium heat. Add the diced pepper and celery, and sauté until tender, around 5 minutes.
Add the chicken, onion powder, and garlic powder to pan. Stir well and season with salt and pepper, to taste. Cook for 2-3 minutes, or until the chicken is heated through.
Add the hot sauce and sauté while stirring for another minute or two, until the sauce is heated through and everything is well coated. Remove pan from heat and stir in the sliced green onions.
To serve, fill Bibb lettuce cups with a few tablespoons of the chicken mixture.
Enjoy!!
Kathy
If you click on any of the links associated with this post we will receive a small commission. Thank you for your support!! It is greatly appreciated!!
This is a great one pan meal. To make this dish I used my All-Clad skillet. The All-Clad skillets are a little on the expensive side but completely worth the investment because of the versatility and longevity of these pans. These pans are dishwasher, oven and broiler safe while also compatible with all cook tops including induction. I have had mine for a number of years now and I love them!! Click on the link to give them a try!!