Gluten Free Garlic-Herb Whole Roasted Chicken
This flavorful gluten free chicken recipe is a true home run. It's the perfect choice for a nice Sunday dinner with friends and family. Plus, you can shred the remaining meat to use in a quick soup or salad recipe the next day.
The onion in this recipe serves two purposes: It raises the chicken out of the juices while it cooks and it imparts a lovely flavor to the pan sauce. After cooking, the onion is discarded, rather than eaten, to keep the overall carb count low. If you would like to omit the onion completely, you can replace the onion slices with ovenproof metal cookie cutters to lift the chicken while it cooks.
Prep time: 15 minutes + rest time (15-20 minutes)
Cook time: 1½ hours
Serves: 6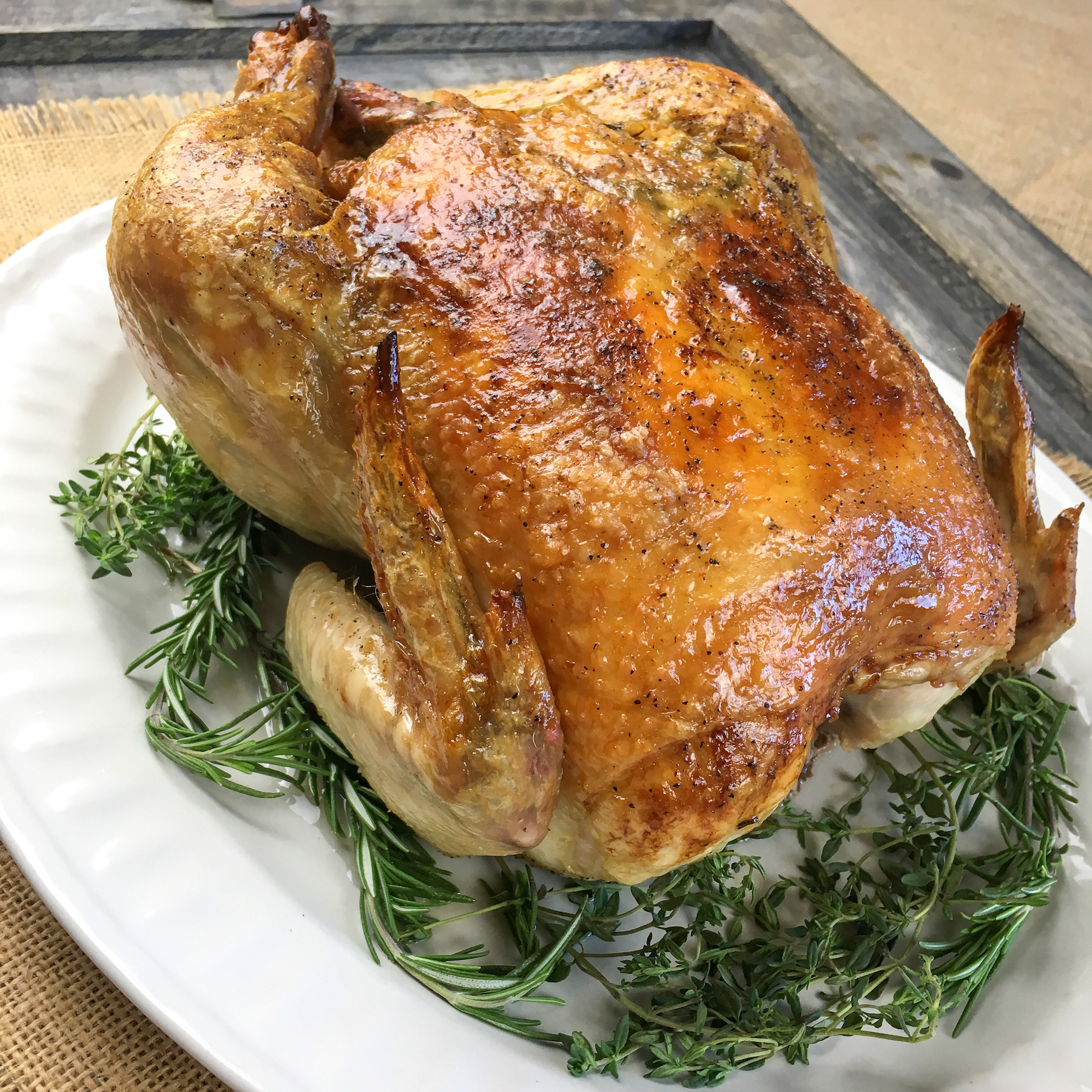 Ingredients:
1 large white onion, cut into thick slices
1 5-6 lb. whole chicken
Sea salt and black pepper, to taste
1 small container fresh poultry herbs (thyme, rosemary, & sage), rinsed and divided
¼ c. unsalted butter, room temperature
6-8 cloves garlic, finely minced, divided
1 c. sugar-free organic chicken broth (gluten free, check labels)
Directions:
Preheat oven to 425° F and arrange onion slices in bottom of a large, heavy-duty 12" oven safe skillet with high sides.
Remove and discard neck and giblets from chicken and place bird breast-side up on top of onion slices in skillet. Pat chicken dry with paper towels and generously season the outside with salt and black pepper.
Separate out approximately 1/3 of the fresh thyme, rosemary, and sage from the bundle. Remove and discard the tough stems from the thyme and rosemary leaves. Combine the leaves with the sage before roughly chopping.
Add the softened butter, half the minced garlic, and the chopped fresh poultry herbs in a small bowl and stir to combine. Divide the herb butter into small chunks before tucking evenly under the chicken skin covering the breast meat.
Massage the remaining minced garlic inside the cavity of the bird before stuffing with the remaining fresh poultry herbs. Secure legs together with kitchen string, and then add the chicken broth to the skillet.
Place skillet in pre-heated oven and roast for 1 hour and 30 minutes or until a meat thermometer inserted into the thickest part of the thigh reads 165° F. Check every 30 minutes while cooking to make sure the skin isn't becoming too brown. If it is, cover with aluminum foil after 1 hour and check for doneness after another 15-20 minutes.
Remove skillet from oven and carefully transfer chicken to a serving platter. Cover loosely with aluminum foil to keep warm and let rest for 15-20 minutes.
While the chicken rests, discard the onion slices in the skillet and heat the remaining liquid over medium-high heat. Scrape the bottom of the skillet with a spatula or wooden spoon to remove the browned bits. Continue cooking until the liquid is reduced by one half. Once reduced, taste and season with salt and black pepper, if desired.
To serve, carve the chicken and top each serving with a spoonful of the warm pan sauce.
Enjoy!
Kathy
If you click on any of the links associated with this post we will receive a small commission!!! Thank you for supporting me and my recipe addiction!!!
One of my most used items in the kitchen is my skillet! Having a good one that will last a long time is really important to me. I have found that the Le Creuset Skillet has been my go to skillet for most of my dishes, makes for an easier cleanup than a regular cast iron skillet too. Its a little on the expensive side but completely worth the initial investment because it will last you a life time!! Click on the picture or link and it will pop you over so you can check it out!!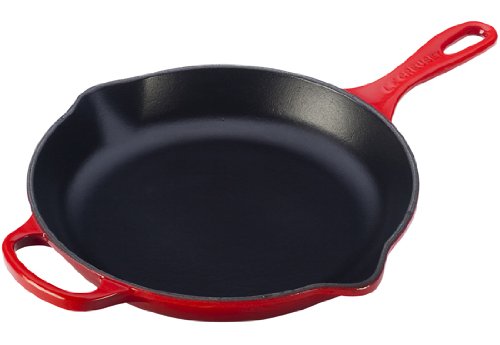 To verify that your chicken is fully cooked and that you aren't serving under cooked food use an Instant Read Meat Thermometer. Just insert the probe into the thickest part of the thigh to make sure its fully cooked. The one I use is waterproof and comes with a long enough probe so you can use it when grilling as well. Click on the link or picture to get yours.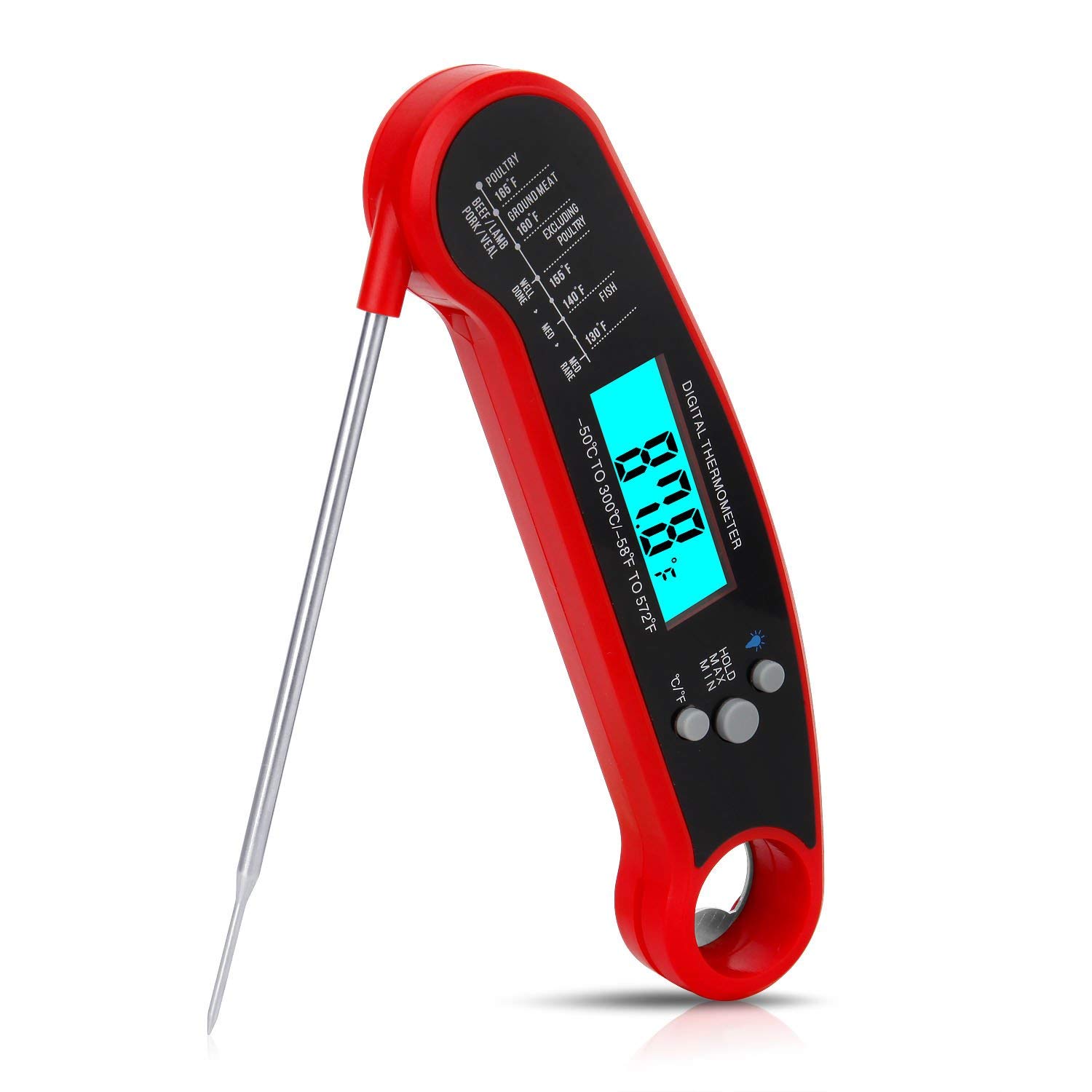 I really love to entertain so when I invite friends and family over I really love to wow them with a beautiful presentation. From tablecloths and linens to flowers and glasses I just love a beautifully set table. For a serving platter this time I used the Calypso Serving Platter. I had decided that I wanted my theme for that party to be green and pink with so much color I you cannot go wrong with a white serving platter to break up all the color and make your food look as amazing as it tastes! To pick one up for yourself click on the link!