Gluten Free Mustard Pork Loin with Thyme-Roasted Carrots
Eating naturally sweet foods like carrots and sweet potatoes is a great way to keep your sweet tooth at bay. Roasting these vegetables brings out their natural sugars and makes them taste even sweeter. The sweetness of these thyme-roasted carrots works perfectly with the savory gluten free mustard pork loin.
Prep time: 10 minutes
Cook time: 40 minutes
Serves: 4 – 6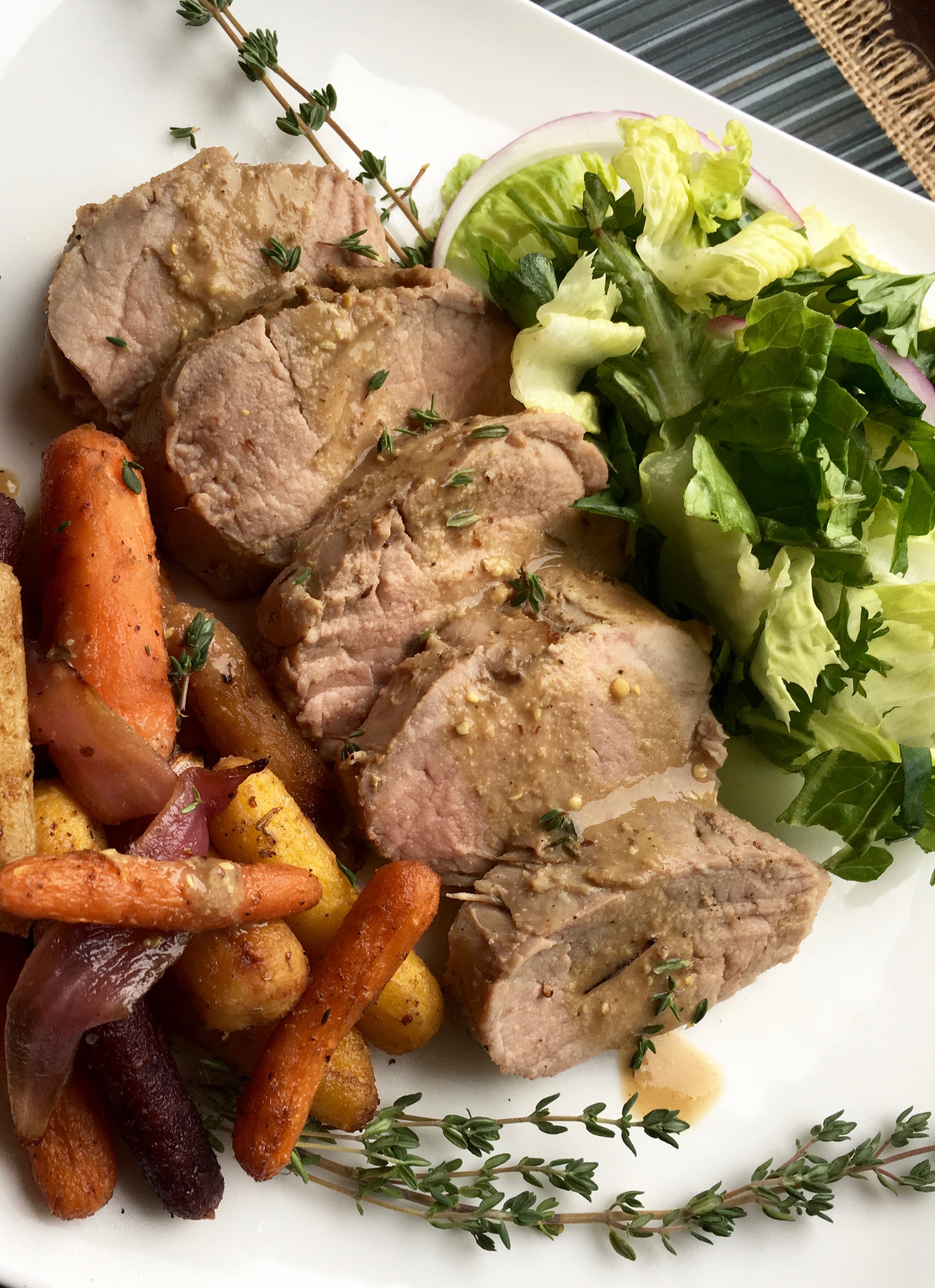 Ingredients:
2 lbs. pounds pork loin
2 T. Dijon mustard (gluten free, check labels)
2 T. sugar-free whole grain mustard (gluten free, check labels)
1 T. extra virgin olive oil
Salt and pepper, to taste
1 lb. tri-color baby carrots
2 garlic cloves, minced
2 T. balsamic vinegar
1 T. coconut oil, melted
2 T. fresh thyme leaves
Salt and pepper, to taste
Directions:
Preheat your oven to 400 degrees F and line a large, rimmed baking sheet with a piece of parchment paper. Place the pork loin in the center of the lined baking sheet and set aside.
In a small glass or other non-reactive bowl, combine the Dijon and whole-grain mustard with the olive oil. Massage the pork loin with the mustard mixture, then sprinkle both sides with salt and pepper, to taste.
Place the baby carrots in a large bowl and add the garlic, balsamic vinegar, coconut oil, and fresh thyme. Season with salt and pepper, to taste, and toss to combine.
Spread the carrots in a single layer around the seasoned pork tenderloin on the baking sheet and pour any remaining juices from the bowl on top.
Cook for 20 minutes, then remove the baking sheet from the oven and flip the pork. Cook for another 15-20 minutes, or until the pork reaches an internal temperature of at least 145° for medium-rare, you can check by using a meat thermometer, and the carrots are nicely caramelized.
Remove from oven and let pork loin rest for 3-5 minutes before slicing. Serve warm with roasted baby carrots.
Enjoy!
Kathy
If you click on any of the links associated with this page we will receive a small commission. Thank you for your continuous support!!
When it comes to a good baking sheet you can't go wrong with the Nordic Ware Baking Sheets. They are commercial grade sheets that will last a long time. Make sure you are following all manufactures guides to clean and store. These baking sheets are large enough to fit a whole salmon fillet or a dozen large sizes cookies no problem. Best part is they are made right here in the USA!! Click on the link and grab some for yourself or a loved one!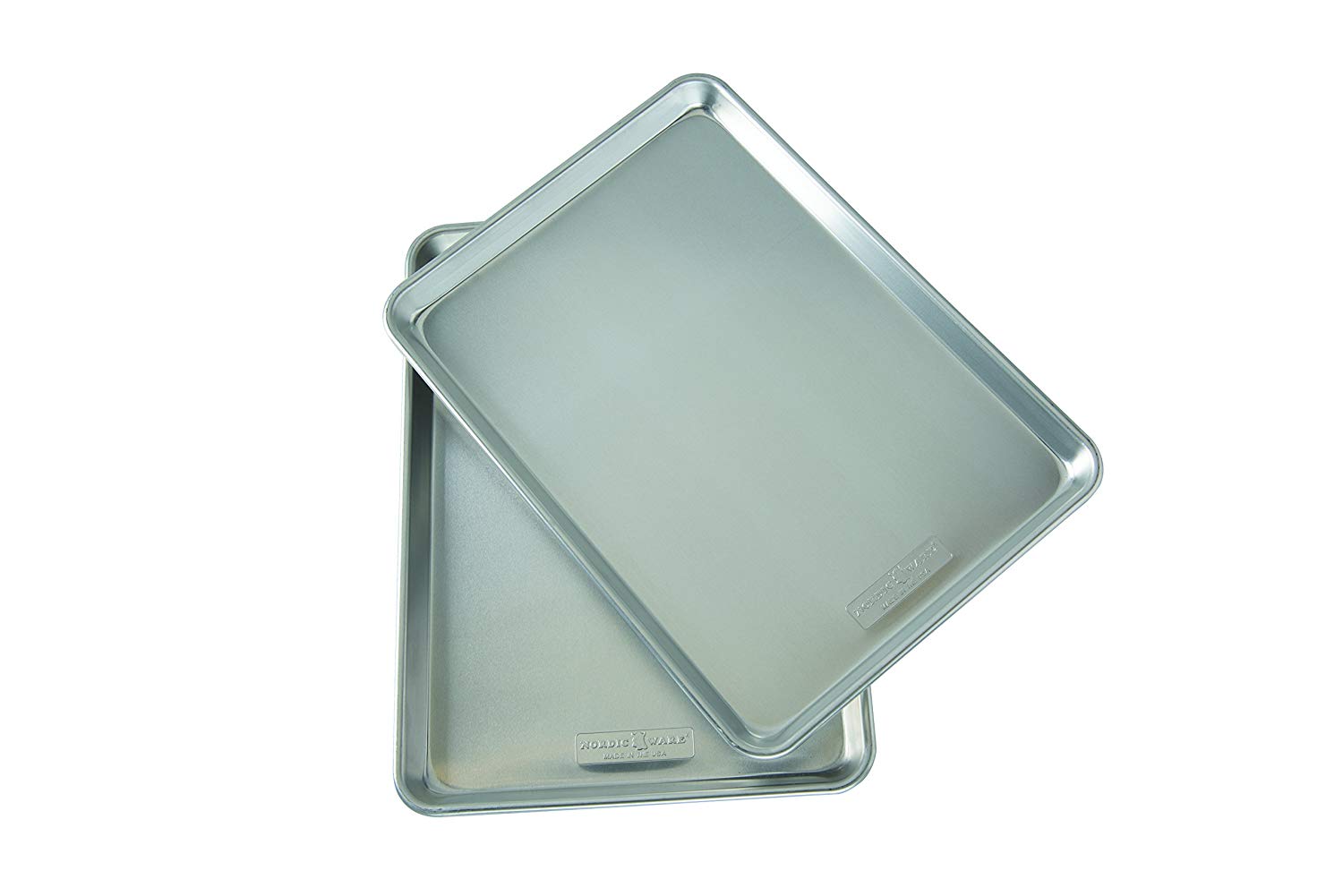 To verify that your pork loin is fully cooked and that you aren't serving under cooked food use an Instant Read Meat Thermometer. Just insert the probe into the center of the of largest piece of meat on the tray to make sure its fully cooked. The one I use is waterproof and comes with a long enough probe so you can use it when grilling as well. Click on the link or picture to get yours.