Gluten Free Pineapple-Shrimp Stuffed Avocados
These delicious gluten free pineapple-stuffed avocados are perfect as a healthy lunch entree or a light dinner – especially on those busy days when you can't spend much time in the kitchen!
Prep time: 20 minutes
Cooking time: 2-3 minutes
Serves: 4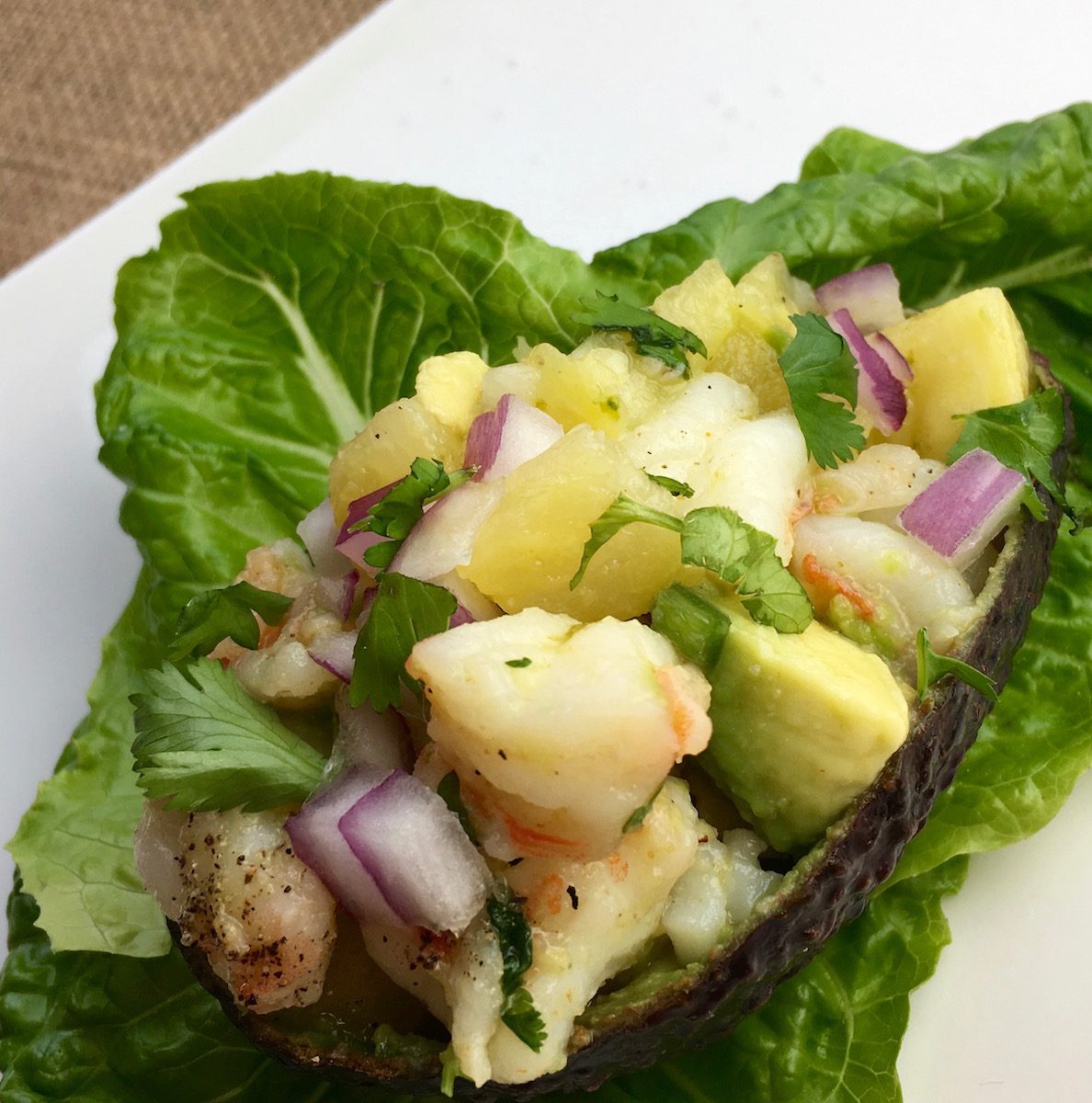 Ingredients:
2 T. extra virgin olive oil
8 oz. Jumbo shrimp, peeled and deveined
2 t. ground cumin
Salt and pepper, to taste
¼ c. fresh lemon juice, divided
2 large avocados
1 c. fresh pineapple, diced
1 T. fresh pineapple juice
1 small red onion, diced
3 T. fresh cilantro, stems removed and chopped
Directions:
Heat olive oil in a medium-sized skillet over medium heat. Pat the shrimp dry with paper towels and add to the hot skillet. Add ground cumin and season with salt and pepper, to taste.
Cook shrimp for approximately 2-3 minutes, stirring frequently. Remove pan from heat and add 2 tablespoons of fresh lemon juice. Stir to combine and transfer to a small bowl. Cover and place in the refrigerator to chill.
Cut avocados in half lengthwise. Remove seed and score the flesh in evenly spaced rows lengthwise and crosswise to create equal-sized chunks. Scoop avocado out of shell and toss with remaining 2 tablespoons of lemon juice to prevent browning. Reserve avocado shells and set aside.
Add avocado, pineapple, pineapple juice, onion, and cilantro to a large non-reactive bowl and stir gently to combine.
Remove chilled shrimp from the refrigerator and chop into equal-size chunks. Fold shrimp into avocado-pineapple mixture. Season with salt and pepper, to taste.
Spoon shrimp mixture into reserved avocado shells and serve immediately.
Enjoy!
Kathy
If you click on any of the links associated with this post we will receive a small commission!! Thank you for supporting my recipe addiction.
To make this fantastic recipe I used my All-Clad Skillet. These skillets are professional quality and a little on the expensive side but completely worth the investment because they will last you a life time!! The All-Clad skillets are nonstick to provide easy clean up, oven and broiler safe, and also dishwasher safe. With all metal construction they are super durable and compatible with all cook tops. Click on the link or picture and it will pop you over to where you can get one for your kitchen.

One thing about me is that I love lemon. I really love it on chicken and fish, one thing I don't like about it is the seeds. Those pesky things always seem to slip into my dish, sometimes without me even knowing and how embarrassing is it when you have a guest over and they bite down on a seed. So I put the kibosh on that and I only use my Citrus Squeezer now to get the yummy juice from my citrus!