Gluten Free Loaded Avocado Baked Eggs
This delicious gluten free breakfast dish looks as good as it tastes. As an added bonus, you won't need to dirty any pots or pans to prepare it if you microwave the bacon rather than fry it.
There are a couple of "tricks" to perfecting this recipe, however. For starters, use large avocados and medium-sized eggs. Otherwise, the egg white may overflow the avocado. Cracking each egg into a small bowl before carefully pouring it into the avocado will also help prevent spills.
Tip: To keep your egg-filled avocados from tipping over while baking, position them over the holes of a muffin tin, rather than on a flat baking sheet, before placing them in the oven.
Prep time: 5 minutes
Cook time: 20 – 25 minutes
Serves: 4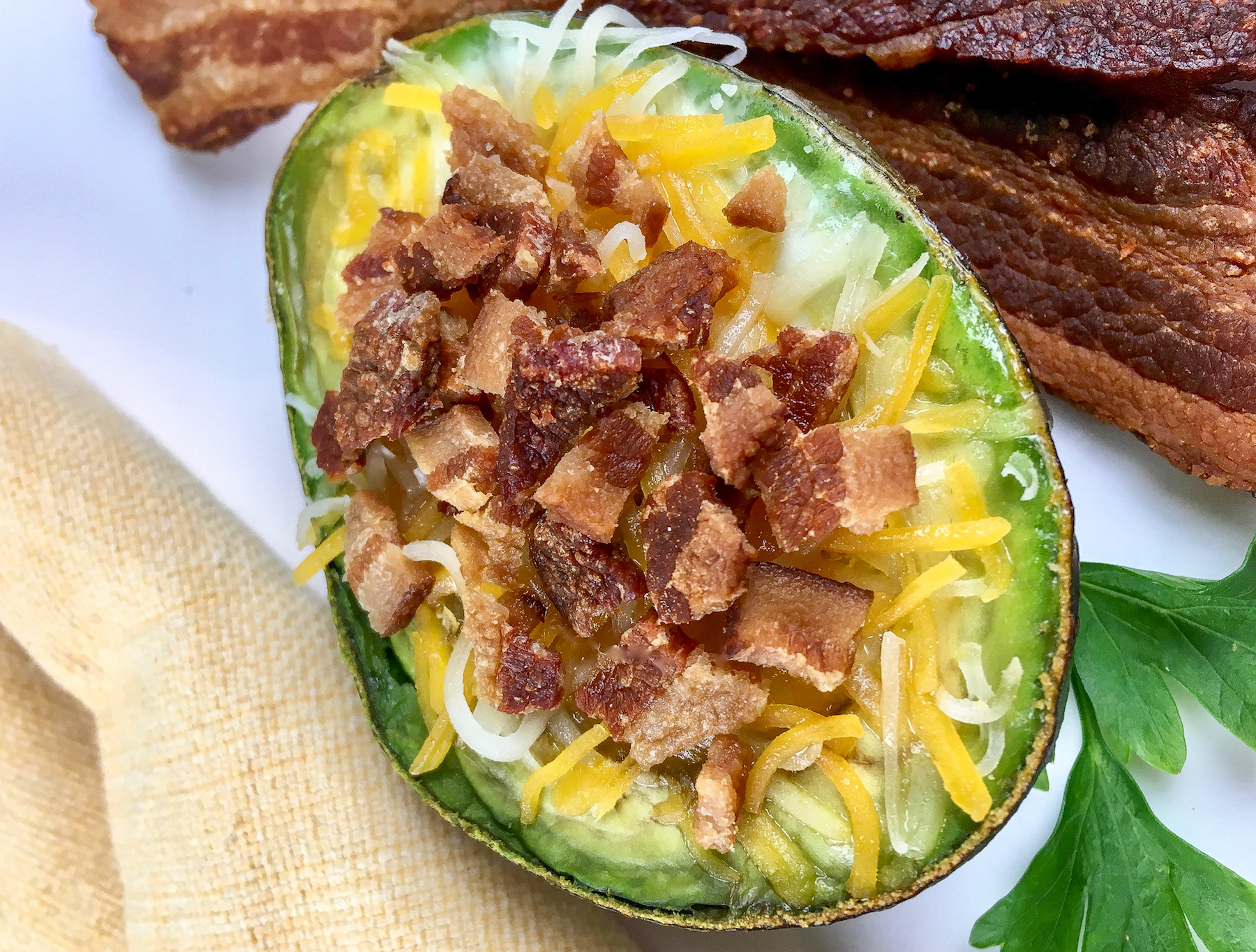 Ingredients:
2 large ripe avocados
4 medium eggs
Sea salt and black pepper, to taste
½ c. Cheddar Jack Cheese, shredded
3 strips sugar-free bacon, cooked crispy and crumbled
Optional garnish:
Chives or green onions (green parts only), sliced thin
Directions:
Preheat oven to 350° F and line a rimmed baking sheet with parchment paper or use a muffin tin.
Cut avocados in half lengthwise and remove the pits. Use a spoon to carefully remove some of the avocado flesh around the pit to create more space for the egg. Reserve removed flesh for another use (or smash, season with salt and pepper to taste, and top each baked avocado half with a spoonful before serving).
Crack one egg into a small bowl and then carefully transfer the egg into one of the prepared avocado halves. Place the filled avocado onto the prepared baking sheet or lay over the hole of a muffin tin and repeat this process with the remaining avocado halves and eggs. Season each with salt and black pepper, to taste.
Place filled avocado halves in pre-heated oven to bake for 20-25 minutes, or until the eggs are cooked according to your preference.
Remove from oven and top each avocado half with shredded Cheddar Jack cheese and crispy bacon pieces. Garnish with chives or sliced green onions, if desired, and serve immediately.
Enjoy!
Kathy
If you click on any of the links associated with this page we will receive a small commission!! Thank you for supporting me and my recipe addiction!!
For some amazing muffin tin you need to try the USA Cupcake pan or Muffin Tin. They are made right here in the United States and are superior to any other pan I have used! They have a whole line of baking products and all of them are amazing!! Click on the picture or link to check them out!!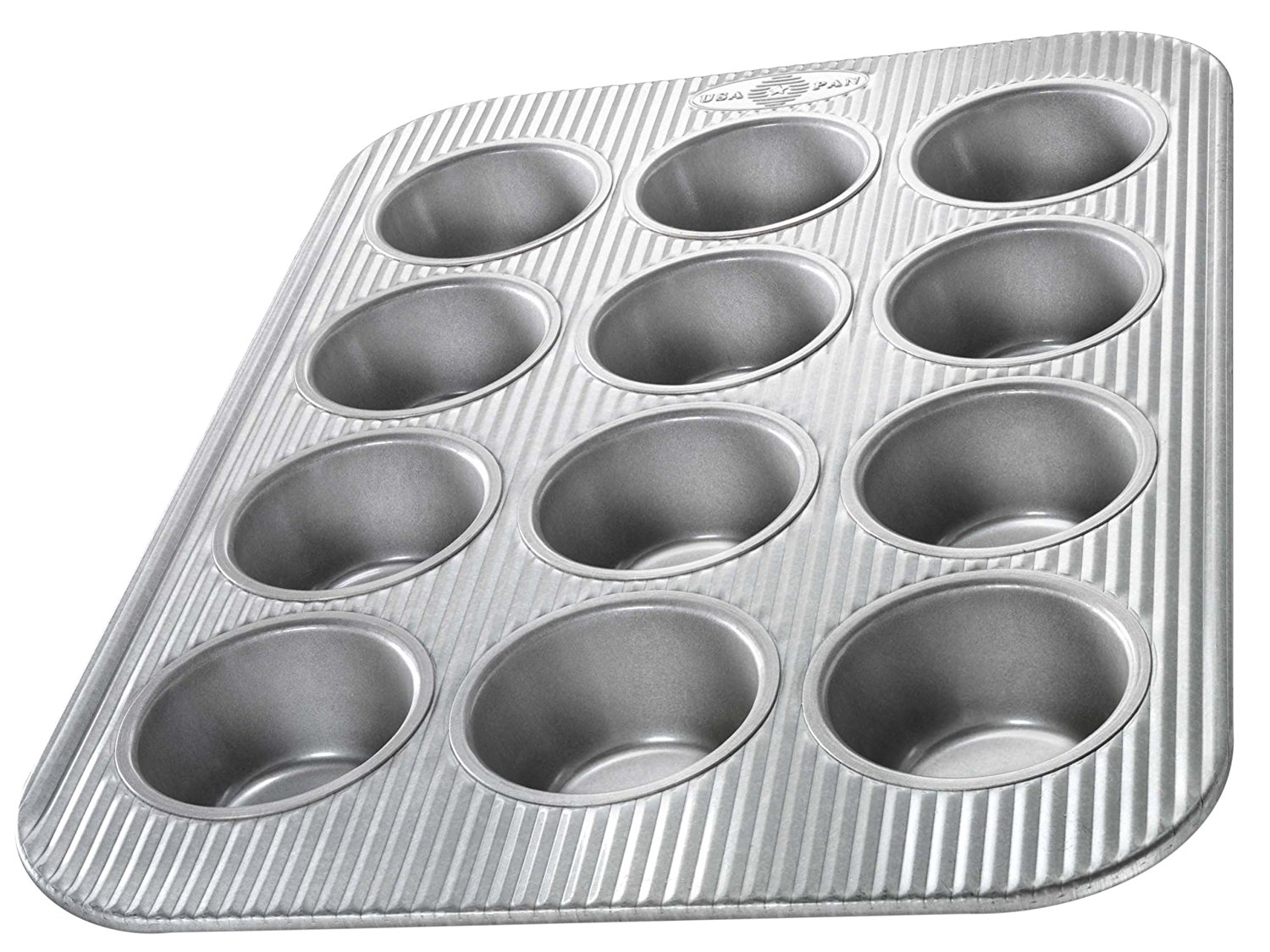 To make sure you don't get any egg shells in your loaded avocados or to ensure you wont spill use a Pyrex mixing bowl. The ones I have linked here come in three different sizes for all different applications. They are non reactive bowls which are microwave, dishwasher, and freezer safe. Perfect for all your mixing needs!! Click on the link and it will pop you over to where you can get some for your kitchen!!