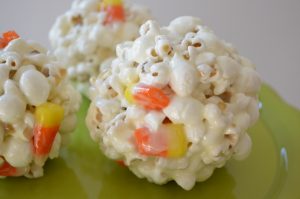 What would a Halloween party be without popcorn balls? And especially ones made with candy corn? Be sure to make these with any youngin's you have hanging around, whether they're yours or not.  Get ready to get sticky!
Candy Corn Popcorn Balls
Ingredients:
13 cups of popped popcorn (or a 4.5 oz. bag of popped popcorn)
Nonstick cooking spray ( I use Vegalene) 
1-2 cups candy corn
½ cup of salted nuts (optional)
1 bag (10 oz.) of mini marshmallows
6 tbs. butter
Directions:
Place a large piece of parchment paper or wax paper on the counter.
In a giant bowl or large stock pot pour the popcorn, candy corn, and nuts. Mix with your hands or a spoon and set aside.
Place the butter in a large, non-stick saucepan over medium heat. Add the marshmallows and cook, stirring until melted and smooth. Pour the marshmallow mixture over the popcorn and toss to coat.
Now for the fun part. Spray your hands with non-stick spray and shape the popcorn into balls. Squeeze very tightly so that it will stay together. Set on parchment paper as you finish each one. You will need to coat your hands after each one as this mixture is very sticky.
You can also change out the candy corn with another type of candy as long as it's not a hard candy. That would be a little too much I think. No dental bills please.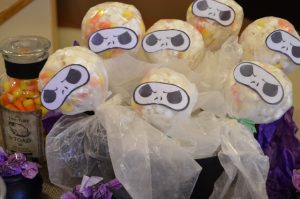 To make into ghosts or ninjas or mickey's:
Take a 2 foot piece of wax paper and center over the top of the popcorn ball. Smooth down over the top and grab at the bottom, forming a neck. Fasten with a twist tie at the neck. Then insert a 12 inch lollipop stick into the popcorn ball through the neck.
This will allow your ghost to stand up in a piece of foam. Do for each one. Download a face or eyes pattern.. Print and cut out the shapes. Stick to your ghosts using tape or glue. Or get creative and free hand it on your own. Or use some stamps and die cuts you have hanging around. If you don't have any, see if someone you know does. Easy peasy to make faces.
Makes 12 ghosts or ninjas or mickey's or……
The possibilities for faces on these is only limited to what you want to do. You could make monkeys, giraffes, cats or dogs, princesses, fairies or…… you get the idea 😉
Have fun !
Kathy
When I bake or have to put non-stick cooking spray on my hands to make things like these popcorn balls, I use Vegalene Cooking Spray. I use this product every day. I use it on cast iron pans all the time. I found it at a commercial food show. It works amazingly well, much better than the regular grocery store brands. I've been sold on this for years and you can get it on Amazon now.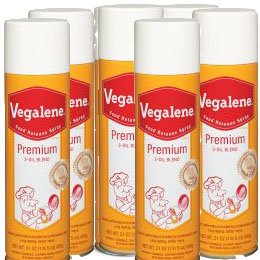 This post has affiliate links for Amazon. If you click on one, it will take you to Amazon and if you buy something I will get a commission from it. Thank you for helping to support me as I have fun baking and bringing you the results!