Rustic Tuscan Gluten Free White Bean Soup
This flavorful, rustic gluten free Tuscan soup is a great way to warm up on chilly days. The mouth-watering combination of pancetta, porcini mushrooms, and hearty cannellini beans makes this a satisfying lunch or light dinner when paired with a crisp, green side salad.
Money-Saving Tip: In many parts of the world, dried porcini mushrooms are more economical and easier to find throughout the year than their fresh counterparts. They are often sold in grocery stores in 1 oz. packages or online in large quantities. Once reconstituted, strain the soaking liquid through cheesecloth or a coffee filter to remove sediment and add to soups, stews, or sauces for extra flavor.
Prep time: 15 minutes + 20 minute soak time for mushrooms
Cook time: 35-40 minutes
Serves: 6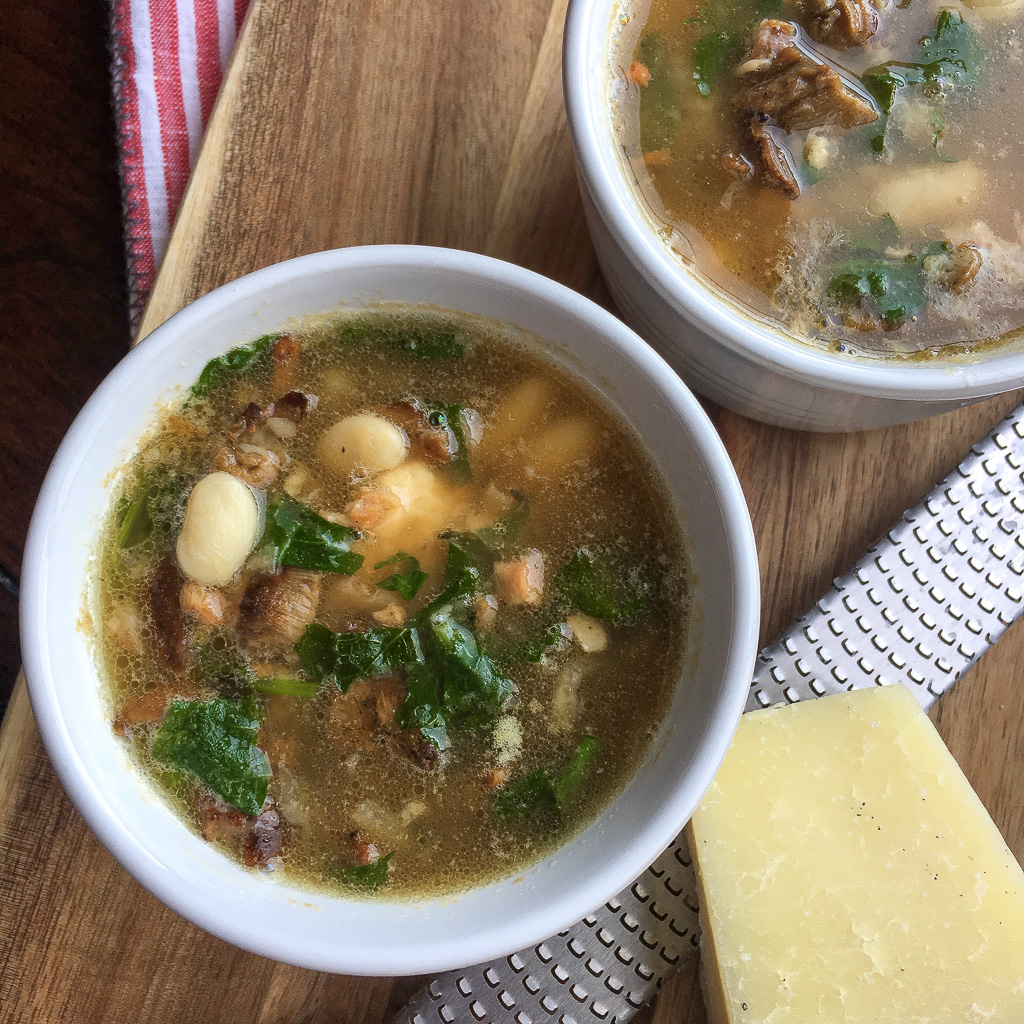 Ingredients:
2 T. extra virgin olive oil
6 oz. pancetta, diced
½ oz. dried porcini mushrooms, reconstituted and chopped
½ c. dry white wine
6 c. chicken broth, preferably organic (gluten free, check labels)
Reserved liquid from reconstituting dried mushrooms
2" Parmesan cheese rind
2 bay leaves
1½ T. fresh rosemary leaves, chopped
3 c. cooked cannellini beans, divided
Sea salt and black pepper, to taste
2 c. Tuscan kale, washed, stems removed, leaves chopped
¾ c. Pecorino Romano cheese, freshly grated and divided
Directions:
Heat olive oil in a large, deep skillet or Dutch oven over medium-high heat. Add pancetta and chopped porcini mushrooms to hot pan and sauté until pancetta is nicely browned, approximately 4-5 minutes.
Add white wine and scrape up any brown bits from the bottom of the Dutch oven. Reduce heat to medium and simmer a few minutes until wine is reduced by half.
Add chicken broth, reserved liquid from dried mushrooms, Parmesan rind, bay leaves, fresh rosemary, and 2 cups cannellini beans. Stir to combine and season with salt and black pepper, to taste. Simmer for 20 minutes or until heated through.
While the soup simmers, add remaining cup of cannellini beans and a little water to a blender or food processor and puree until smooth. Stir into soup to thicken.
Add chopped kale and ½ cup grated Pecorino cheese and stir until cheese is completely melted and the kale is wilted, approximately 3-4 minutes. Taste and adjust seasonings, as desired. Remove from heat and discard the Parmesan rind and bay leaves. Serve immediately with remaining grated Pecorino cheese.
Enjoy!
Kathy
If you click on any of the links on this blog we will receive a small commission! Thank you for keeping me blogging!!
I love soups it doesn't even have to be winter or cold for me to want to make them. One of the things I love most about soup is most of them are one pot meals! For this one pot meal I used my Dutch oven! I LOVE my Le Creuset Dutch Oven!!! If the world was going to end and I had to pick one thing out of all my kitchen to save this would be it!! The amount of things you can do and the durability of this pot are some of the reasons I love it so much! It is a little on the expensive side but completely worth it!! Click on the link or picture and get one for you or a loved one!!!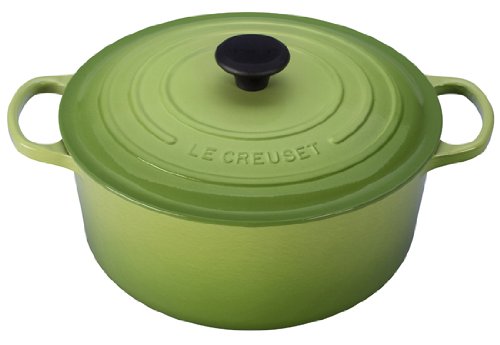 I'm all about power tools in the kitchen! My most used power tool in my kitchen would probably have to be my food processor. I have the Cuisinart Food Processor and its perfect! It will chop/slice/ shred pretty much anything you put in it no problem!! Click on the link to pick one up for yourself!