Warm Gluten Free Garlic-Parmesan Shrimp with Roasted Garlic Dip
This warm gluten free garlic-Parmesan shrimp is packed with wonderful flavors, but the real breakout star is the versatile roasted garlic dip. This easy dip is delicious as written, or it can be customized with your favorite herbs and spices, such as dill or parsley, to create a variety of flavor combinations. Try it with fresh vegetables, as a tasty sandwich spread, or stir some into your favorite creamy soups or mashed potatoes for an extra pop of flavor.
Prep time: 15 minutes
Cook time: 45-50 minutes
Serves: 6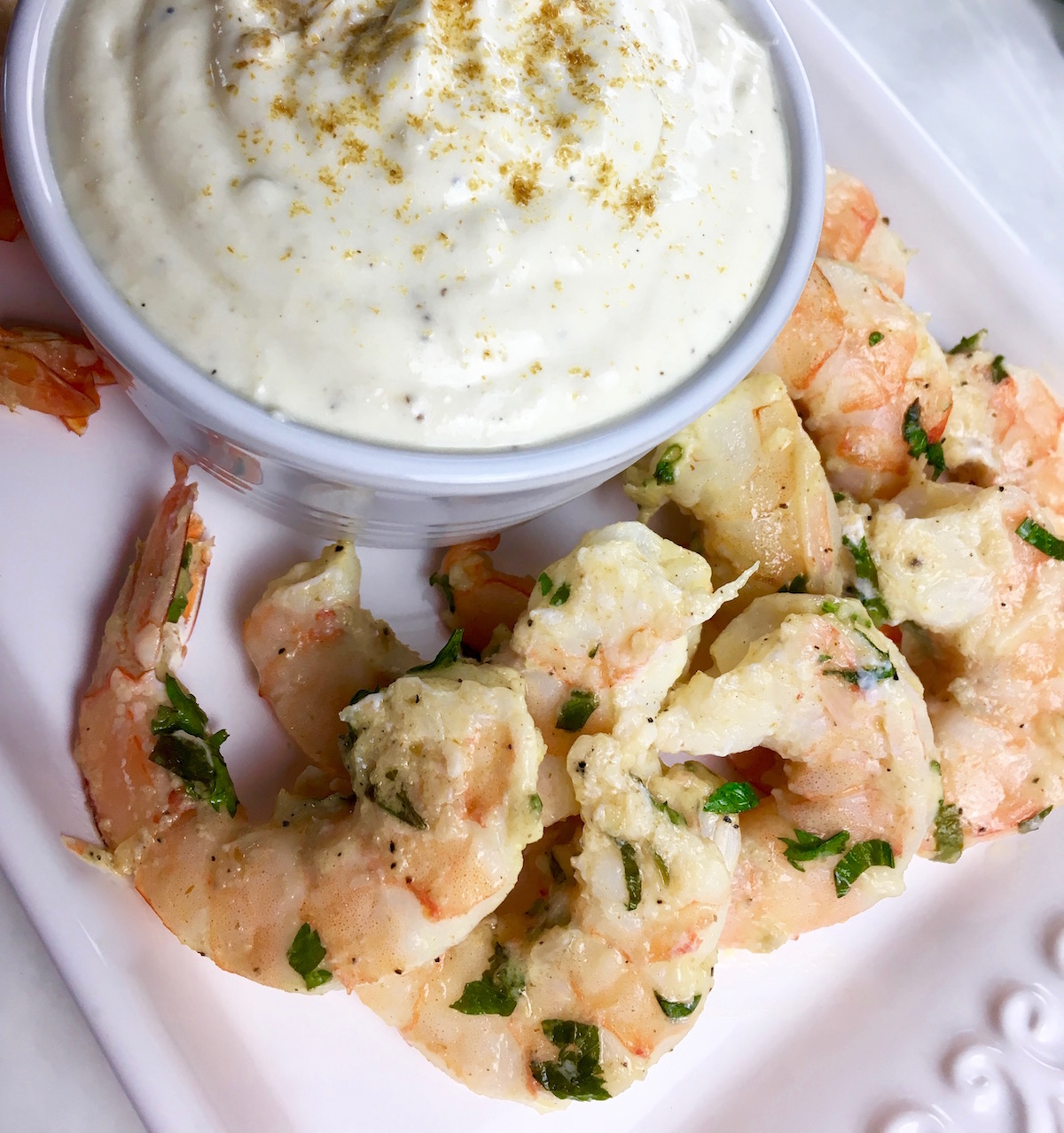 Roasted Garlic Dip Ingredients:
1 large garlic head
1 T. extra virgin olive oil
½ c. sour cream
½ c. Greek yogurt
2 T. lemon juice
1 t. organic lemon zest
2 t. ground cumin
Optional:
½ t. cayenne pepper
Sea salt and black pepper, to taste
Garlic-Parmesan Shrimp Ingredients:
3 T. extra virgin olive oil
3-4 cloves garlic, finely minced
2 t. Dijon mustard
1 t. ground cumin
3 T. Parmesan cheese, freshly grated
Sea salt and black pepper, to taste
1½ lbs. jumbo shrimp, peeled and deveined
1½ T. lemon juice
1/3 c. fresh parsley, minced
Will also need:
Parchment paper
Directions:
Preheat oven to 400°F and line a large rimmed baking sheet with parchment paper. Set aside.
To make the roasted garlic dip, slice a thin sliver from the head of garlic, just enough so the cloves are exposed. Drizzle the cloves with olive oil and place the whole bulb on a small piece of aluminum foil and wrap tightly. Place in the pre-heated oven and roast for 40 minutes, or until the garlic is tender and creamy. Remove from oven and set aside to cool slightly.
While the garlic is cooling, prepare the garlic shrimp seasoning by combining the olive oil, minced garlic, Dijon mustard, ground cumin, and grated Parmesan cheese in a large glass or other non-reactive bowl. Season with salt and black pepper, to taste.
Add shrimp to the bowl and toss to combine. Transfer the seasoned shrimp to the prepared baking sheet and place in pre-heated oven to roast for 6 to 8 minutes, or until the shrimp are just firm and pink. Do not overcook.
While the shrimp is roasting, place roasted garlic cloves into a blender or food processor. Add sour cream, Greek yogurt, lemon juice, lemon zest, ground cumin, and cayenne pepper, if using, and blend until smooth and creamy. Season with salt and black pepper, to taste, and transfer to a small serving bowl.
Remove shrimp from oven and sprinkle with lemon juice and fresh parsley. Toss to combine when just cool enough to handle. Serve immediately with the creamy roasted garlic dip.
Enjoy!
Kathy
If you click on any of the links on this blog we will receive a small stipend! Thank you for supporting my recipe addiction!
For a great baking sheet I used the USA baking sheets! They distribute heat evenly to provide perfect baking every time. I have used these baking sheets for years and if you take care of them they will last you a long time! These sheet pans are nonstick and make cleanup a breeze! Professional quality and worth the investment! Click on the link to check them out for yourself!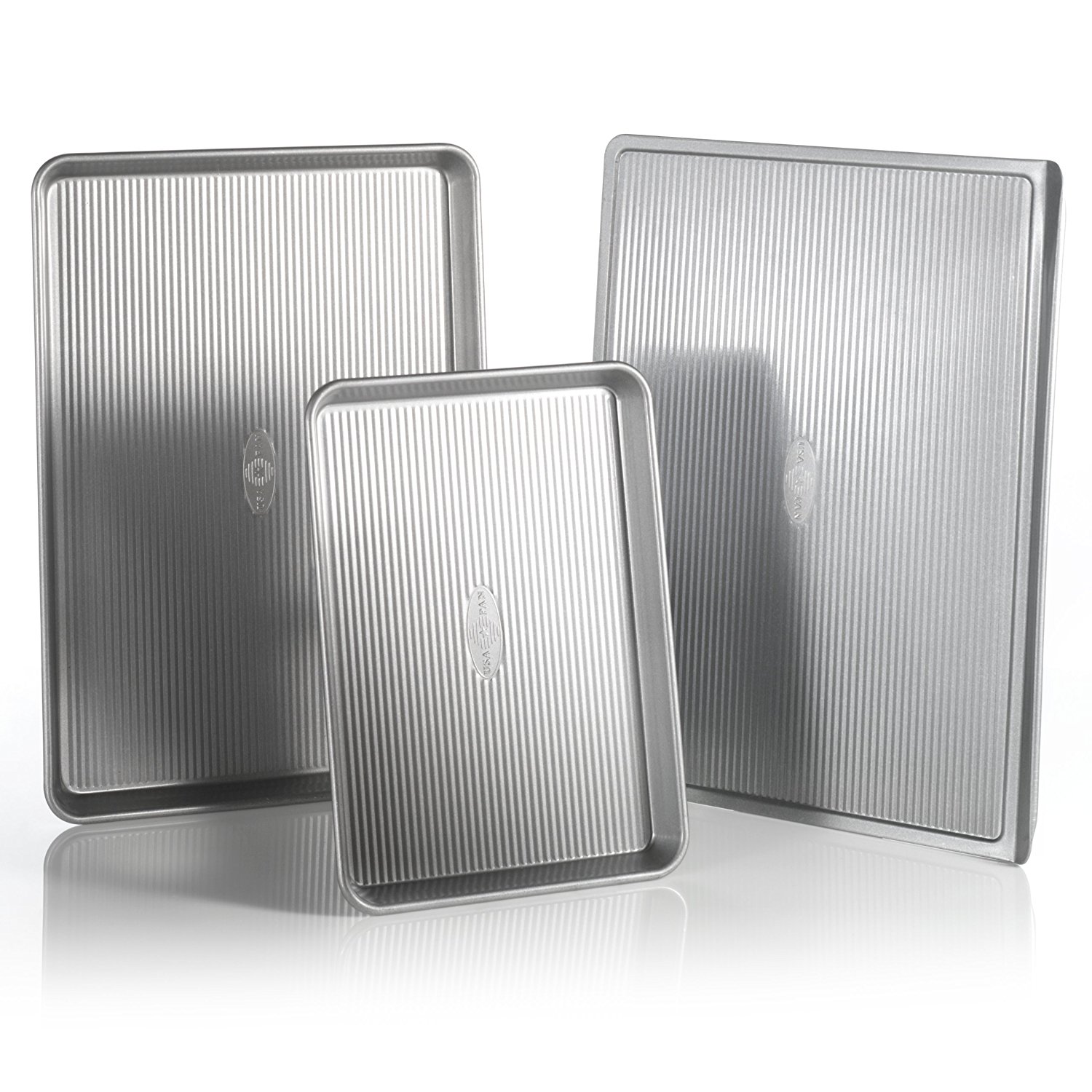 When it comes to blenders I love my Vitamix! This thing is super powerful and perfect for many applications! I have used it for soups, nut butters, smoothies, and so much more! When I first got the Vitamix I wanted to see what everyone was raving about and tried nut butter first. I was amazed on how the butter turned out, perfectly smooth and creamy without having to shake or stop and push the ingredients down like most other blenders. It whirled it right up in no time and made it look super easy! Hands down the best blender I have ever had! Click on the link and give it a whirl!!