Gluten-Free Garlic-Parmesan Turkey Meatballs
These scrumptious, gluten-free meatballs are a real crowd pleaser. Here, traditional bread crumbs are replaced with a hearty portion of freshly grated Parmesan cheese, while a combination of spices and fresh herbs pack tons of flavor into every bite.
These meatballs freeze well, so make a double or triple batch if time allows. Then simply pull out of the freezer, reheat, and serve with spaghetti squash, zucchini noodles, or your favorite gluten-free pasta for a quick and delicious weeknight meal.
Tip: To help the meatballs hold their round shape, bake them on their own first before adding the tomato sauce.
Prep time: 15 minutes
Cook time: 25-30 minutes
Serves: 6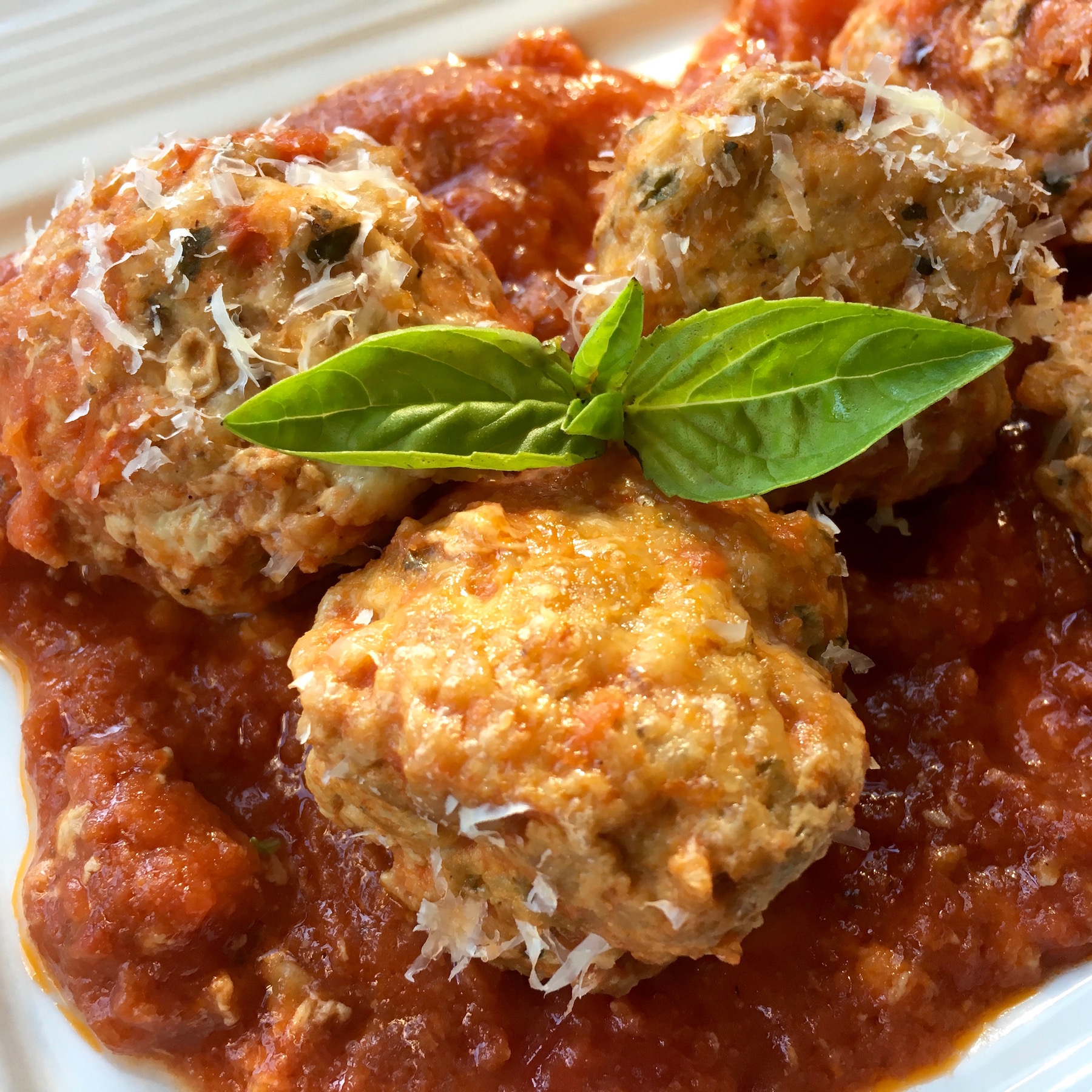 Ingredients:
2 c. sugar-free tomato sauce*
2 lbs. ground turkey breast
1 large (or 2 small) eggs
1½ c. freshly grated Parmesan cheese
1½ T. fresh oregano leaves
3 T. fresh basil leaves, chopped
3 T. fresh parsley, chopped
3 cloves fresh garlic, finely minced
1 T. onion salt
½ T crushed red pepper flakes
Sea salt and black pepper, to taste
Optional:
Additional tomato sauce, Parmesan cheese, and fresh basil for serving.
Directions:
Preheat oven to 350°F and line a rimmed baking sheet with parchment paper or a Silpat baking mat. Set aside.
Pour tomato sauce into 9×13" baking dish and spread in a thin layer to cover the bottom and set aside.
Add ground turkey, eggs, Parmesan cheese, oregano, basil, parsley, garlic, onion salt, and crushed red pepper flakes to a large glass bowl. Season with salt and black pepper, to taste. Thoroughly combine mixture with your hands and divide into 24 equal-sized portions. (For larger meatballs, separate into 18 portions). Add more Parmesan cheese, if necessary, to bind the ingredients.
Gently roll each portion into a ball and place on prepared baking sheet, leaving room between each meatball. Place baking sheet in pre-heated oven and bake for 15-20 minutes. Remove from oven and transfer meatballs to prepared baking dish. Drizzle with additional tomato sauce and Parmesan cheese, if desired.
Place baking dish in oven for approximately 10 minutes, or until sauce and meatballs are heated through. Remove from oven and serve immediately with additional tomato sauce, Parmesan cheese, and fresh basil, if desired.
Enjoy!
Kathy
If you click on any of the links associated with this post we will receive a small commission! Thank you for your continuous support it is greatly appreciated!!
If you haven't checked out the USA baking sheets already you need to! They are some of the best baking sheets I have ever tried and I highly recommend them! They are nonstick so no scrapping or prying your goodies off when done baking. They clean up in a cinch with just a bit of soap and water I hardly have to scrub to get them clean, which means less time doing dishes and more time enjoying the wonderful things you make. Click on the link to get some for your kitchen!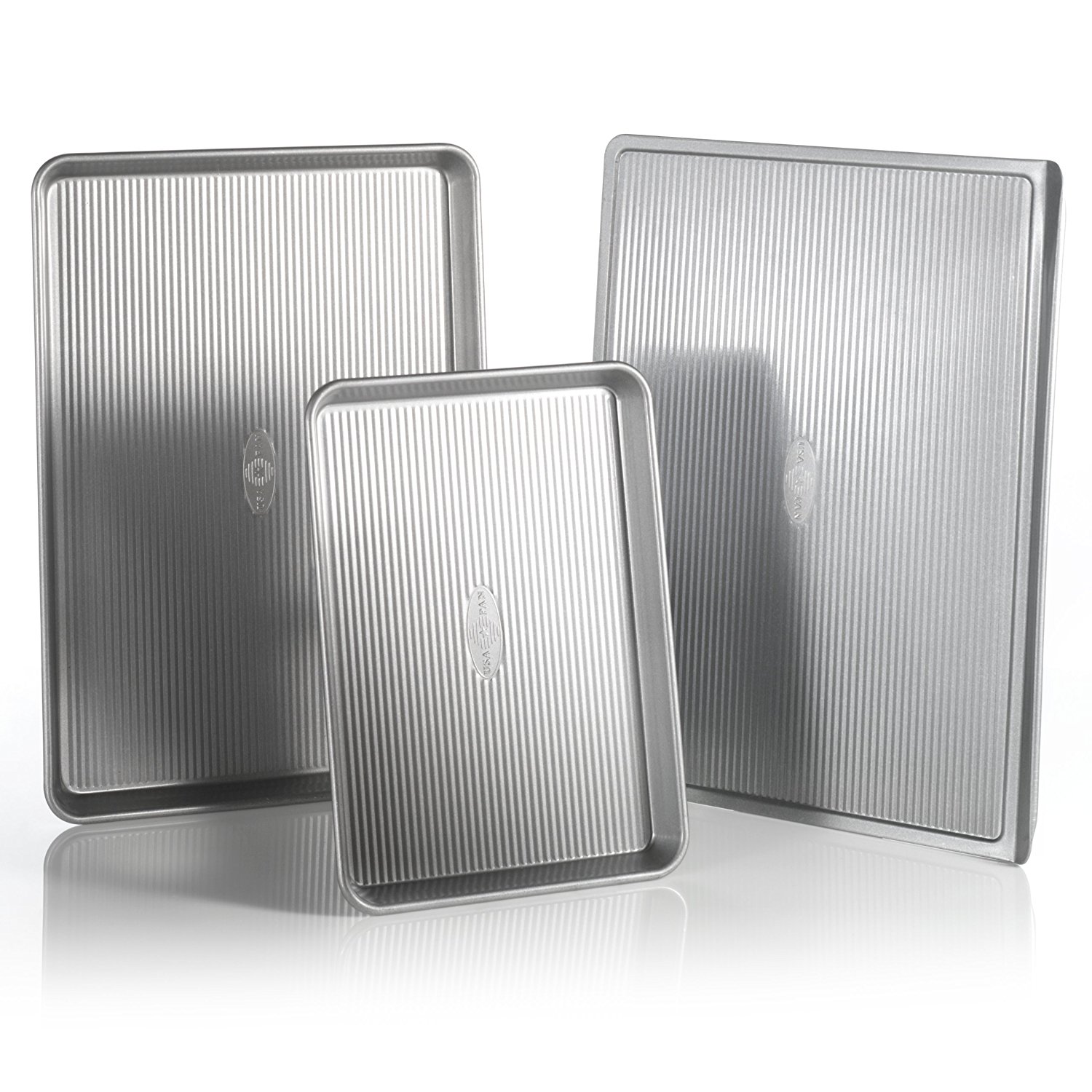 For a built to last casserole dish you need to try the Emile Henry baking dish!! Something I really love about this dish is the size of it, its deeper than most standard baking dishes so I can fit more into the pan. The handles are a nice size and make it easier to slide in and out of the oven even while wearing oven mits. This pan is super easy to clean as well! During the week we can all get a little behind, we cook dinner and by the time its all done its really late and we just don't feel like doing dishes. I have left this pan out over night before without cleaning it and the next morning without soaking or having to scrub forever it came clean in no time even the burnt on stuff came right off! This baking dish is a little expensive but you get what you pay for and I think its worth every penny!! Click on the link or picture to try it out!!