Apple and Rosemary Stuffed Gluten Free Pork Chops
These delicious stuffed pork chops pack incredible flavor into every bite. The fresh lemon zest helps pull all the flavors together, while adding an unexpected bright note. The result? A thoroughly enjoyable and healthy gluten free meal your whole family will love!
Prep time: 10 minutes
Cook time: 30-35 minutes
Serves: 4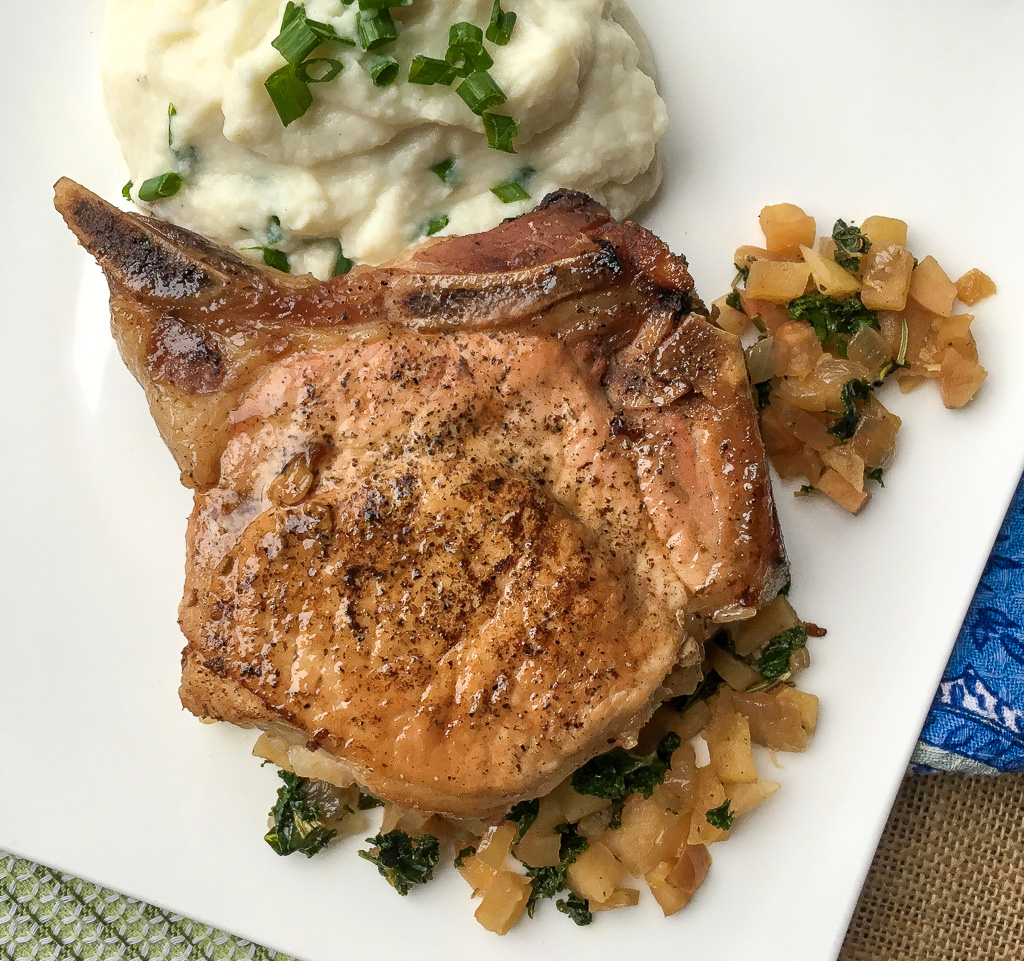 Ingredients:
3 T. extra virgin olive oil, divided
1 small yellow onion, diced small
2-3 fresh garlic cloves, finely minced
2 c. kale leaves, stems removed, finely chopped
1 large apple, diced small
1 t. ground cinnamon
2 t. organic lemon zest
2 T. fresh rosemary leaves, finely minced
Sea salt and black pepper, to taste
4 1" thick-cut bone-in pork chops
Directions:
Place top oven rack in center position and pre-heat oven to 375°F.
Heat one tablespoon olive oil in a large, ovenproof skillet or sauté pan over medium-high heat. Add diced onion and garlic and cook, stirring occasionally, until the onion is soft and fragrant, around 4-5 minutes.
Reduce heat to medium and add another tablespoon of olive oil. Add the kale, apple, cinnamon, lemon zest, and fresh rosemary to skillet and cook, stirring occasionally, until the apple is soft and the kale is just wilted, approximately 3-4 minutes. Season with salt and black pepper, to taste, and stir to combine. Remove from heat and transfer apple mixture to a medium-sized bowl and set aside.
With a sharp knife, carefully make a slit through the center of each pork chop to form a pocket. Do not cut all the way through. Divide the apple-rosemary filling between the 4 pork chops and secure the openings with toothpicks to hold the stuffing inside.
Return the skillet to medium-high heat and add remaining olive oil. Sear the pork chops on both sides until golden brown, around 3-4 minutes per side. Season with additional salt and black pepper, if desired.
Transfer the skillet with the pork chops to the pre-heated oven and roast until the pork chops are cooked through, around 15-20 minutes or until an instant read thermometer inserted in the center reads 145°F.
Allow pork chops to rest for 3-5 minutes before serving with your favorite side dish.
Enjoy!
Kathy
If you click on any of the links associated with this page we will receive a small commission!! Thank you for your continuous support!!
To make this fantastic pork chop recipe I used my All-Clad Skillet. These skillets are professional quality and a little on the expensive side but completely worth the investment because they will last you a life time!! The All-Clad skillets are nonstick to provide easy clean up, oven and broiler safe, and also dishwasher safe. With all metal construction they are super durable and compatible with all cook tops. Click on the link or picture and it will pop you over to where you can get one for your kitchen.

When cooking chicken or pork you want to make sure you aren't serving under or over cooked meats. To ensure your meats are cooked to perfection you want to use a meat thermometer. The one I have works perfectly and has a 4.7 star rating on amazon. It is easy to use and provides accurate readings. The probe is made out of high quality stainless steel and is long enough to use while grilling outside! Click on the link to purchase one for yourself!