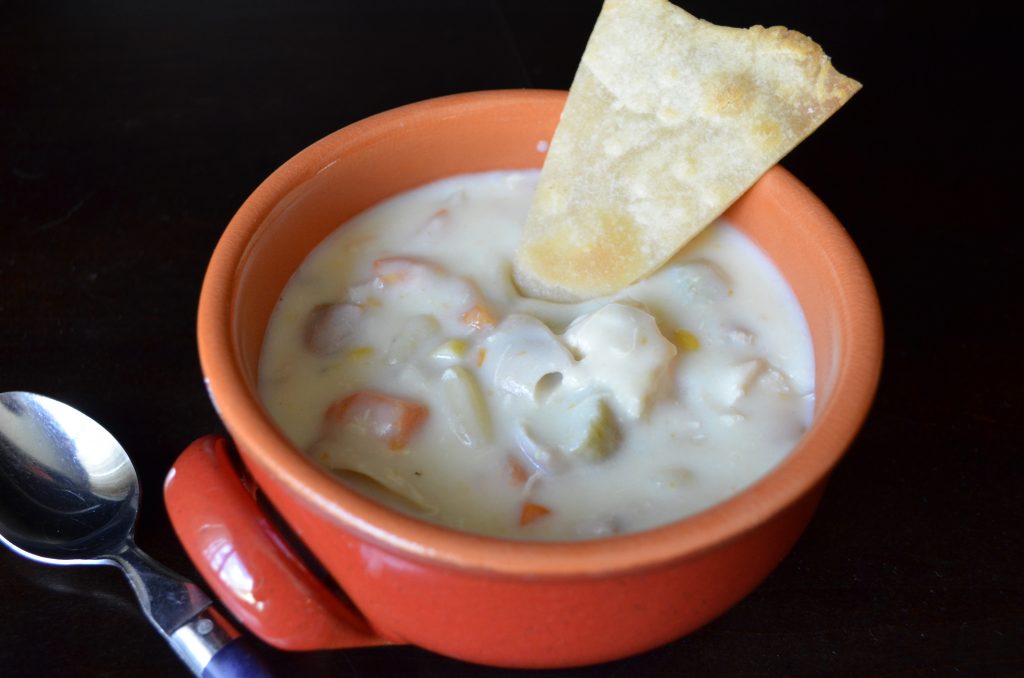 Looking for something comforting and delicious? Look no more!
This awesome soup is comfort-in-a-bowl. A creamy base full of vegetables and chicken and given a fun twist with the pie crust as a slice on the side.
Go ahead and use a rotisserie chicken for this, or precooked chicken you have in the freezer. Now, if you still have some leftover turkey from Thanksgiving, go ahead and use it up here. I'm sure I have some lurking in my freezer some where too.
Gluten Free Chicken Pot Pie Soup
Ingredients:

1 gluten free frozen pie crust, thawed
2 cups leftover vegetables, chopped ( see note*)
6 cups of gluten free chicken stock (or turkey if you have some)
3 cups cubed red potatoes
1/2 cup half-n-half or heavy cream
4 cups shredded cooked rotisserie chicken or leftover turkey
1 tsp. of each: salt and black pepper

Directions:
Lay the thawed pie crust on a piece of parchment paper. Use a rolling pin to smooth out the "crinkles". Cut into "pie shaped" wedges.
Spread apart leaving 1" between wedges. Bake for 12-15 minutes or until golden brown. Let cool.
In a large stockpot, pour in the chicken stock. Add the red potatoes and bring to a boil. Reduce to a simmer and cook for 15 to 20 minutes or until the potatoes are tender.
Using a stick blender, blend the stock and the potatoes until smooth. Some chunks are fine. Add the half-n-half or cream and stir in.
Add the leftover vegetables, chicken or turkey, salt and pepper. Bring to a simmer and cook until everything is heated through.
Ladle into individual bowls and garnish with a pie crust wedge. Makes 4 to 6 servings *Note: If you don't have any leftover vegetables, substitute one 16 oz. bag of mixed vegetables or any vegetables of your choosing. Be sure to thaw before adding to the soup.
Makes 4 – 6 servings.
I hope you will try out this new recipe. I loved this soup, and the crunchy pie wedge was delicious. There were no leftovers at my house on this one.
Best baking and cooking!
Kathy Addis
Chief dish washer here at Your Gluten Free Kitchen.