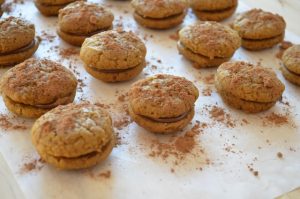 Since it's easy to find pumpkin puree this time of year, I decided to put it to good use and make whoopie pies with it.
These cute little gems are about two bites each, filled with a delicious Nutella filling. There's just something special about pumpkin and chocolate. They taste amazing together.
You won't be bringing any of these back from any party you take them to. So make an extra batch for yourself.
Gluten Free Pumpkin Whoopie Pies
Ingredients:
1 cup butter, softened
2 cups firmly packed brown sugar
1 15 oz. can pumpkin puree (not pumpkin pie mix)
1 egg
2 tsp. gluten free vanilla extract
1 Tbsp. molasses
3 ¼ cups self-rising gluten free flour blend ( think baking mix that already has baking powder and soda)* King Arthur Flour Gluten Free All Purpose Baking Mix
1 Tbsp. pumpkin pie spice
¼ tsp. salt
1 13 oz. jar of Nutella®
Directions:
Preheat the oven to 350 degrees. Place parchment paper on two cookie sheets and set aside.
Beat the butter and brown sugar together in a large bowl with an electric mixer until light and fluffy. Beat in the pumpkin puree, egg, vanilla and molasses until smooth.
In a medium bowl, whisk together the flour, pumpkin pie spice and the salt. Slowly beat in to the pumpkin mix until everything is combined. Slowly please, otherwise you will have flour clouds swirling around your head.
Use a small cookie scoop ( or ½ tablespoon) and drop batter onto the prepared cookie sheets. Place them about 2" apart. Bake for 11 to 13 minutes. Allow to cool on the sheet for 2 minutes then transfer to wire racks to cool completely.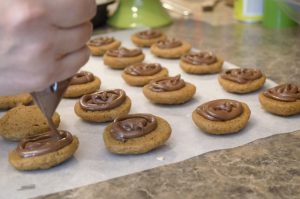 Stir the Nutella in the jar so that the oils are mixed in. Place about ½ cup in a quart sized Ziploc bag. Take half of the cookies and place upside down on a sheet of parchment paper. Snip a tiny hole in the corner of the Ziploc bag. Squeeze filling on top of cookies, one at a time. Next place the other half on the cookies on top. Lightly dust them with cocoa powder.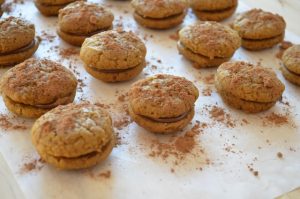 Substitution: You can use chocolate or cream cheese frosting instead of Nutella.
Makes about 24.
You can make these a little bigger. Use the next size cookie scoop and bake for another 3 to 4 minutes.
These are really good!
Have fun!
Kathy
You can get King Arthur gluten free Baking mix here if you need: If you have Amazon prime pantry, it is a very good price per box.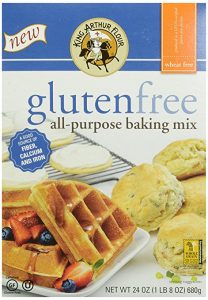 I also love, love, love these cookie scoops. I use them for everything! From making cookies and whoppie pies to scooping out dough for biscuits, scones or muffins. Great things to have.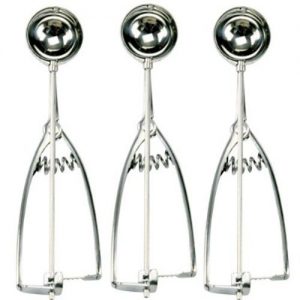 If you click on  any of the links on this post, I will receive a commission if you purchase. Let me just say thank you, if you do. It is greatly appreciated!