Gluten Free Crispy Zucchini Fries with Marinara Sauce
Zucchini has a lot of natural moisture in it, so it can be challenging to get crispy results when oven roasting it. For this reason, small, firm zucchini work best for this gluten free recipe. As a precaution, you may also want to remove excess seeds prior to dredging each piece in the seasoned almond or coconut flour.
Prep time: 15 minutes
Cook time: 25 minutes
Serves: 4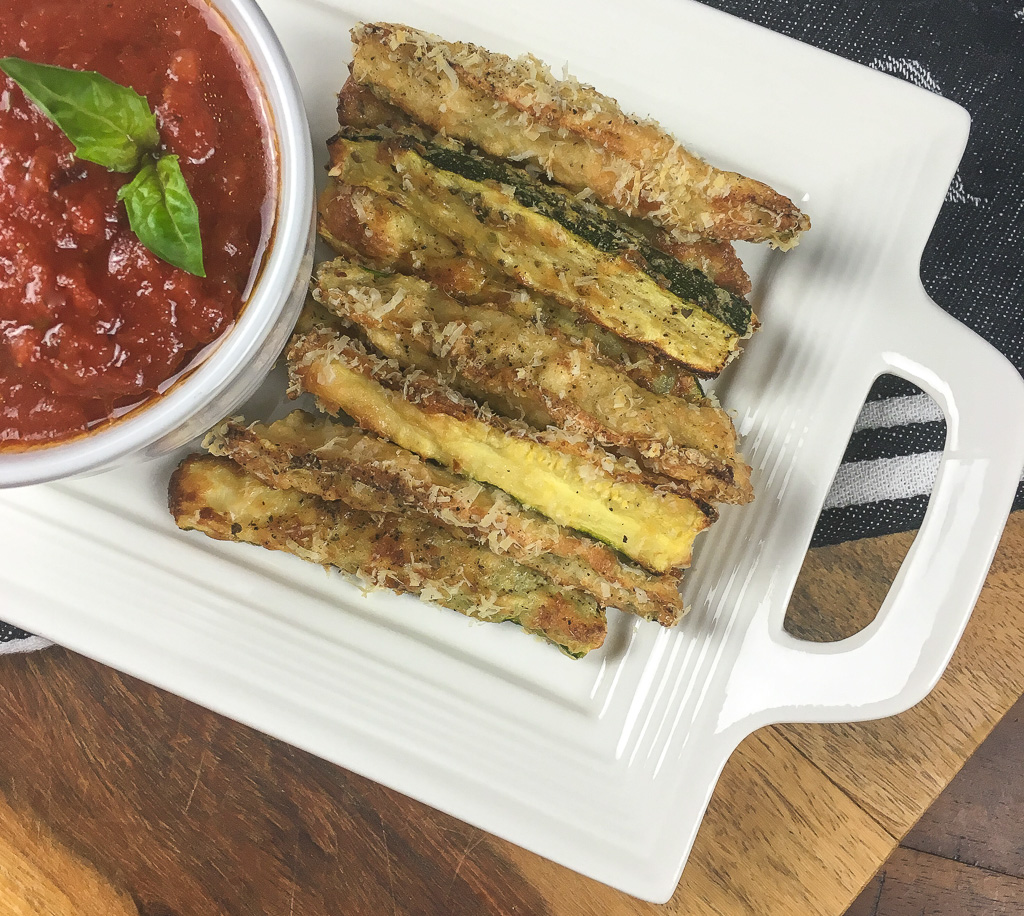 Ingredients:
½ c. almond (or coconut) flour
½ t. garlic powder
½ t. onion powder
1 t. smoked paprika
1 t. Italian seasoning (gluten free, check labels)
Sea salt and black pepper, to taste
2 large eggs
2 T. water
1 c. Parmesan cheese, freshly grated
2 small, firm zucchini, halved and cut into ¼-inch thick slices
Marinara Sauce:
2 T. extra virgin olive oil
2-3 garlic cloves, minced
1 t. dried oregano
½ t. red pepper flakes
2 T. tomato paste
1 8-oz can crushed tomatoes
¼ c. fresh basil, thinly sliced
¼ c. fresh parsley, chopped
Sea salt and black pepper, to taste
Directions:
Preheat the oven to 400°F and place a metal rack inside a large, rimmed baking sheet. Set aside.
In a pie pan or shallow bowl, combine the almond flour, garlic powder, onion powder, smoked paprika, and Italian seasoning. Season with salt and black pepper, to taste. Set aside.
In a second pie pan or shallow bowl, gently whisk together the eggs and water until frothy and set aside.
Add the freshly grated Parmesan cheese to a third bowl and set aside.
Dredge zucchini pieces in the seasoned almond flour before dipping into the egg mixture. Allow excess egg to drain off each piece before transferring to the bowl with the Parmesan cheese. Turn to evenly coat each piece of zucchini before transferring to the prepared rack. Season with additional salt and black pepper, if desired.
Place baking sheet into preheated oven and roast until golden and crisp, around 20-25 minutes. Flip the fries once halfway through the cooking time.
While the zucchini is roasting, combine olive oil, garlic, oregano, red pepper flakes, and tomato paste in a medium saucepan over medium-high heat. Cook, stirring frequently, until the garlic is fragrant, around 1-2 minutes. Season with salt and black pepper, to taste, and stir to combine.
Reduce heat and add the crushed tomatoes and cook until bubbly and slightly reduced, around 8-10 minutes. Remove from heat and stir in the fresh basil and parsley. Transfer to a serving dish and keep warm.
When ready, remove zucchini fries from oven and serve immediately with herbed marinara sauce.
Enjoy!
Kathy
If you click on any of the links associated with this post we will receive a small commission! Thank you for keeping me blogging!!
For the wire rack and baking sheet I used the USA Pan Bakeware Set. The set comes with a 20×14 inch baking sheet with the wire rack that fit inside the sheet. The baking pan and rack is non stick which makes it easy to clean! I also use the wire rack on its own as a cooling rack for cookies or cake. Click on the link to pick on up for yourself or a friend!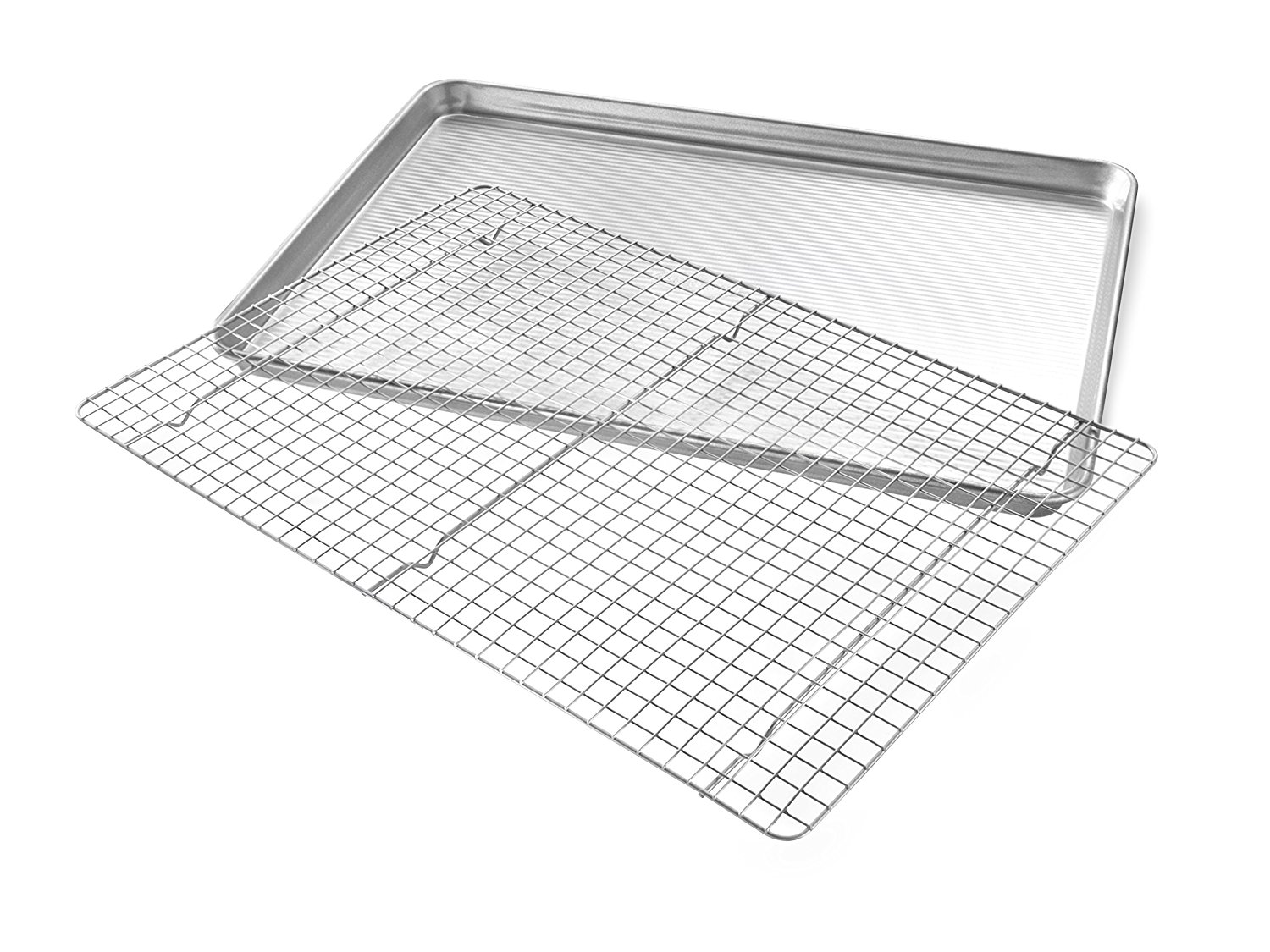 When it comes to saucepans you cannot go wrong with All Clad! I used my 1.5 quart All Clad Saucepan for the marinara sauce and it was the perfect size. I love this pan because they are easy to clean and durable! It can go into the oven and dishwasher no problem! I use mine daily, click on the link to try it out!