Gluten Free Frozen Mango Slushy
This delicious, refreshing frozen gluten free slushy does not require any added sweetener thanks to a healthy dose of fresh (or frozen) mango and orange juice. A small amount of fresh lime juice adds just the right amount of tanginess to balance out the sweeter flavors.
Prep time: 10 minutes
Cook time: n/a
Serves: 4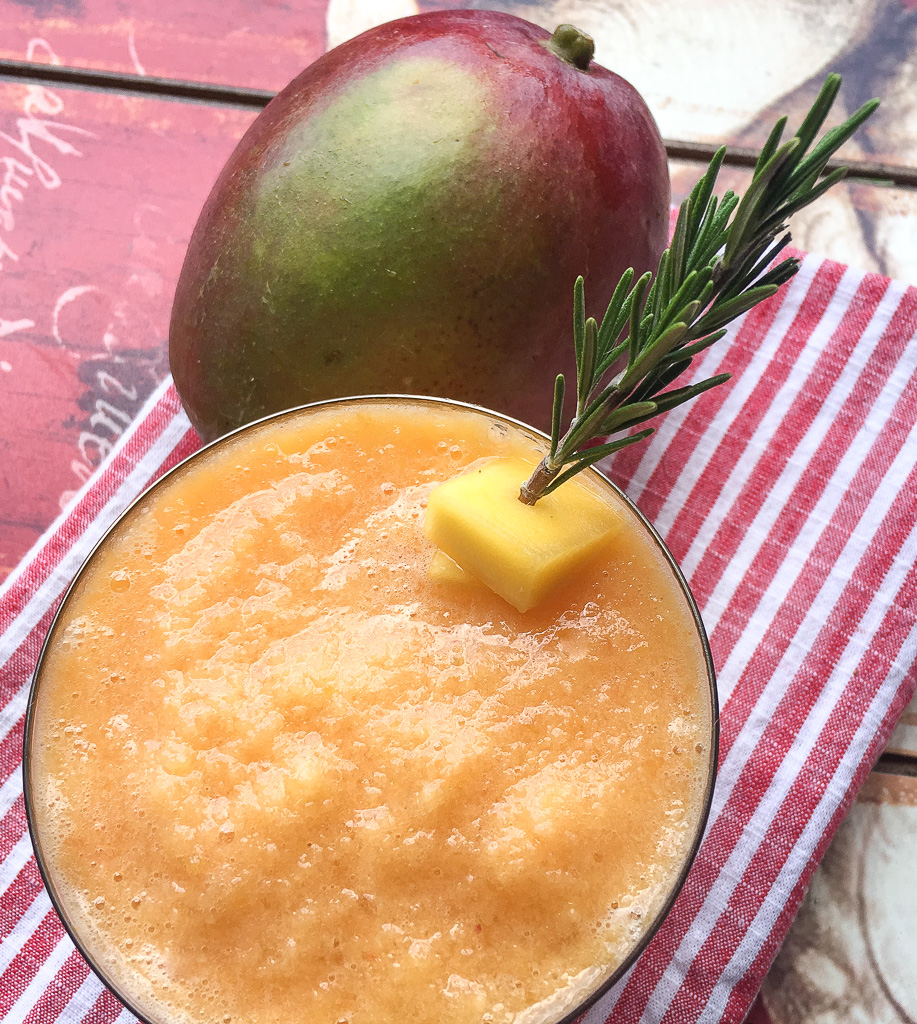 Ingredients:
2 ripe mangoes, peeled and cubed (or 2½ c. frozen mango)
¼ c. fresh lime juice
¾ c. fresh orange juice
½ c. water
8-10 large ice cubes
Optional Garnish:
4 short fresh rosemary spears, bottom leaves removed
12 small fresh mango chunk's
For Frozen Mango Margaritas:
4 oz. 100% agave tequila
Directions:
Prepare garnish by threading mango cubes onto fresh rosemary spears and set aside.
Add fresh or frozen mango, lime juice, orange juice, and water to a blender and pulse to combine. For an adults-only variation, add four ounces of tequila, as well.
Add ice and pulse for a few seconds, just until the ice is crushed into small pieces. Do not over-blend.
Pour into serving glasses and garnish with rosemary-mango spears. Serve immediately.
Enjoy!
Kathy
If you click on any of the links associated with this blog we will receive a small commission. Thank you for supporting my recipe obsession!
For a fantastic blender that will not only make amazing margaritas but soup and salsa's try the Vitamix Blender. That is just some examples of what this thing can do, it really is a fantastic tool to have handy in your kitchen! I was first turned onto the Vitamix blender by my sister when she brought some homemade nut butter over for brunch one day. The creaminess of the nut butter was outstanding not one single lump in it. I was sold! Yes, it is a little on the expensive side but well worth the investment when you see the versatility of the machine and use it as much as I do! Give it a try and click on the link to purchase one for yourself!