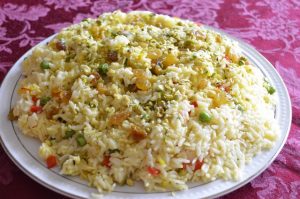 Fruited Rice Pilaf with Pistachios
This one bakes in the oven. I know, sounds weird but try it and then let me know. If you're not overly fond of golden raisins, try adding sniped dried apricots instead.
1 Tbsp. butter
½ onion, diced
1 red bell pepper, seeded and diced
1 ½ tsp. Real Salt (a natural sea salt) or 1 tsp. regular salt
2 cups gluten free long grain white rice
2 ½ cups water
1 ¼ tsp. gluten free Chicken Bouillon
2 bay leaves
½ cup frozen peas
¼ cup golden raisins, makes it look pretty
¼ cup chopped pistachios, not necessary but yummy
Preheat the oven to 350 degrees.
Grab a 3 quart oven proof saucepan, melt the butter over medium heat and toss in the onion and red bell pepper: cook for 3 to 4 minutes until translucent.
Toss in the rice and cook for another 3 to 4 minutes, stirring all the time. You want to just barely toast the rice. It gives a nice nutty taste to it.
Once the 3 to 4 minutes is up, add the water, bouillon, bay leaves and the salt. Keep up the heat and bring to a boil. Turn off the heat.
Take a clean kitchen towel, wet it completely and wring out. Place the frozen peas on top of the rice and then place the towel tightly on top of the saucepan and put the lid on snuggly so the towel doesn't fall into the rice. Pull the corners of the towel up on top the lid. (You can go here to see a photo of what I mean).
Place the whole thing in the oven and bake for 15 minutes.
Carefully remove from the oven and let the pot rest on a trivet for another 15 minutes. It will be fine to sit there for up to 30 minutes if you need.
Then you can remove the lid and the towel. Find the bay leaves and pull them out. Dump the rice in a serving dish and top with the raisins and pistachios. Add a big serving spoon and you're ready to serve. Or just serve from the saucepan. If you leave it in the saucepan, fluff the rice with a fork before you garnish with the raisins and pistachios.
Just depends on how fancy you want to be.
Makes 6 to 8 servings.
Kathy 
If you don't have an oven proof sauce pan, you can take a look at this one. It's a wonderful addition to your kitchen.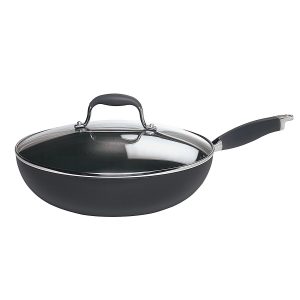 If you click any of the links on this post, I may receive a small commission for it. Thank you for helping to support me in this way. It is greatly appreciated.