Biscuits or so much better hot and fresh. But many recipes make anywhere from 8 to 16, way too many for this 2 person household.
Here's a recipe that makes just enough for two biscuits each. You could always make this and eat them all yourself. No judgement here 😉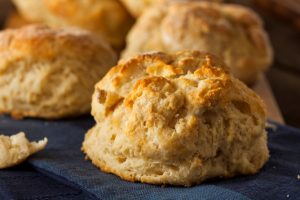 Biscuits for Two
Ingredients:
1/2 cup gluten free flour
1 tsp. baking powder ( I like Rumsford)
1/8 tsp. salt
2 Tbsp. organic shortening ( Spectrum Naturals) or butter
3 Tbsp. milk
2 Tbsp. butter, melted, divided for brushing on the tops
Directions:
Preheat the oven to 450 degrees.
In a small bowl, combine the flour, baking powder and salt; cut in shortening until mixture resembles coarse crumbs. Sprinkle the milk over the flour mixture and stir with a fork until it comes together and forms a ball.

Lightly flour a surface ( your counter top works just fine here or a wood board) and gently squish it together until all the flour is mixed in. Yes, squish is a technical term.
Pat the dough with your hands into a 1/2-in. thick square or round. If you make it a square then you can take a sharp knife and cut into four squares and you're done. But if you want a traditional look, pat into a round circle 1/2″ thick and cut with a 2-1/2-in. biscuit cutter.
Place on parchment paper lined baking sheet. Brush the tops with 1 tablespoon butter. Bake at 450° for 9-11 minutes or until golden brown. Brush with remaining butter. Serve warm.
Makes 4 biscuits.
Here's a video on cutting in butter or shortening in case you need a refresher.
Now, you may be thinking that sounds like a lot of work for only a few biscuits. since you have all the ingredients out anyway, here's what I do to make my own Gluten Free ready to mixes.
Get out a bunch of bowls, 5 or 6, and set them on your counter. Measure out all the dry ingredients into each bowl ( the flour, baking powder and salt). Now pour that into quart size zip-type bags or you can use small plastic containers with tight fitting lids.
It all depends on what storage space you have. The bags take up less room but are floppy, so you have to put them into a container. The plastic containers will stack well but take up more room. I will let you decide.
Label and put a "Use by" date that is 3 months out. I also print out the recipe and place it with the bags ( I use bags) so I have it handy and don't have to go searching for it later.
Viola! All done. Now just add the rest of the ingredients and it's just a hop,skip, and a jump to fresh biscuits.
Now get out some homemade jam and eat those up!
Kathy
Thanks for coming! If you click on any of the links on this blog or this page I will receive a small stipend for it. Thanks for supporting my blog this way. It's greatly appreciated.
recipe adapted from Taste of Home
video courtesy of C&H sugar