Delicious bursts of blueberries and a slight corny taste, these are the perfect pancakes for breakfast.
Cornmeal Pancakes
Ingredients:
1 1/3 cups gluten free flour blend (with xanthum gum already added)
2/3 cup gluten free cornmeal ( I like Arrowhead Mills brand)
2 Tbsp. sugar
4 Tsp. baking powder
1 tsp. salt
2 large eggs
1 1/3 cups milk
1/4 cup oil ( your choice but I usually use grape seed)
3/4 cup fresh blueberries
1 tsp. lemon zest (optional but good)
Non-stick spray
Syrup of choice and butter for serving
Directions: 
Combine the first five ingredients together ( thru the salt) in a medium sized bowl. Whisk until combined.
In another bowl, beat the eggs, milk and oil together. You can use a fork to beat this together pretty well. Don't really need to get a mixer out. Or use the whisk that's already dirty.
Now stir the wet ingredients into the dry until combined. Stir in the blueberries and lemon zest.
Let this sit for 10 minutes while you heat the skillet to medium heat. Make sure to grease the skillet with non-stick spray so the pancakes don't stick. Just a light touch is needed. You can also use organic vegetable shortening or coconut oil to grease the skillet with instead.
Pour the batter by 1/4 cupfuls onto the hot skillet or griddle. Turn when some bubbles appear and the edges seem set and dry. Sometimes gluten free pancakes do not form too many bubbles on the top like "normal" pancakes do and you end up burning the bottoms. Lightly lift the edge up to see how brown they are.
If you are burning the bottoms and the center is not cooking, lower the heat and cook for a longer period of time usually about 1 minute per side.
Flip over and cook the other side, lifting up the edge to check.
Repeat until all the batter is used up.
Serve with butter and syrup. You can garnish with more fresh blueberries if you wish.
Makes enough for 6 servings of 2 pancakes each.
Want some other variations?
Here's two more:
Cranberry Orange Pancakes:
Add to the batter at the end 3/4 cup chopped fresh cranberries and 1 tsp. of orange zest.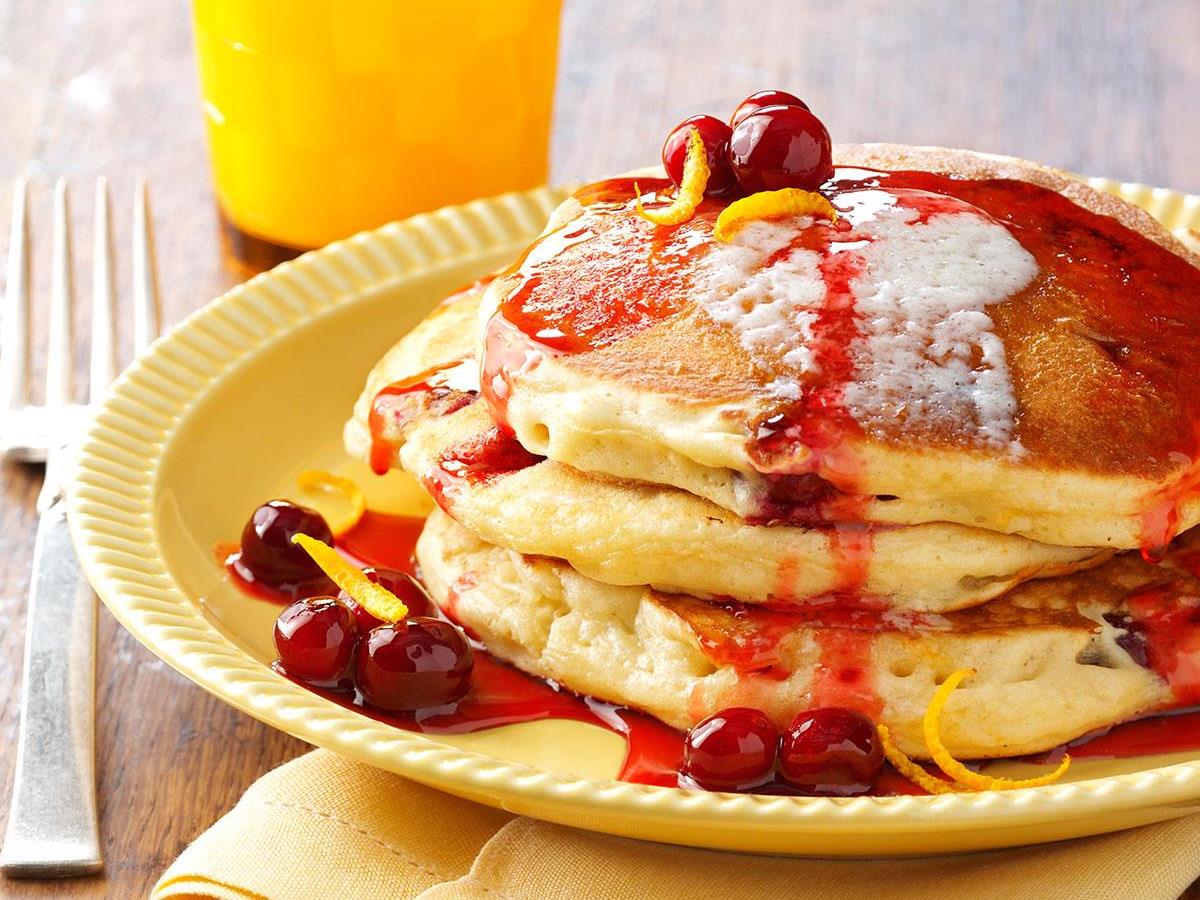 Bacon Pancakes
(of course there would be a bacon one!)
Stir in 4 to 6 cooked and crumbled strips of bacon into the batter.
If this recipe makes too many for you ( especially if it's just you 😉 go ahead and cool the pancakes completely. Then stack individually between pieces of wax paper or parchment paper and freeze in a large zip-type freezer bag.
Then you can pop out how ever many you want the night before and let them thaw in the frig. Microwave for about 30 seconds and they will taste awesome!
Enjoy!
Kathy
If you click on any of the links on this blog or page, I will receive a small stipend. Thanks so much for helping me keep this blog cooking!