Make your own whoopie pies quick as a wink
Here's a quick and easy way to make whoopie pies. You get all the great taste with less fuss. And did I mention that these are gluten free and dairy free? Get your ovens going and let's dive in.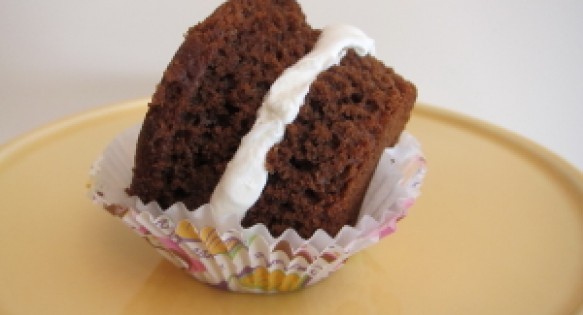 Gluten free and Dairy free Whoopie Cupcakes
Makes 24 (divide recipe in half to make 12)
2 cups sugar
1 ½ cups gluten free flour blend (I used King Arthur Flour All-Purpose Mix))
½ cup tapioca flour
1 tsp xanthan gum (omit if flour blend has already)
¾ cup Dutch process cocoa
2 tsp baking powder
½ tsp baking soda
1 tsp salt
4 large eggs
¾ cup oil, your choice
2 tsp gluten free vanilla extract
1 ¼ cups water
Preheat the oven to 350 degrees. Line cupcake/muffin pans with papers and spray with non stick spray, if desired.
Whisk together the dry ingredients. In another bowl, beat the eggs, oil and vanilla together until smooth. Add to the flour mixture. Gradually add the water, beating until smooth. Place a scant ¼ cup of batter into the cupcake papers (use a large cookie scoop). Bake for 25 minutes or until done.
Cool in the tins for 10 minutes. Take out and place on wire racks to cool completely.
Make the filling. When you are ready to serve, split the whoopie cakes in half.
Pipe on some filling and make a sandwich. Place on its side in a fresh cupcake liner and serve.
If you don't eat them all right away, wrap in plastic wrap and place in an airtight container. These will hold for about 2 to 3 days.
Whoopie Pie Filling
There are two recipes here. One quick and one from scratch. You choose.
Quick:
Mix together in a large bowl, one container of gluten free vanilla frosting mix and 1 cup of marshmallow cream until combined. Pipe onto your cupcake halves when ready.
From Scratch:
½ cup dairy free margarine
¼ cup of organic butter flavored shortening (I like Spectrum Naturals)
1 tsp. gluten free vanilla extract
4 cups powdered sugar
4 Tbs. dairy free milk, soy, nut, coconut, dairy free creamer, whatever you want
Place everything in a large bowl and beat with an electric mixer.
Add in 1 cup of marshmallow cream and beat till smooth. If it seems too stiff add another tablespoon of dairy free milk. Pipe onto your cupcake halves when ready.
Both fillings can be made ahead, wrapped tightly and stored in the frig until ready to use. Take out about 15 minutes before spreading to soften up.
Make these ahead by baking the cupcakes, freezing them and then thawing and filling on the day you are going to serve. That would make these an almost instant dessert. It's very handy to have a few things up your sleeve that can be put together quickly.
Happy Baking!
Kathy
thanks for stopping by…. I greatly appreciate it.
If you liked this recipe please consider buying our cookbook Gluten Free Yeast Free Breads.
Full of recipes for sweet and savory quick breads. Buy it here on Amazon. Click here.