This is like capturing your favorite apple pie in a jar. Make this gluten free jam any time of year, but especially in the fall when so many varieties of apples are available. You can pick and choose your favorites. Then get cooking!
Gluten Free Apple Pie Jam
4 cups, peeled,cored and chopped apples
1/4 cup lemon juice
1 tsp. margarine or butter
1 box powdered fruit pectin
5 1/2 cups sugar
3/4 tsp. nutmeg
1 1/4 tsp. cinnamon
Directions:
Get your boiling water bath canner going. Place the apples, lemon juice, margarine and pectin in a large stockpot. Bring it to boil. Then add your sugar and spices stirring well to combine everything.
Bring to a boil again and let it boil for 2 minutes. Make sure you stir constantly so it doesn't burn.
Skim off any foam that comes to the top (the margarine helps to keep it from foaming too much). Fill your canning jars up to 1/4″ from the top. Wipe off the rims and place on the 2 piece lids and rings. Place in your canner and let boil for 5 minutes.
Take them out, put on a towel on the counter and let them sit overnight. Check the seals and if all is well, clean the jars, label and put away.
You can slather this on homemade biscuits. Use as a topping for ice cream. Warm up in your microwave and top your pancakes or waffles with homemade apple pie "syrup" instead of maple syrup.
You can also use your jam as a filling for little hand pies. Just place a small amount in a circle of pie dough. Crimp the edges and bake for about 10 to 15 minutes or until golden brown.
You can also use this for the "filling" in sandwich cookies.  A homemade ginger sandwich cookie with this in-between would be delish! These also make great Christmas gifts, just saying…..
Happy Canning!
Kathy
If you need canning equipment, take a peek at what Amazon has to offer. Click here!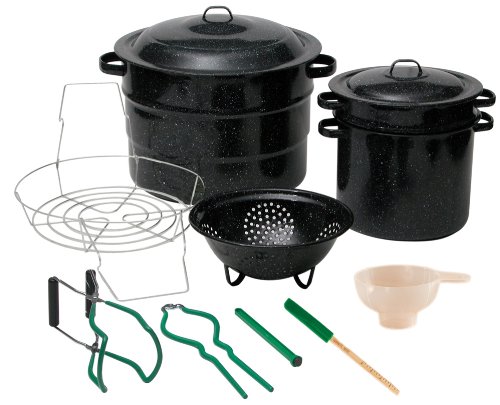 If you click on any links on this post, I will receive a small commision. Thanks!