Nothing quite beats the fresh taste of lemon. Whether in a pie, mousse, or cake it's a refreshing treat that helps those of us that don't have quite the sweet tooth as others ( you know who are 😉
This recipe makes enough for 6 servings. Just enough to enjoy but not so much that it seems like its been hanging around for ever.
Make the glaze for the top or not, either way it's delish!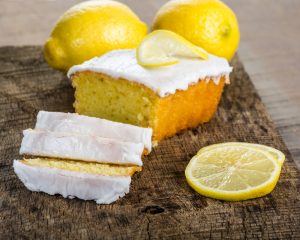 Gluten Free Lemon Pound Cake
Ingredients
3/4 cup butter, softened
1 cup sugar
2 eggs
1/3 cup sour cream
1 Tbsp. grated lemon peel
1 cup gluten free flour blend (we like King Arthur Flour)
1 tsp. baking powder
1/4 cup lemon juice
Glaze ingredients:
2 cups confectioners' sugar
1/3 cup butter, melted
2 tsp. vanilla extract
2 to 3 Tbsp. hot water
Directions:
Preheat the oven to 350 degrees.
Spray the sides of an 8×5 loaf pan. Place a strip of parchment paper down the center making sure that the paper hangs over the ends at least 2″. this helps you pull the loaf out and keeps it intact.  You can also use a 9″ round cake pan for this. Just line the bottom with a parchment circle and spray the sides.
In a small bowl, cream the butter and sugar until light and fluffy. Add the eggs, one at a time, beating well after each addition. Stir in sour cream and lemon peel.
In a medium bowl, combine the flour and baking powder. Beat into the  creamed mixture and alternate with the  lemon juice.
Pour into prepared pan ( which ever one you used).
Bake at 350° for 40-45 minutes or until a toothpick inserted near the center comes out clean. The loaf pan may take a little longer to bake. Go ahead and test at the 45 minutes mark and see if it is done. If not, let it bake for another 5 to 10 minutes depending on how wet the batter was when you tested.
Cool on a wire rack for 10 minutes. Then either tip over the cake pan and place it on a wire rack or pull the loaf out using the parchment paper handles and place on the rack. Allow to cool completely.
Mix up the glaze ingredients. Just toss everything together in a medium bowl. Stir in the water 1 tablespoon at a time until it reaches the consistency you want.
Spread over the cooled pound cake.
If you're not sure when the butter and sugar are creamed properly, here's a video from our friends at King Arthur Flour.
Hope you enjoy this recipe for lemon pound cake.
Team Your Gluten Free Kitchen
video courtesy of King Arthur Flour