Let your bread machine do the work while you pull the rest of your pizza ingredients together. If you have extra time, make two batches and follow the directions on how to freeze the dough for later.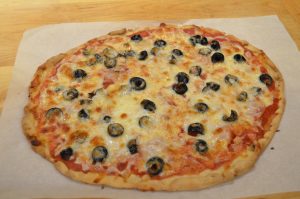 Gluten Free Pizza Dough
Enough dough for two 12″ round pizzas.
Ingredients:
3 1/2  tsp. instant rapid rise yeast ( I like SAF brand)
3 1/2 cups gluten free bread flour blend (Pamela's makes a good one as does King Arthur)
For a DIY version, see below
2 Tbsp. brown sugar
1 Tbsp. xanthan gum ( omit if your flour blend has it already)
1 1/2 tsp. salt ( again omit if your flour blend has it already)
1 1/4 cups water
1/4 cup olive oil or grape seed oil
1 tsp. cider vinegar
Directions:
In a medium sized bowl, whisk together the yeast, flour blend, brown sugar and xanthan gum.
Place the salt, water, oil and vinegar in the bread machine pan. Turn the machine on the Dough Cycle.
As it begins to mix, slowly add the flour mixture to it, scraping down the flour from the sides and bottom until it is all mixed together. Adding it slowly allows it mix better than dumping it all in at once. Try it and see. If it works better for you to dump it in and then just mix everything up, go for it 🙂
Stop the machine before it starts the rise cycle. Just let it mix it up for you.
Preheat the oven to 400 degrees.
Place a piece of parchment paper on both pizza pans. go ahead and cut to fit but leave a about 1 to 2 inches all the way around. Or do what I do and just spread it out on a cookie sheet and try to make it as round as possible. You may want to spritz the pans with non-stick cooking spray and then place the parchment on top to keep it from moving around.
Divide the completed dough in half and spread each half with a spatula sprayed with non-stick spray if it tries to stick. Or, do what I do and just oil your hands and start pressing it into a circle.
Pop in the oven and bake for 12 minutes. Take out and place sauce of choice and toppings and throw back in the oven for another 12 to 15 minutes or until everything is nice and bubbly and the crust is golden on the edges.
Yum Yum!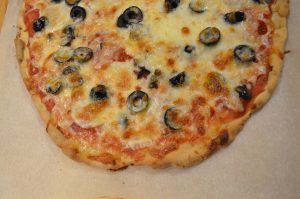 If you want a DIY flour blend, here's one that works pretty well.
1 1/4 cups sorghum flour
2/3 cup bean flour
1/2 cup brown rice flour
1/3 cup potato starch
1/4 cup tapioca starch
2 Tbsp. brown sugar
1 Tbsp. xanthan gum
1 1/'2 tsp. salt
You can package this up in airtight plastic bags and have it ready to go anytime you want to make it a pizza night.
As for freezing the dough: After you stop the dough cycle on the bread machine, place half of the dough in airtight freezer bags and squeeze out as much air as you possible can.  Place in your freezer for up to one month. Make sure to label the bags so you know how long it's been in there.
Take the dough out of the freezer and leave on the counter to thaw, or place in the refrigerator and let thaw. It may take up to 48 hours depending on how rock hard it is. Then follow the recipe above.
I hope you enjoy this too!
Kathy
I hope you like this recipe. Let me know if you try it.
If you click on any of the links in this page or blog I will receive a small commission.
Thanks for helping me to keep this blog going. It is greatly appreciated.