Gotta love quick and simple meals that can be ready in 30 minutes or less.  This one brings together Italian flavors with garlic, onions, peppers and balsamic vinegar for a savory sauce. Serve with rice and you have a very nice weekday dinner.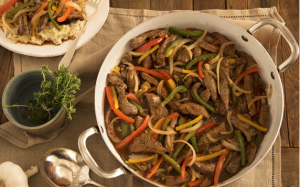 Italian Beef and Peppers
Ingredients:
Salt and pepper
2 Tbsp olive oil, divided
1 3/4 lb thinly sliced beef sirloin, freeze slightly to make it easier to slice
2 Tbsp minced garlic, use either fresh or bottled
1 onion, thinly sliced
3 bell peppers (any color), thinly sliced
1 Tbsp gluten free flour, whatever you have on hand
1/4 cup balsamic vinegar
3/4 cup gluten free beef broth, or make with gluten free bouillon
Directions:
Season the beef with salt and pepper. Add 1 Tbsp. of the oil to a large skillet. toss in the seasoned beef strips and cook over medium high heat, stirring often, for about 6 minutes or until brown on all sides. Add the garlic and cook for another minute.
Take the beef and place on a plate. Cover with foil while you cook the peppers and onions.
Add the remaining Tbsp. of oil to the skillet. Toss in the onion slices and peppers. Cook for 6 minutes, stirring often, until tender. Sprinkle the flour over the top of the vegetables. Cook for another 2 minutes and stir, stir,stir. Do not let the flour burn.
Add the beef back into the skillet, pour the vinegar and beef broth in too. Turn the heat down until the mixture is just simmering and cook for another 5 minutes.
For the rice: If you want to make it from regular grain rice, make sure to start it before you begin the beef. Place in a rice cooker and let it go while cooking the beef. Of course, if you are making brown rice, you will need to give yourself enough time for it to cook, since it usually takes 40 minutes or so to make.
You could also cheat ( which happens often in my kitchen) and use instant white or brown rice. If you do that, you can make the rice while the beef simmers at the end, during the last 5 minutes of cooking.
Makes 4 servings
Watch this video to brush up on your slicing skills
Gelato for dessert would be awesome with this.
Enjoy!
Kathy
photo and recipe adapted from Emeals
Video courtesy of The Culinary Institute of America 
If you click on any of the links on this blog, I will receive a small stipend. Thanks for coming!