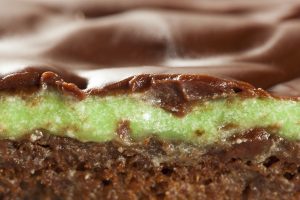 I love turning packaged mixes into something really special and these certainly are!
So don't wait for a special occasion. These are worth making anytime of year.
Mint Chocolate Brownies
Brownies
1 box gluten free brownie mix
Water, oil, butter or eggs needed as instructed on the box
Mint Filing:
4 cup powdered sugar
3 oz. cream cheese, softened
¼ cup butter, softened
1 tsp. vanilla
¼ tsp. mint extract
Green food coloring
¼ to 1/3 cup milk
Chocolate Ganache
1 cup semi-sweet chocolate chips
¼ cup butter
¼ cup heavy cream
Directions:
Preheat the oven to 350 degrees. Spray a 7×11 baking pan with non-stick cooking spray, set aside.
Mix the brownies as directed on the package. Spread in the baking pan and bake for the amount of time listed on the box. Remove from the oven and allow to cool completely.
Now make the filling.
In a bowl of a stand mixer (or use a large bowl and a hand mixer) beat together the powdered sugar, cream cheese, butter, vanilla and mint extracts and food coloring. Slowly add enough milk to make it spreadable, like a thick frosting.
Using an offest cake spatula, spread the mint filling over the top of the brownies. Place in the refrigerator for about an hour.
After the filling has set up for an hour, mix together the ganache.
In a small saucepan, add the chocolate chips, butter and heavy cream and melt over low heat stirring constantly. When smooth, remove from the heat and allow to cool for 10 minutes.
Carefully pour over the mint filling and spread evenly over the top. Place in the refrigerator and let it set up for another hour. Cut into squares.
Make sure to refrigerate any leftovers (ha ha).
Makes about 20 squares depending on how big or small you make them.
The fun part about these brownies is you can change out the filling flavor. Use a raspberry extract and just enough red food coloring to tint it pink. You could also use an orange extract and tint it orange.
Come up with your own variations. If you think it will go with chocolate, then you should be okay to do it.
Kathy
You really need a nice heavy saucepan for making candy and melting chocolate so it doesn't burn.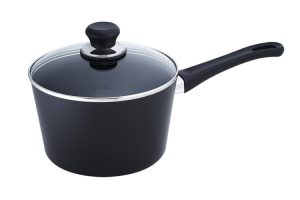 Here's another must have for cake or cookie decorating. A nice offset cake spatula for smoothing on frosting or fillings. Made of heavy stainless steel, this set will last you a long time.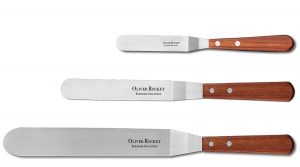 Thanks for coming! If you click on any of the links on my blog, I will receive a small commission.