One-Skillet Honey Applesauce Gluten Free Pork Roast
This delicious pork roast will leave your guests thinking you spent hours in the kitchen preparing it when in reality it only takes about an hour to make this amazing gluten free dish!!
Prep time: 10 minutes
Cook time: 1 hour
Serves: 4
Ingredients:
1 c. unsweetened applesauce
3 T. honey
2 T. sugar-free Dijon mustard (gluten free, check labels)
3 T. fresh rosemary leaves, chopped
Sea salt and black pepper, to taste
2 T. coconut oil
1½ lbs. pork tenderloin
3 medium firm apples, cored and chopped
Directions:
Place oven rack in center position and pre-heat oven to 350°F.
Combine applesauce, honey, Dijon mustard, and rosemary leaves in a small bowl and stir to combine. Season with salt and black pepper, to taste, and set aside.
Heat coconut oil in a large oven-safe skillet over medium heat. Generously season the pork roast with salt and black pepper, to taste. Cook until browned and evenly seared on all sides, approximately 5-10 minutes.
Remove from heat and spread half of the applesauce mixture all over the top and sides of the pork. Arrange the chopped apples around the sides of the pork and place the skillet in the pre-heated oven.
Roast for 20 minutes, then remove skillet from oven and flip the pork. Brush with remaining applesauce mixture and return to the oven for another 20-25 minutes, or until the pork is cooked through.
Remove from oven and cover loosely to rest for 5 minutes before serving.
Enjoy!
Kathy
If you click any of the links on this page we will get a small stipend! Thank you for your continuous support!!
I have talked about this skillet many many times before and it is one of the staples in my kitchen. It distributes the heat evenly over the surface of the skillet and heats up quickly. With it being non stick it makes clean up a cinch. Best part is its oven and dishwasher safe. Click on the picture or link to check it out!!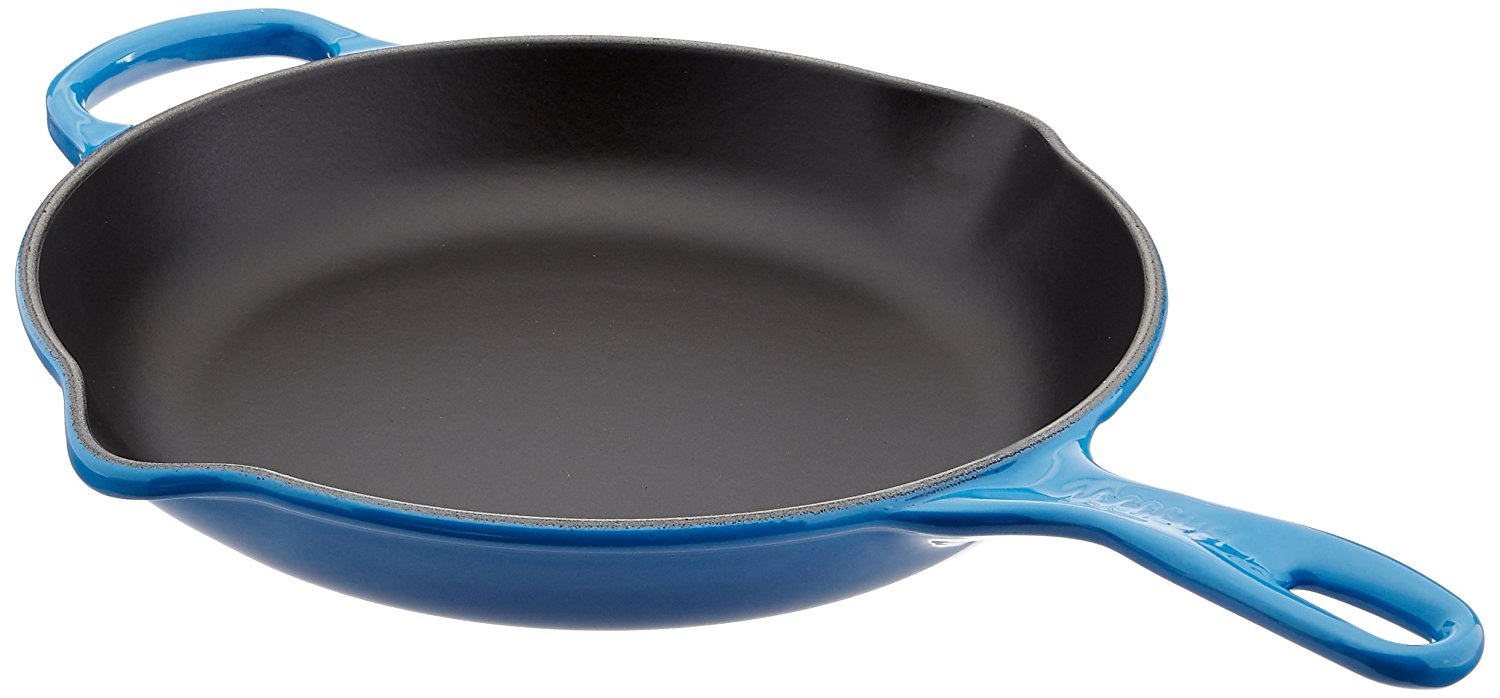 To mix up the applesauce mixture I used my small pyrex mixing bowl. I linked the set I have on here, it comes with three different sized bowls 1-quart, 1-1/2-quart, and 2-1/2-quart which are great sizes for all kinds of applications! They are dishwasher safe to make clean up easy! Click on the link and get yourself a set of pyrex mixing bowls!