Serve this hearty Italian fare for dinner tonight. With creamy, cheesy Alfredo sauce, bits of salty ham and sweet green peas, this will become a weekly favorite. And you'll love it because it comes together so quickly.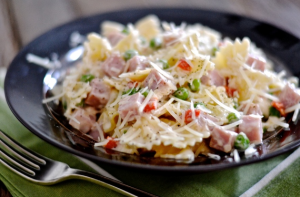 Pasta with Alfredo and Ham
Ingredients:
1 12 to 16 oz. box of gluten free tube shaped pasta (your choice)
1/2 Tbsp. olive oil
1 cup frozen sweet peas ( or fresh if you can get them)
1 15oz. jar gluten free Alfredo sauce ( I like Classico brand)
2/3 cup heavy cream
2 1/2″ thick ham slices, diced
1 4oz. jar diced pimientos, well drained
1/2 tsp. salt
1 cup freshly shredded Parmesan cheese
Directions:
In a large pot, fill it with water and add the olive oil. Bring to a boil and add the pasta, stirring as you place it in the water. Make sure to stir a lot to keep them from sticking together. Gluten free pasta is notorious for sticking together. The oil and stirring will keep it from doing that.
Stir for the first 2 minutes and then you can turn the heat down to a simmer and stir occasionally to keep it from sticking. Cook for the time recommended on the package.
Meanwhile, back at the stove, place the Alfredo sauce and heavy cream in a medium sized sauce pan and just heat until hot. Add the ham and peas and simmer for just 1 minute. Turn the burner off and place the lid on until the pasta is done.
You can also place the sauce and heavy cream in the microwave to heat up if you wish.
Drain the pasta when it is cooked to your liking. Immediately pour the sauce over the top and gently stir.
You can sprinkle the cheese over the top now, or serve it on the side for everyone to help themselves. Up to you. I like lots of cheese, so usually serve it on the side 🙂
Make a green salad ahead of time and offer with Italian dressing.
Enjoy!
Kathy
Thanks so much for popping by! If you click on any of the links in this blog or page, I will receive a small stipend.
I greatly appreciate you supporting me in this way. Thank you so much.
photo and recipe adapted from Emeals