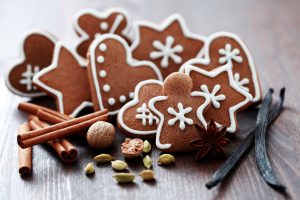 Here's a great cut out cookie that is neither sugar nor gingerbread. This gives you another option to put into your recipe file and pull out. Have fun!
Peanut Butter Chocolate Cut Outs
*Note: dough needs to chill overnight
Ingredients:
½ cup butter, softened
½ cup creamy peanut butter
1 cup powdered sugar
¾ cup dark brown sugar ( if all you have is light brown, that's fine)
1 egg
1 tsp. vanilla
1 cup gluten free flour
1/8 tsp. xanthan gum (omit if your flour has it already)
½ cup unsweetened cocoa powder ¼ tsp. salt
To decorate:
Vanilla frosting (gluten free canned or homemade)
Piping bag with decorator tips
Powdered sugar
Directions:
In a large bowl, beat together the butter, peanut butter, powdered sugar and brown sugar until fluffy. Use a hand held electric mixer or place in the bowl of a stand mixer. Add the egg and vanilla and beat until smooth.
In a medium sized bowl or large 4 cup measure, whisk together the flour, xanthan gum(if needed), cocoa powder and salt.
Beat slowly into the butter mixture until combined (no flour flurries please). Place in a large ziptop bag, close and refrigerate for 4 hours or overnight.
When you're ready preheat the oven to 375 degrees. Line 2 cookie sheets with parchment paper and set aside. Divide the chilled dough in half. Use your hands and flatten into a round. Then place the round on your counter that has been lightly coated with cocoa powder. If you use cocoa powder to roll out chocolate cookies you use less flour. More flour means tougher gluten free cookies.
Place a piece of plastic wrap over the top of the dough and roll out to ¼" thick. Remove the plastic wrap and cut out the cookies with your favorite shapes. Lightly tamp the edges of the cutters with cocoa powder if they start to stick.
Place the cookies on the prepared baking sheets and bake, one cookie sheet at a time, for about 7 to 9 minutes or until the edges are firm. Allow to cool for 3 minutes then transfer to a wire rack to cook completely.
Keep cutting them out and re-rolling the scraps until the dough is gone (place dough in the freezer for 5 minutes if it gets too soft).
When the cookies are cool, place the icing in a piping bag fitted with a decorator tip and pipe an outline around the edges of the cookies. Then dust with powdered sugar. Allow the icing to set and harden before stacking.
These cookies will keep 3 days on the counter, 1 week in the frig and 2 months in the freezer. If you are going to freeze them, do not decorate with icing. When you want to serve them, allow to thaw out and then decorate with icing.
Makes about 3 dozen 2" cookies. More if you make smaller ones, less if bigger.
Hears to baking more!
Kathy
If you need a stand mixer, you can't get a better one than Kitchen Aid. I have this very one and use it all the time. Love it.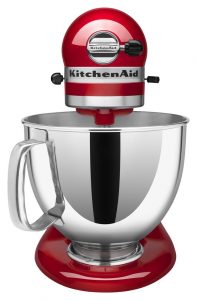 Here's some fun cookie cutters that are just too cute for their own good. You get stencils for the icing and can make lots of different types with the same cutters. These are just too fun!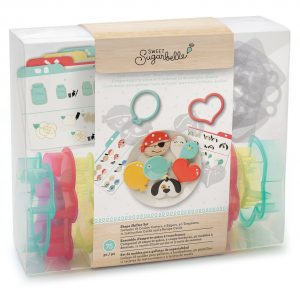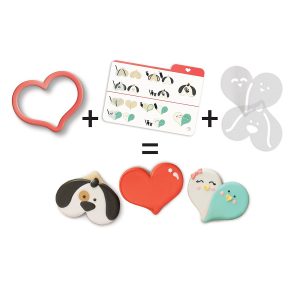 Have a great time making cookies. And thanks for supporting me in my baking adventures. If you click on any of the links on this blog, I may receive a small commission from it.
For more cookie making fun check out our Gluten Free Cookie Cookbook!!