Need a hearty stick-to-your- ribs dinner? This one fills the bill. Hot, flavorful and hearty, make some gluten free cornbread to go with this. Your tummy will thank you.
 
Red Beans and Rice
Ingredients:
2 Tbsp. olive oil
1 onion, chopped
2 celery ribs, chopped
1 red bell pepper, seeded & chopped
2 cloves garlic, minced
2 Tbsp. Bob's Red Mill Bean Seasoning
3 Tbsp. Cajun Seasoning
2 tsp. crystallized ginger, chopped
2 15 oz. cans small red beans, drained
2 cups basmati rice
4 cups gluten free beef broth
1 lb. gluten free fully cooked smoked sausage, sliced
Directions:
In a 5 quart saucepan, add the olive oil, onion, celery, bell pepper and garlic.
Cook until the onion is translucent.
Stir in the bean seasoning, Cajun seasoning, ginger, red beans, rice, beef broth and smoked sausage. Cook over medium low heat until the rice is done about 25 minutes, stirring often to keep the rice from sticking.
Or you can substitute instant white rice and cook until the rice is done, about 5 to 8 minutes.
The basmati will taste better but the instant rice will be faster.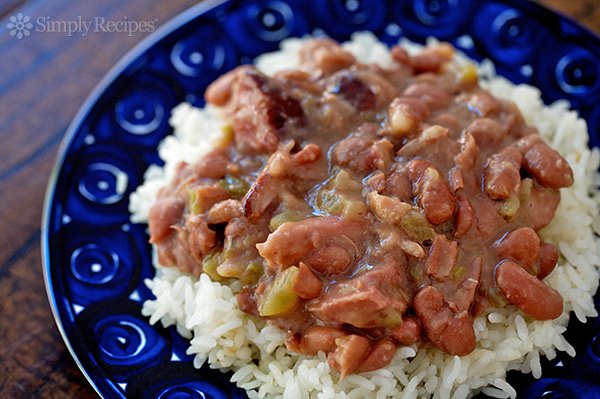 Serve in bowls.
Make some cornbread or gluten free biscuits to go with this. Sour cream and shredded cheese is also a nice topping.
You can also throw everything in your slow cooker and let it simmer all day.
Team Your Gluten Free Kitchen
Photo: https://en.wikipedia.org/wiki/Red_beans_and_rice