Buying rotisserie chickens at the store seems to be a time savor, but is it?  Unfortunately, the only rotisserie chicken I can find is the one from Costco and since their warehouse store is not close by, it graces our table only on occasion.
This recipe is sooooo simple to make and tastes awesome. I usually make two at once, since the oven is on anyway why not maximize the space.
I could probably get 4 in there, but it's only the two of us and any more than that would be too much for us.
Grab your spices and get roasting.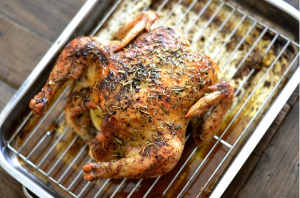 Savory Roast Chicken
Ingredients:
1 (5- to 51/2-lb) whole chicken
1 small lemon, cut in half
1/4 cup olive oil
2 Tbsp chopped fresh rosemary (or 2 tsp dried)
2 tsp kosher salt
1 1/2 tsp pepper
1/2 cup gluten free chicken broth
2 Tbsp butter, melted
Directions:
Preheat the oven to 450 degrees.
Rinse your chicken in the sink and pat dry. Place, breast side up in a roasting pan. If you decide to roast 2 at once, be sure the pan is big enough to hold them both with some space between.
Place the lemon halves inside the chicken cavity. Brush the skin with olive oil. Sprinkle the chicken with the rosemary, salt and pepper, covering as evenly as you can. Pour the broth into the roasting pan.
Bake for 20 minutes then reduce the oven temp. to 375 degrees. You can baste if you want with the juices, I'm too lazy for that. Drizzle the melted butter over the top of the chicken.
Bake for another 20 to 25 minutes or until the chicken is done. To test, use a meat thermometer and poke into the thigh or breast meat. It should register 165 degrees. The juices will also be clear or translucent in color, no hint or tinge of pink.
Remove from the oven and let it stand for 10 minutes before you slice it. Besides, it's way too hot to touch 😉
Here's a video to help you brush up on your carving skills.
Serve with baked potatoes or sweet potatoes. You can pop those in after the chicken has been roasting for 10 minutes. Some steamed vegetables would be good too. Or go rouge and serve with sweet and sour coleslaw and baked beans.
Either way sounds good…. getting hungry here…..
Makes about 6 servings.
Team Your Gluten Free Kitchen
photo and recipe adapted from Emeals.
video courtesy of Jamies home cooking skills.com