Pan fried fish with a homemade salsa. Everything is ready in 20 minutes.  Serve with steamed vegetables that are in season.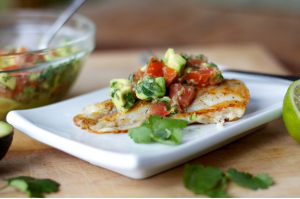 Skillet Fish with Avocado Salsa
Ingredients:
2 small tomatoes, seeded and chopped
2 ripe avocados, pitted and diced
1/4 cup chopped fresh cilantro
2 Tbsp. lime juice, from 1 lime
1 tsp. garlic powder
1 tsp. salt, divided
1 tsp. pepper, divided
6 small fish fillets, flounder, tilapia or grouper work well
2 Tbsp. olive oil or grape seed oil
Directions:
If you are going to serve this with steamed vegetables, make sure to start them first before you make the salsa or cook the fish. They will take longer. See the directions below.
In a medium sized bowl, stir together the tomatoes, avocados, cilantro, lime juice and garlic powder, 1/2 tsp. of the salt and 1/2 tsp. of the pepper. Cover with plastic wrap and refrigerate while you cook the fish.
Sprinkle the fish with the remaining 1/2 tsp of salt and pepper.
Add 1 Tbsp. of the olive oil to a large non-stick skillet. Heat over medium high heat until the oil is hot. Add the fish and cook 3 to 4 minutes per dise, carefully flipping the fish over and cooking for another 3 to 4 minutes or until the fish flakes easily.
Remove and top with the avocado salsa.
*If you want to have steamed vegetables to serve with this, start a pot of water with a steamer insert and bring to a boil. Add prepared vegetables to the steamer and steam until tender. I usually check by pushing a fork through the toughest part of the vegetable until it slides through easily.
Hope you enjoy!
Team Your Gluten Free Kitchen
photo and recipe adapted from Emeals