With a mix of peanut butter, brown sugar and chili sauce, this stir fry will leave you licking your bowl clean. Not that I approve of that. Ok, just let me know when to turn around so I won't have to see you. That way I can lick my bowl clean without being noticed too. See how that works 😉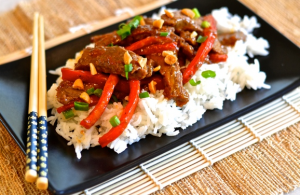 Spicy Peanut Stir Fry
Ingredients:
1/2 cup creamy peanut butter
2 Tbsp brown sugar
2 Tbsp gluten free soy sauce
1 to 1 1/2 Tbsp Sriracha hot chile sauce ( more hotter, less not as hot)
2 lb flank steak or boneless top sirloin
1 tsp salt, 1/2 tsp pepper
1/4 cup olive oil, divided
1 large bell pepper (any color), cut into thin strips
4 green onions, thinly sliced
1/2 cup (or more) chopped peanuts
Hot rice for serving and to soak in all that yummy sauce
Directions:
In a medium sized bowl, whisk together the peanut butter, brown sugar, gluten free soy sauce and the Srircha. Don't breath it in unless you want to have a coughing fit since the chili sauce has a serious kick.
Cut the beef across the grain into thin slices. It helps to flash freeze the meat before you cut it so you can get thin slices. Sprinkle the meat with salt and pepper.
Grab a large skillet and heat 2 Tbsp. of olive oil over medium high heat. Add half of the beef strips at a time so you don't crowd them. Cook until done. Place the beef on a plate and cover with foil while you cook the rest of the beef with the remaining oil.  Add these strips to the ones on the plate and cover.
Toss in the bell pepper and saute for about 4 minutes. Then add the beef strips and the peanut butter mixture and cook until everything is nice and hot. Make sure to stir often.
Sprinkle with the green onions and the chipped peanuts for garnish.
Dish up with hot cooked rice, white or brown and dig in.
Hope you enjoy!
Kathy,
If you click on any of the links on this blog or page I will receive a small stipend. Thanks so much!
photo and recipe adapted from Emeals