Awesome Gluten Free Pie Crust
Use this recipe to make any pie you like. Just sub in this crust and you're good to go.
You can also make "pie cookies" by rolling out the pie dough, cutting into shapes, dusting with a cinnamon sugar mixture and baking at 350 degrees until just very light brown. Cool on a wire rack and let the kids munch away. Good with a scoop of ice cream.
This makes one pie crust. Don't double the recipe; it doesn't work out as well. For two crusts just make two batches.
Gluten Free Pie Crust
Ingredients:
3/4 cup gluten free flour*
¼ tsp. xanthan gum if your flour blend does not have any
½ tsp. salt
1 ½ tsp. sugar
1 stick cold butter, cut into small cubes
2 Tbsp. ice water
2 Tbsp. sour cream
1 ½ tsp. white rice vinegar
Directions:
Place the flour, sugar, salt and xanthan gum (if needed) in the bowl of a food processor. Pulse to combine. Drop the butter in and pulse about 9 times or until it looks like small marbles. Mix together the 2 Tbsp. of ice water, sour cream and vinegar in a small bowl. Slowly add the sour cream mixture and pulse until the dough comes together, about 8 to 10 times.
Take the dough and wrap tightly in plastic wrap and let rest in the fridge for 1 hour.
Take out of the fridge and let it warm up for about 15 minutes. Place on a piece of parchment paper or plastic wrap. Cover with another piece of parchment or plastic wrap and roll out to fit your pie pan. Gently peel off the top piece of parchment. Slide your hand or use a large spatula and flip over onto the pie plate.
Pull off the bottom piece of parchment and gently fit into the pan. Fold the edges of the pie crust under and then crimp, pushing gently onto the edge of the pie plate. Blind bake or fill as directed in your recipe.
You can keep the dough refrigerated for up to 3 days (think…make ahead).
*I like to use either my own flour blend, Bob's Red Mill 1 for 1 blend or King Arthur Flour Blend.
If you want an amazing food processor, look no further than one from Cuisinart. I have had mine for over 8 years and it still runs like a dream.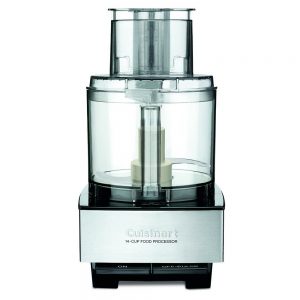 The other thing I can't live without is parchment paper. I did an entire blog post on why you need this stuff. You can take a peek at it here: Why you need Parchment Paper.
If you don't have any, you need to get some. You can thank me later 🙂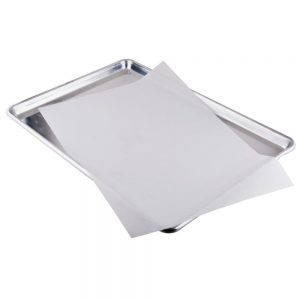 If you don't have a pie crust shield, you really need to get one for gluten free pies. The crust always browns up way to fast before the filling is done. Now, with a two crust pie like apple, you can cover the entire pie with a double piece of foil and be good. But when you have a single crust pie like this one, the foil has a tendency to stick to the filling and then you've got a mess on your hands. I love my Pie Crust Shield!!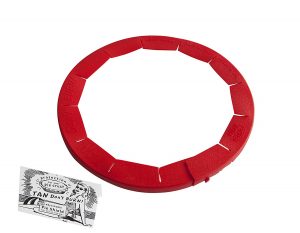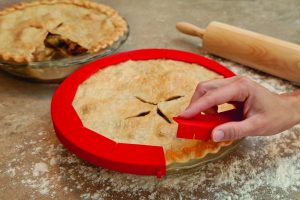 This is a great gadget to have around. Especially since you'll be baking lots of pies.
Kathy
If you click on any of the links on this post, I will receive a small commission for it. I just want to say thanks in advance!