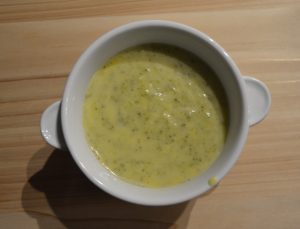 With cooler weather comes the itch to start making soup. if you want something creamy and satisfying, you can't go wrong with this Broccoli Cheese Soup. Made with cream, butter and cheese, it's a delight for your mouth.  Serve with gluten free rolls for dipping.
Broccoli Cheese Soup
Ingredients:
6 cups cooked broccoli, fresh or frozen
1/4 cup butter
1/4 cup onion, diced
2 stalks celery, chopped
2 Tbsp. gluten free tapioca flour
4 cups heavy cream
4 cups gluten free chicken broth
2 tsp. sea salt
2 cups shredded cheddar cheese
Directions:
In a large stock pot, melt the butter over medium heat and sauté the onions and  celery until tender.
Stir in the tapioca flour until combined. Add a 1/2 cup of chicken broth and stir until thick. Then add in the rest of the chicken broth, the cream, the cooked broccoli and the salt.
Use a stick blender (my preferred method) to puree the soup right in the pot or put in a blender and blend 1/3 at a time until smooth.
If using a stick blender, stir in the cheese after the soup is smooth and creamy.
If using a blender, put all the soup back in the pot and stir in the cheese.
Serve with a green salad and gluten free rolls.
Makes 4 servings.
I really enjoy my stick blender. It is so much easier to blend soup in the pot with one. I used to have to go the blender route. Let's just say, don't forget to attach the cover on the blender tightly ( what a mess!).
If you are looking for one, this is a good model to own. You can whip cream with this one and chop nuts for a topping or patting on the side of a cake. i can't tell you how handy these things are. I just LOVE mine and use it all the time.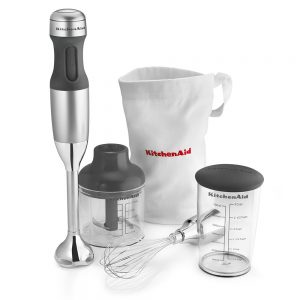 If you click on the links here, I will receive a small commission. Thank you so much for purchasing from my links. It helps me to keep bringing you recipes.
Kathy