I can't say enough about these marvelous gluten free cookies. They melts in your mouth and have a chewy fruity filling that makes store bought fig newtons blush. They take a little time to make, but they're worth it. Make sure to do two batches. This gluten free "Fig Newton" doesn't hang around long.
Gluten Free Cookies Fig Newtons
1/2  cup cornstarch or tapioca starch
1 1/2 tsp. xanthan gum( omit if your flour blend has it already)
8 oz. cream cheese, softened
3/4  cup dried figs, chopped (use kitchen shears)
3/4 cup dried pitted dates, chopped
1/3 cup water or apple juice
1 cup finely chopped nuts, optional
Turbinado sugar, for dusting (may use sanding sugar or regular granulated sugar)
Dough must be chilled overnight.
Whisk the gluten free flour blend, cornstarch or tapioca starch, xanthan gum, powdered sugar, and salt together in a bowl. Place the butter and cream cheese in a large bowl and cream together until well combined. Add the flour mixture and blend together. Shape the dough into three flat rounds.
Wrap each one in plastic wrap and place in a zip type bag. Refrigerate overnight to make the dough easier to roll out.
When you are ready to make the cookies, remove the dough from the refrigerator.
Preheat the oven to 350 degrees. Simmer the dried figs and dates in the water, sugar, lemon juice and cinnamon in a small non-stick saucepan. Cook over medium heat until the liquid is almost gone, about 5 minutes. Take a stick blender and blend right in the saucepan until smooth. Mixture will be thick.
Place a sheet of parchment paper on your counter. Put one of the dough disks on top and place a large piece of plastic wrap on top of the dough. Using a rolling pin, roll the dough out to a 12″ round, about 1/8″ thick.
Spread 1/3 of the filling over the dough circle leaving a 1/2″  exposed on the edge. Sprinkle with nuts if using. Take a pizza cutter and cut the dough into 16 wedges. Roll each wedge like a croissant and place onto a parchment lined baking sheet. Place the cookies 2″ apart from each other.
Whisk the egg and 1 tsp of water together to make a wash. Lightly brush the tops of the cookies with the egg wash using a pastry brush and sprinkle the turbinado sugar on top. Bake for 20-25 minutes until golden brown. Remove to wire racks to cool. Makes 4 dozen cookies.
Throw an appetizer party by paring these cookies with sliced cheese, crackers and pears.
Use parchment paper for easy cookie baking. This brand is from King Arthur Flour.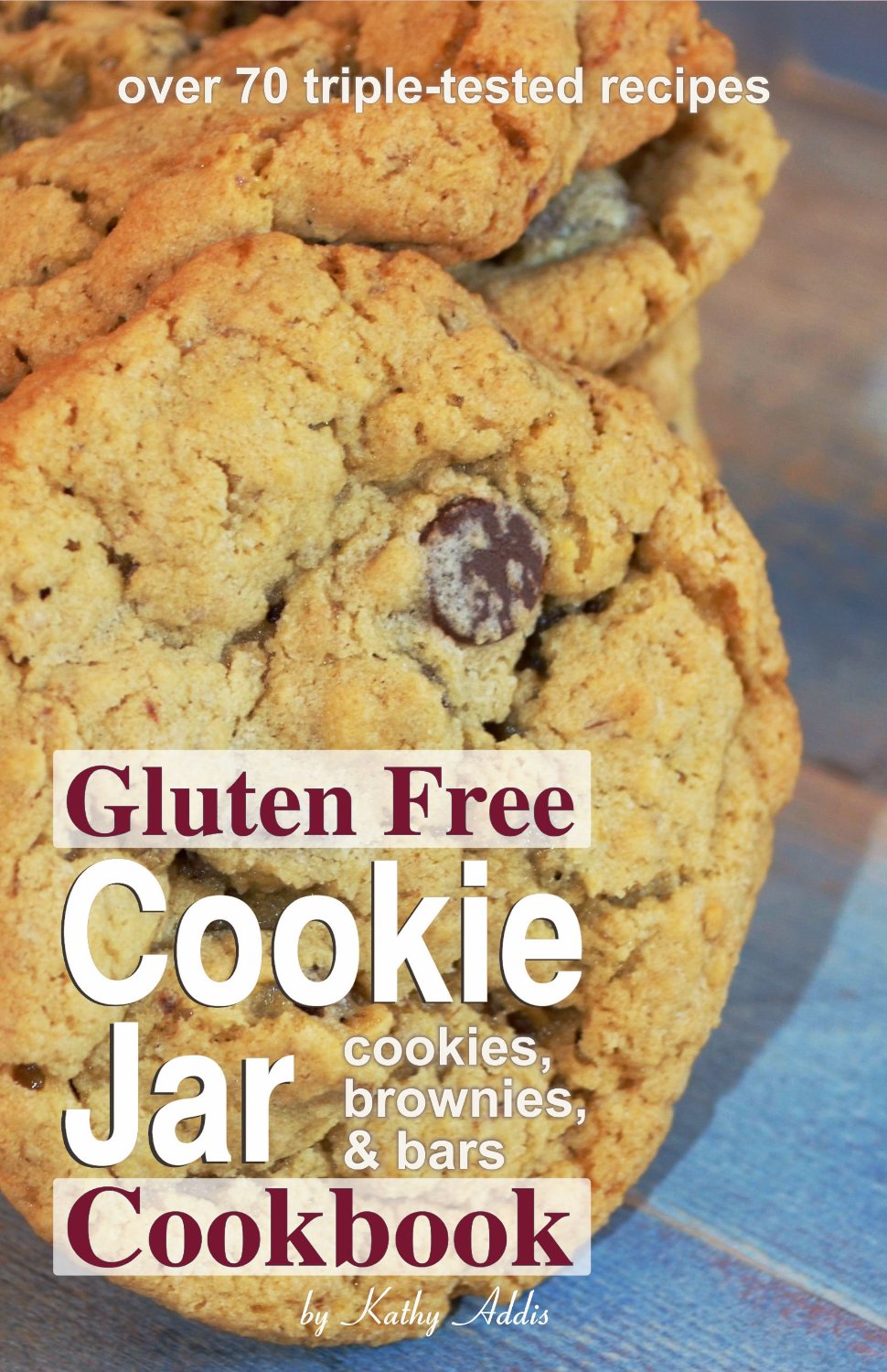 PS.. I apologize to any one who purchased The Gluten Free Cookie Jar book. The first three ingredients are missing. Well, here they are.
Thanks for reading!
Kathy , Your Gluten Free Kitchen