It has been so much fun to make "spooky" Halloween deserts that are all gluten free, especially gluten free cupcakes. My family went wild over all the different cupcake decorations that I came up with.
The Gluten Free Halloween Cookbook has enough recipes and ideas for your Halloween Party.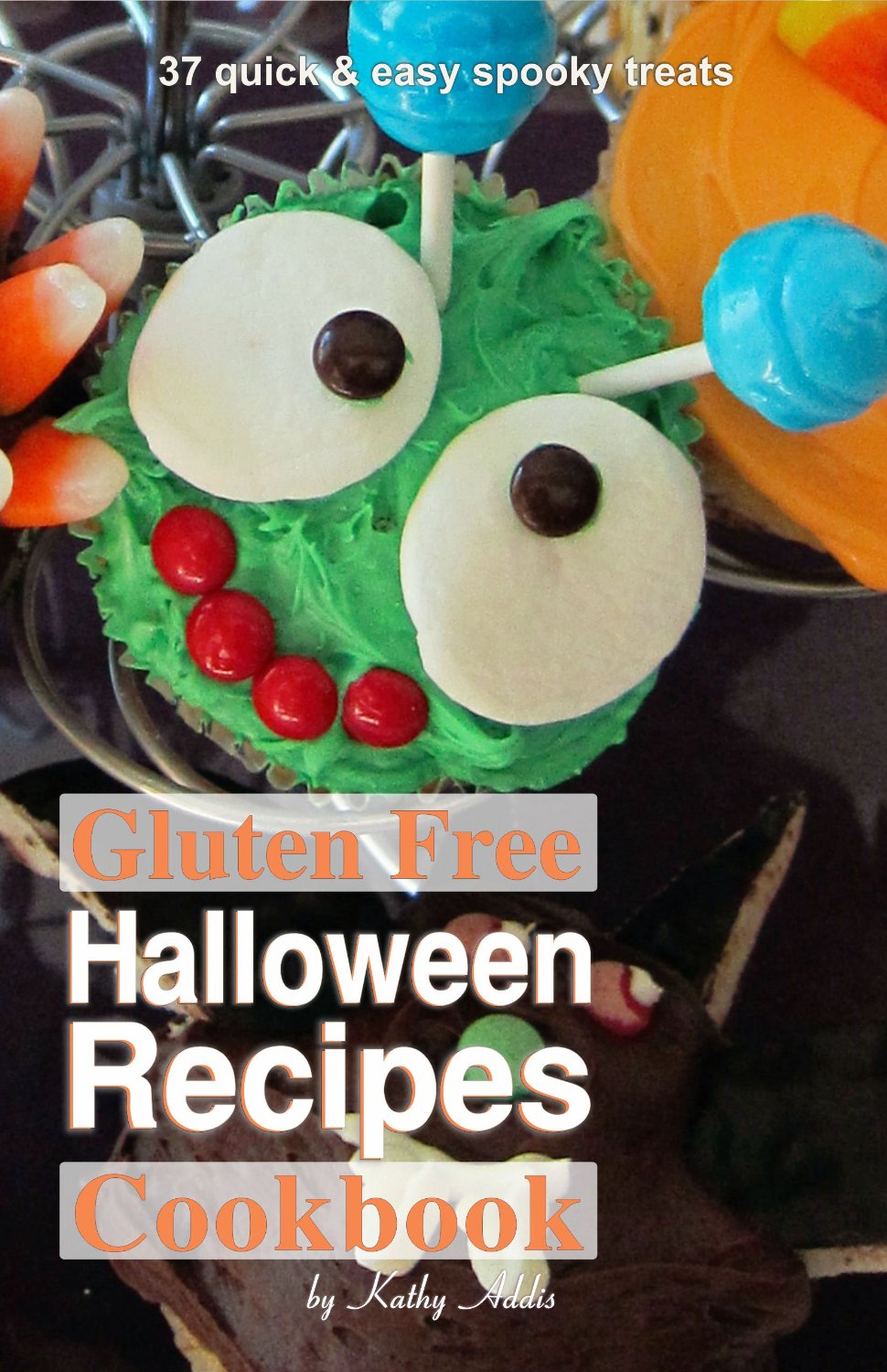 Most of them are super simple to make. Some you need to use candy and cookies cut up into different shapes to make cool faces. There are two different cupcake "trees". One is super quick and easy using paper decorations and plain frosting. The other one is more creative and fun. Both look fabulous and will wow any trick-or-treaters at your house.
Here's another one of my simple but cool decorated gluten free cupcakes. You could make a small army of these. I would buy a paper cake circle at a craft or cake supply store and cover it with black paper. Then set your cupcakes right on top for a nice presentation.
Or you could cover the paper cake circle with aluminum foil and tape down a black crepe paper ruffle around the edge and then place your cupcakes on top. Or you could just buy a Halloween cupcake stand at Michael's, JoAnn's or Target. Set it up and put your cupcakes on top. Done!
Gluten Free Creepy Skull Cupcakes
Ingredients:
1 box of gluten free vanilla or chocolate cake mix (I like King Arthur Brand)
ingredients to make the cupcakes
Tub of chocolate frosting or vanilla frosting tinted green
1 bag large marshmallows
Gluten free chocolate jimmies for the eyes and nose
Directions:
Make and bake the cupcakes as directed on the box of mix you purchased. Make sure they are completely cool before decorating.
Frost Gluten free cupcakes with chocolate or green frosting and set aside. Take a large marshmallow and snip off the sides to form a chin.
Snip the front of the marshmallow about 1/4″ up from the bottom of the chin to form a mouth. Using your fingers, open it up slightly by pulling up and down on the marshmallow mouth.
Take a toothpick and poke holes for the eyes and the nose, doing at least 4 or 5 times to make it large enough.

Place a small chocolate jimmy or use chocolate coated sunflower seeds and push into the holes made by the toothpick.

Place the creepy skull on top of your frosted cupcakes and serve.
Happy Halloween!
Kathy
If you click on any of the links associated with this blog we will receive a small commission!! Thank you for your continuous support!!
PS. Halloween is fast approaching. I hope you got enough candy for all the ghosts and goblins.
You can get lot's of ideas with my  Gluten free Halloween Cookbook.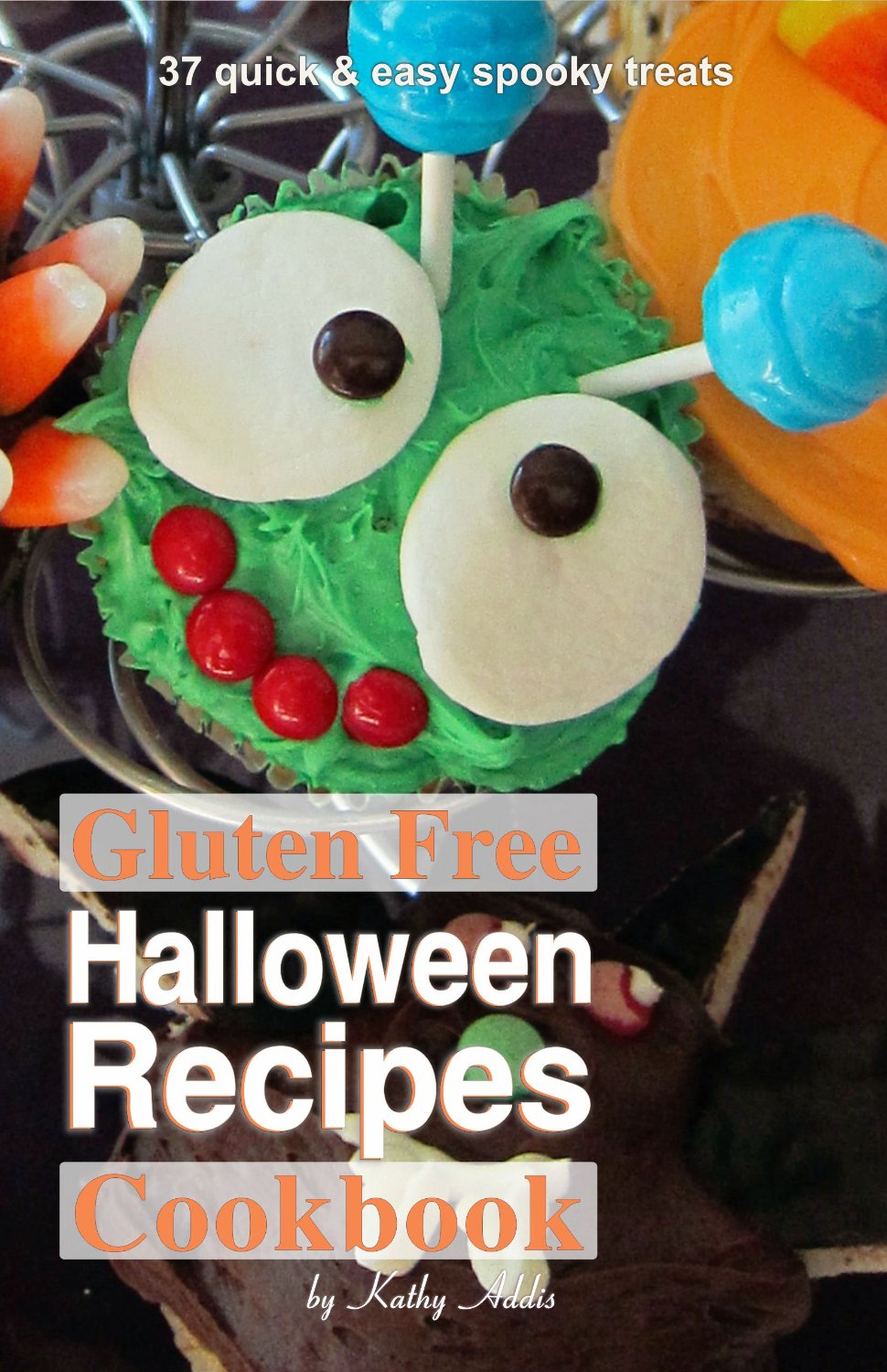 I have tired almost every gluten free cake mix out there and a few years ago when I was about to give up I found the King Arthur Chocolate Cake Mix. Finally one that was good!! Even my non gluten free family members couldn't tell the difference and loved this cake mix. If you haven't tried it yet you are missing out!! Click on the link to give it a try you will be glad you did!!