I just adore Mexican food of all types. Enchiladas, fajitas, tacos, tamales, spanish rice, refried beans, chicken tortilla soup, flan, the list goes on and on. It's all yummy and pretty much uses gluten free ingredients.
When you order nachos here, you don't get just tortilla chips smothered in cheese. These things are enough to serve three people and one small dog! They're covered with cheese and ground beef or chicken and jalapeno peppers and sour cream and guacamole. Heaven on a plate!
I love to take friends out who have never ordered nachos before. It's fun to watch their eyes get as big as the plate when the nachos are plunked down in front of them. Whoa! is a common description as they stare at what is a small mountain of food to eat. Then we usually all dig in and help them out. Hey! What are friends for?
As I trolled around looking for gluten free recipes I came across some amazing nacho recipes. The nice thing is, nachos are done in 15 minutes or less if you have everything on hand and can be as big or as little as you need. They also play well with most leftovers. Try these two versions and see what you think.
Spicy Pork Nachos
1 lb. pork tenderloin
1/4 cup gluten free jerk dry rub seasoning
8 cups gluten free tortilla chips
1 cup cubed pineapple, fresh or canned (drain well)
3 cups shredded monterey jack cheese or pepper jack cheese (for a spicy kick)
1/4 cup sliced jalapeno peppers
1/8 cup fresh cilantro leaves, chopped
Directions:
Heat up the grill.
Pat the dry rub all over the tenderloin. Grill until a meat thermometer inserted into the thick part registers 170 degrees. Remove from the grill and let it rest for 10 minutes. Then go ahead and chop into cubes.
Preheat the oven to 475 degrees.
Place the tortilla chips on a rimmed baking sheet or large pizza pan. Sprinkle the pineapple, chopped pork and cheese over the chips. Bake for a quick 7 minutes. Remove from the oven and garnish with slice jalapenos and cilantro.

Veggie Heaven Nachos
8 cups gluten free tortilla chips
3 Tbsp canola oil
1 cup sliced bell pepper, green or red
1 cup sliced zucchini squash
1/2 cup sliced mushrooms
1/2 cup sliced onion
1/2 cup corn kernels, fresh or frozen (thawed and drained)
3 cups shredded monterey jack cheese
1 jar gluten free salsa verde
1 cup sour cream
Directions:
Preheat the oven to 475 degrees.
In a very large skillet, swirl the canola oil in the pan and heat to high. Throw all the vegetables in and saute until crisp tender or until limp (depending on how well done you like your veges). Place the tortilla chips on a rimmed baking sheet or a large pizza pan. Spread the sauted vegetables evenly over the top, then the corn and then the cheese. 
Bake for 7 minutes or until the cheese melts. Serve with the salsa verde and the sour cream.
Next time you grill for dinner, cook up some extra. Then you can dice it and place in zip type freezer bags and pop in your freezer. When you have 15 minutes or less or are just to tired to do anything else for dinner, thaw out your meat, get your oven cranked up and pull out the chips.
Kathy
PS.. dinner doesn't get any easier than this!
Here is a great skillet for cooking your vegetables for the nachos. It's sturdy, reliable and pretty too. Can't ask for much more than that.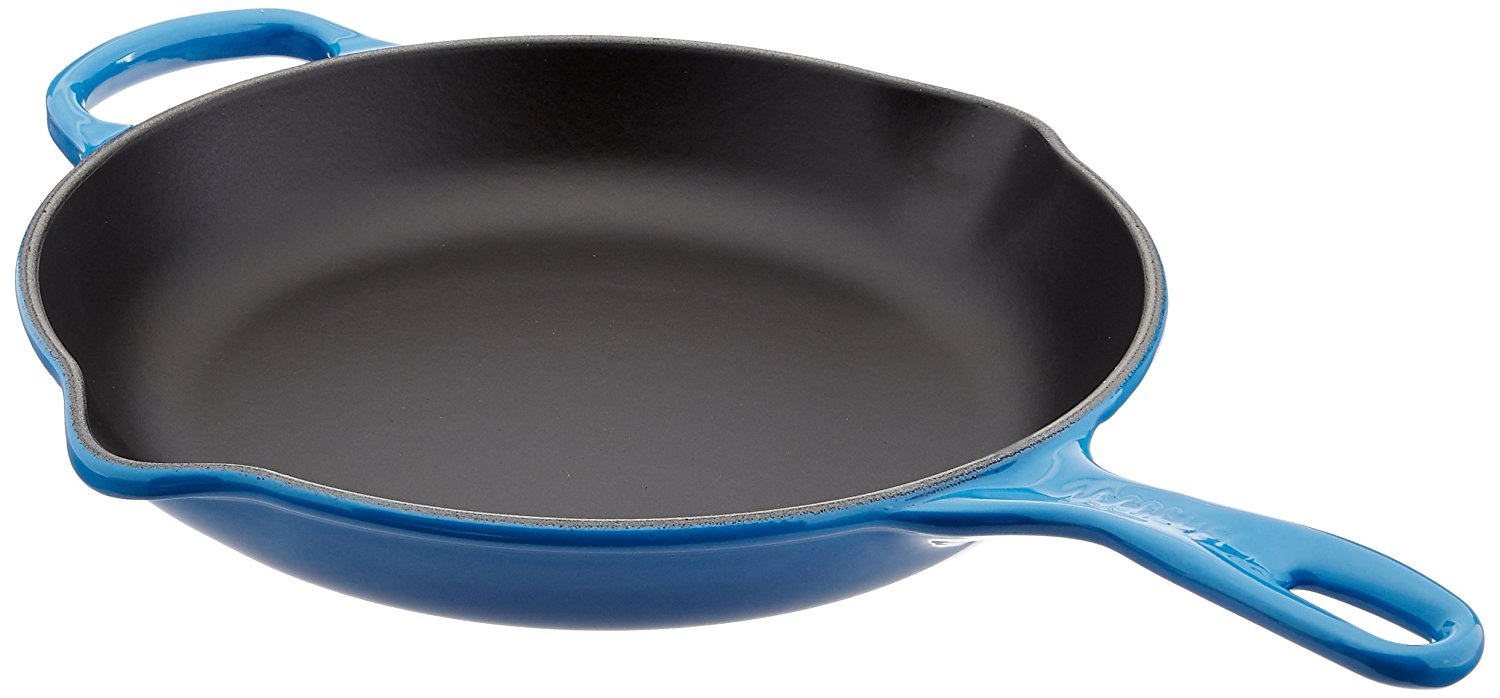 If you click on any fo the links on this page I will receive a small commission. Thanks!