Gluten Free Grilled Polenta Crostini
Once chilled, polenta can be either grilled or fried and served in place of bread or pasta in many recipes. For example, it can be layered with meat sauce and cheese for a gluten-free twist on lasagna or toasted to create croutons for your favorite soups or salad recipes.
Here, grilled polenta wedges are topped with a thick Tuscan Meat Ragu sauce, shaved Pecorino Romano cheese, and fresh parsley to make a hearty and delicious appetizer, but feel free to experiment with your favorite crostini toppings, such as tomato, fresh Mozzarella, and basil, or a blend of Ricotta and goat cheese, fresh lemon zest, and sliced basil leaves. The possibilities are nearly endless. Enjoy!
Prep time: 10 minutes (+ time to chill)
Cook time: 45-50 minutes
Serves: 6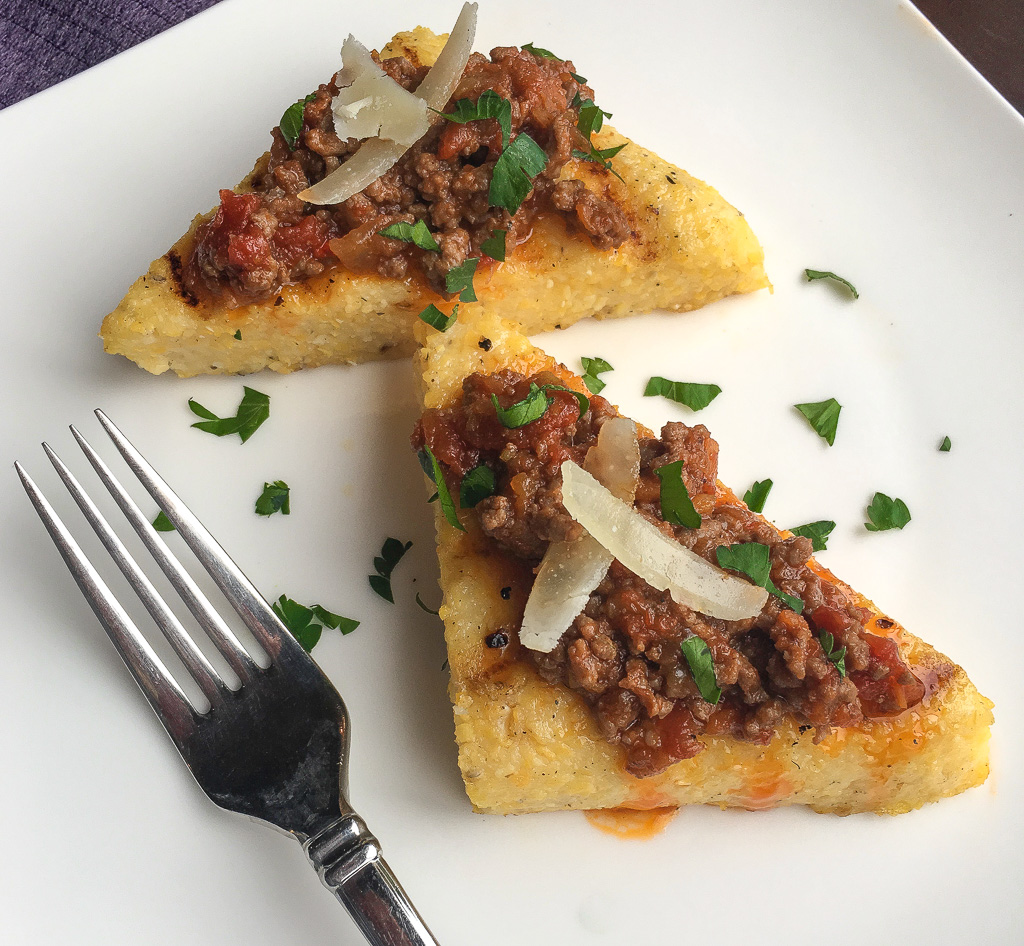 Ingredients:
5 c. water
1 c. medium or coarse polenta or cornmeal
Sea salt, to taste
(Optional) 2 T. unsalted butter
2 T. Pecorino Romano cheese
2 T. fresh parsley leaves, chopped
Directions:
Grease an 8" x 8" baking dish with olive oil (or spray with a non-stick cooking spray). Set aside.
Heat water in a large saucepan over medium-high heat until almost boiling. Once water starts to bubble, whisk in polenta or cornmeal and continue stirring continually until it starts to thicken. Season with salt, to taste, and stir to combine.
Reduce heat to just below medium and continue cooking, stirring every 4-5 minutes, until the polenta pulls away from the side of the pan and the cornmeal becomes soft and tender, approximately 40-45 minutes.
Remove from heat and stir in butter, if using. Taste and add more salt, if desired. Transfer polenta into prepared baking dish in a smooth, even layer. Cover and refrigerate until polenta is firm to the touch, at least 1-2 hours.
Remove from refrigerator and gently loosen around the edges of the baking dish with a butter knife or thin spatula. Place a paper towel over the top of the polenta and hold it in place with your hand. Gently turn the baking dish upside down while supporting the contents with your hand. Tap the bottom of baking dish until polenta is released.
Carefully transfer the solid sheet of polenta to a cutting board. Cut the polenta into quarters, then cut each quarter in half diagonally to create 8 wedges.
Spray a grill pan or the grates of a gas grill with non-stick cooking spray. (Clean the gas grill grates with a stiff wire brush before spraying). Heat grill pan over medium heat or pre-heat gas grill to medium.
Brush both sides of each polenta wedge with a little olive oil before placing on the hot surface. Grill until each wedge is golden brown and nice grill marks appear. Flip and repeat on other side.
Remove grilled wedges from heat and serve immediately with your favorite toppings, such as Tuscan Meat Ragu (recipe for this will be posted tomorrow). Top with some shaved Pecorino Romano cheese and chopped fresh parsley.
Enjoy!
Kathy
If you click on any of the links on this page we will receive a small commission! Thank you for supporting my recipe addiction!
I love the Le Creuset stoneware. I used my 8″ x 8″ square dish for this recipe and it turned out amazing! I love how these stoneware dishes bake perfectly even all the way through and they don't take to long to clean up just a dash of soap, little bit of water and it was squeaky clean. I have probably a total of ten of these baking dishes in all different sizes and shapes and I love them! Click on the link and purchase one for your kitchen.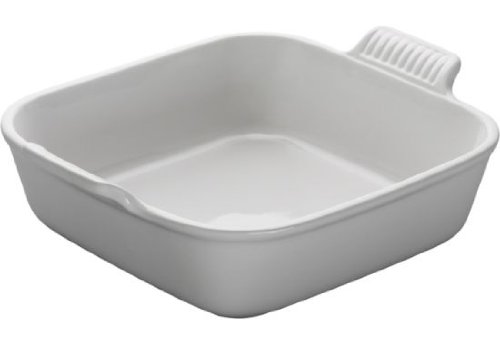 For the grill pan I used the All Clad Grill Pan. When it comes to grilling inside I always want a grill pan that is going to be easy to clean and gives me beautiful grill marks when I'm done. I've grilled all kinds of things on this pan from steak to veggies and the polenta that we made in this recipe. You really should have one of these around especially when the weather isn't playing nice and can't fire up the grill outside! Click on the link and give it a whirl!